Healthy Marsh takes part in Orem's outburst
Angels No. 6 prospect hits one of six long balls, scores three runs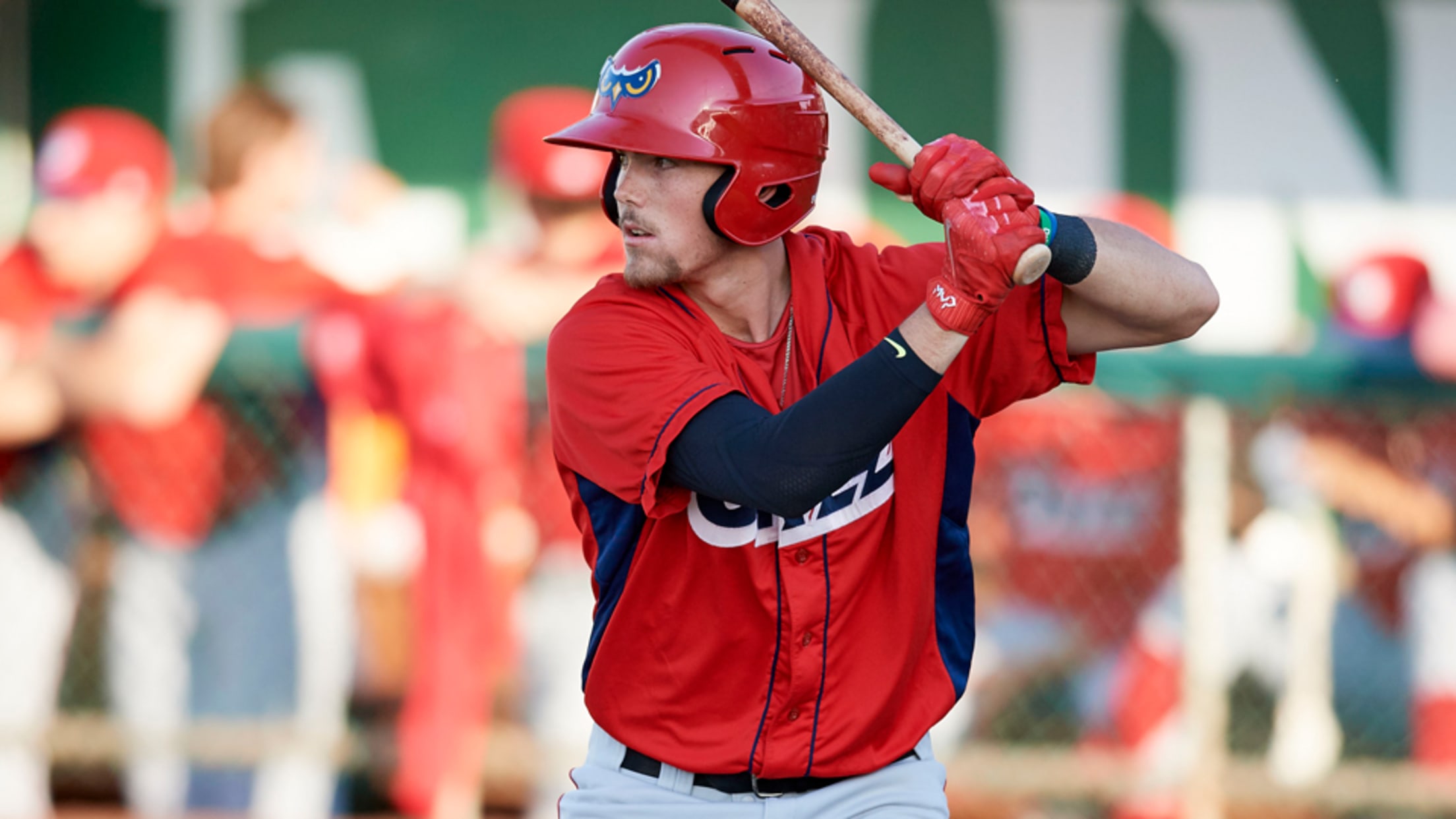 Brandon Marsh has at least one hit in all 10 Minor League games played, including six multi-hit contests. (Stephen Smith/Four Seam Images)
Brandon Marsh missed a month in his first pro season because of an injury, but hasn't missed a beat since returning.Going deep in his second straight game, the Angels' No. 6 prospect contributed to a six-dinger bashfest by going 3-for-5 with a walk and three runs scored in Rookie-level Orem's
Brandon Marsh missed a month in his first pro season because of an injury, but hasn't missed a beat since returning.
Going deep in his second straight game, the Angels' No. 6 prospect contributed to a six-dinger bashfest by going 3-for-5 with a walk and three runs scored in Rookie-level Orem's 17-7 win over Idaho Falls on Sunday at Malaleuca Field.
Leonardo Rivas also belted a long ball and Harrison Wenson and Jeyson Sanchez launched two homers apiece as the Owlz swept the four-game set.
Gameday box score
"It was kind of like we were having a contest to see who could hit the most in the game, and Sanchez and Wenson won that," Marsh said. "It was impressive."
On Friday, Marsh returned after being sidelined for a month with a thumb sprain. Since coming back, the 19-year-old outfielder is 6-for-15, which makes him 21-for-45 (.467) over 10 professional games. A second-round pick in 2016, Marsh was held out of action last summer with lower back issues. His scorching start to his debut season was pushed back after he jammed his thumb while sliding on June 28 against Ogden.
"The wait was longer than I expected. I didn't think it was that bad," the Buford, Georgia, native said. "I thought it would be a one-week rest thing, but we did the MRI and the X-ray, and it was just a little worse than what we thought on the field. I didn't really think about last year, missing the whole season, because I knew I'd be back pretty quick, and I got back in just a little over a month."
Even though he had two hits in his return and went yard Saturday, Marsh didn't feel completely comfortable until Sunday.
"At first, I wasn't seeing it as well as I was before. [Sunday] was a much better day. I had a much more simple mind-set than in the first two games," he said. "The first two, I was kind of nervous -- I was a little shaky in the box, to be honest, because I hadn't played in front of a crowd in over a month. It was a little rough."
After flying out in each of his first two at-bats, the left-handed hitter went yard against southpaw starter Robert Garcia (0-2) on a 3-1 count in the fourth inning.
"He put me in a really good hitter's count, and I knew he didn't want to put me on base. I was sitting on one and one pitch only. I got it, and I knew I wasn't going to miss it," the 6-foot-4, 210-pounder said. "It was a fastball middle-in, and that was the only one I was going to swing at."
Marsh walked in the fifth, singled to left in the seventh and up the middle in the ninth. He was proud of sticking with his approach in the box and not being tempted to overswing after belting his third pro home run and seeing his teammates go deep often.
"My game -- the long ball is not game -- my game is singles and gap-to-gap," Marsh said. "Get on base and run. The long ball is a plus. If I run into some long balls, I run into them, but [my swing is] short and simple."
Sanchez, an infield prospect, also doubled during his second two-homer, five-RBI showing of the weekend and third straight multiple-hit game. In 13 games since being assigned to the Owlz on July 7, the native of the Dominican Republic is hitting .426 with eight homers and 23 RBIs.
"He's making the pitchers pay -- they're missing their spots, and he's making them pay every time," Marsh said. "Whenever they learn not to do that, well, he may just keep doing his thing, but he's making them pay when they make mistakes."
• Get tickets to an Owlz game »
Garcia (0-2) was tagged for 13 runs and 14 hits -- including five homers -- in 4 1/3 innings, while Robby Rinn had a homer, a double and scored three runs for Idaho Falls.
Josh Jackson is a contributor to MiLB.com. Follow and interact with him on Twitter, @JoshJacksonMiLB.