Modesto's Jimenez piles up four hits
Ready for fun, outfielder drills three doubles, scores three runs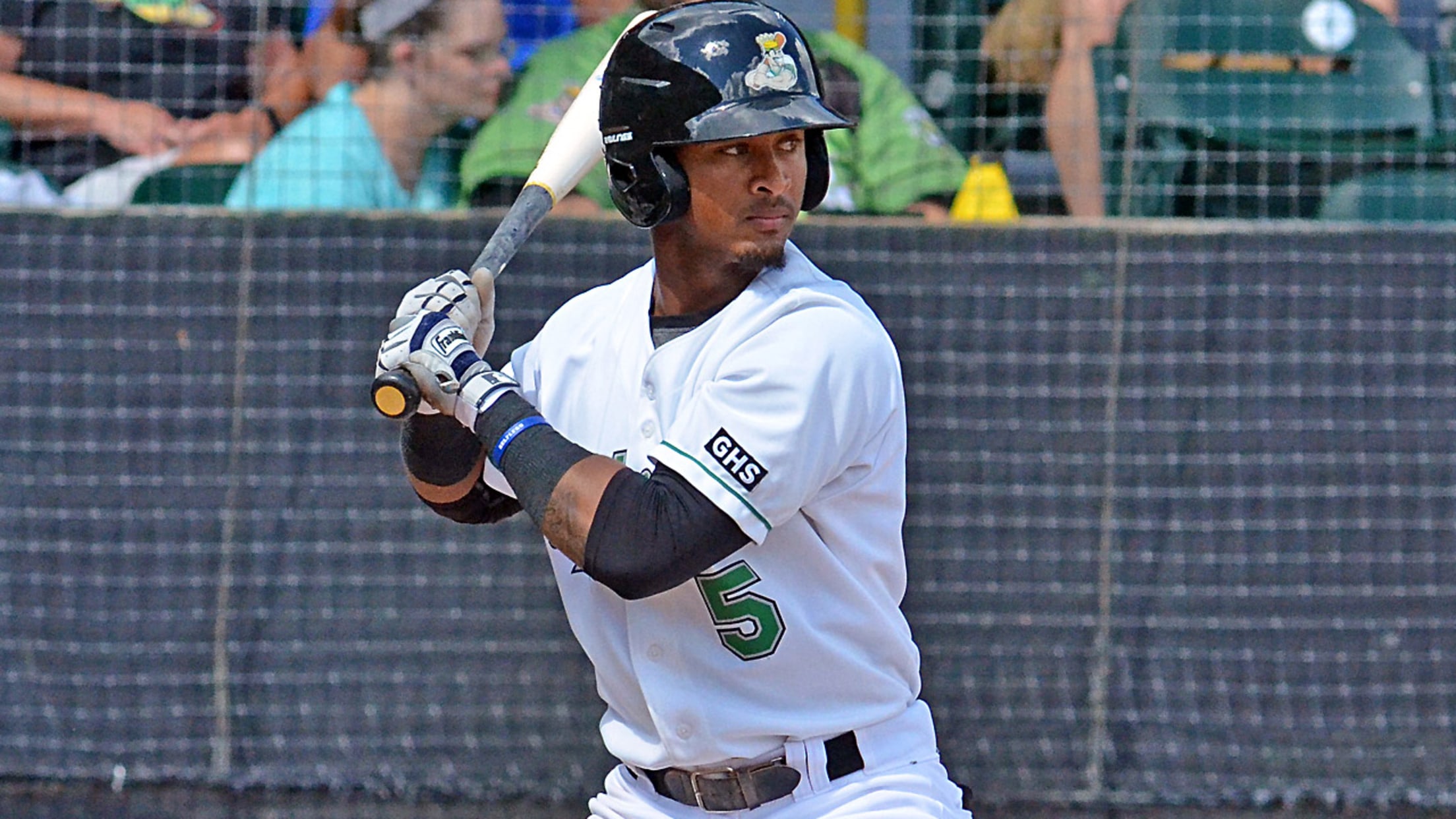 Anthony Jimenez played in 64 games for Class A Clinton last year, his first outside of a complex league. (Paul R. Gierhart/MiLB.com)
Class A Advanced Modesto manager Mitch Canham knows Anthony Jimenez is in the right frame of mind when the outfielder takes the field for pregame work sporting wavy blonde locks."We even have the Ben Gamel hat hair, the Seattle Mariners hat with long hair," Canham said, referring to a Safeco
Class A Advanced Modesto manager Mitch Canham knows Anthony Jimenez is in the right frame of mind when the outfielder takes the field for pregame work sporting wavy blonde locks.
"We even have the Ben Gamel hat hair, the Seattle Mariners hat with long hair," Canham said, referring to a Safeco Field giveaway item with Gamel's signature flow. "Anthony will wear that out for stretch every now and then and lighten the mood, which looks hilarious. I think any time you're worrying about pressing to put up the numbers, that's when you're going to struggle. Lately, he's just staying in the moment."
Jimenez continued his stellar month Monday by going 4-for-5 with three doubles, three runs and an RBI as the Nuts beat the Rawhide, 9-5, at Visalia's Recreation Park.
Gameday box score
"The last couple of weeks, he's been having quite a bit of a change," Canham said. "I think he's reverting back to what he's done since he started playing professional baseball, just coming to the field and having fun. I think he was, early on, putting a little bit too much pressure on himself to perform and not really enjoying the moment and competing pitch to pitch. These last couple weeks, he's been coming to the field quite a bit differently, creating laughs, enjoying his time around his teammates."
Through 33 games, Jimenez was a .227/.272/.297 hitter at the conclusion of May, striking out 34 times and totaling just six extra-base hits. June has changed that.
The Mariners No. 13 prospect doubled in his first three trips to the plate. He laced a two-bagger to left field to open a three-run Nuts third and followed with another to left to start a two-run fourth. In the fifth, Jimenez got to bat with men aboard and came through, doubling to left again and driving home Seattle's top-ranked prospect Kyle Lewis.
After striking out to end the sixth, Jimenez finished his night with a single to left in the ninth. The 22-year-old Venezuela native hadn't had more than two hits in a game all season prior to Monday.
"[Bryson Brigman's] been getting on base all year, same with [Donnie Walton]," Canham said of his lineup's top two hitters. "We've got some guys who can drive them in. To turn that lineup over with runners on base, that's one thing Anthony did tonight. Every time you looked up, he was on second base."
Through 10 games in June, Jimenez sports a .300/.317/.500 slash line, with six doubles and a triple.
No. 26 Mariners prospect Brigman went 3-for-4 with two runs and an RBI and Lewis added two hits and a run to bring his slash line to .264/.305/.425. Monday marked the 22nd game of the season for baseball's No. 61 overall prospect, who got a late start while rehabbing from a knee scope procedure in February. It was the latest setback in a string of leg injuries that have plagued the 2016 11th overall pick, beginning with a torn ACL suffered in his debut season.
"He's continually building up with his conditioning and getting back into full gameplay," Canham said. "He had a year and a half-plus off of baseball full time, so this is really his first full season. He's made some amazing catches in the outfield, and he's shown a really professional approach at the plate, driving the ball to the big parts of the field, which is fun to watch. Guys love being around him and he's constantly trying to get better."
Tyler Maun is a contributor to MiLB.com. Follow him on Twitter @TylerMaun.