Nuts' Misiewicz takes no-hitter into sixth
Right-hander strikes out eight in longest outing of season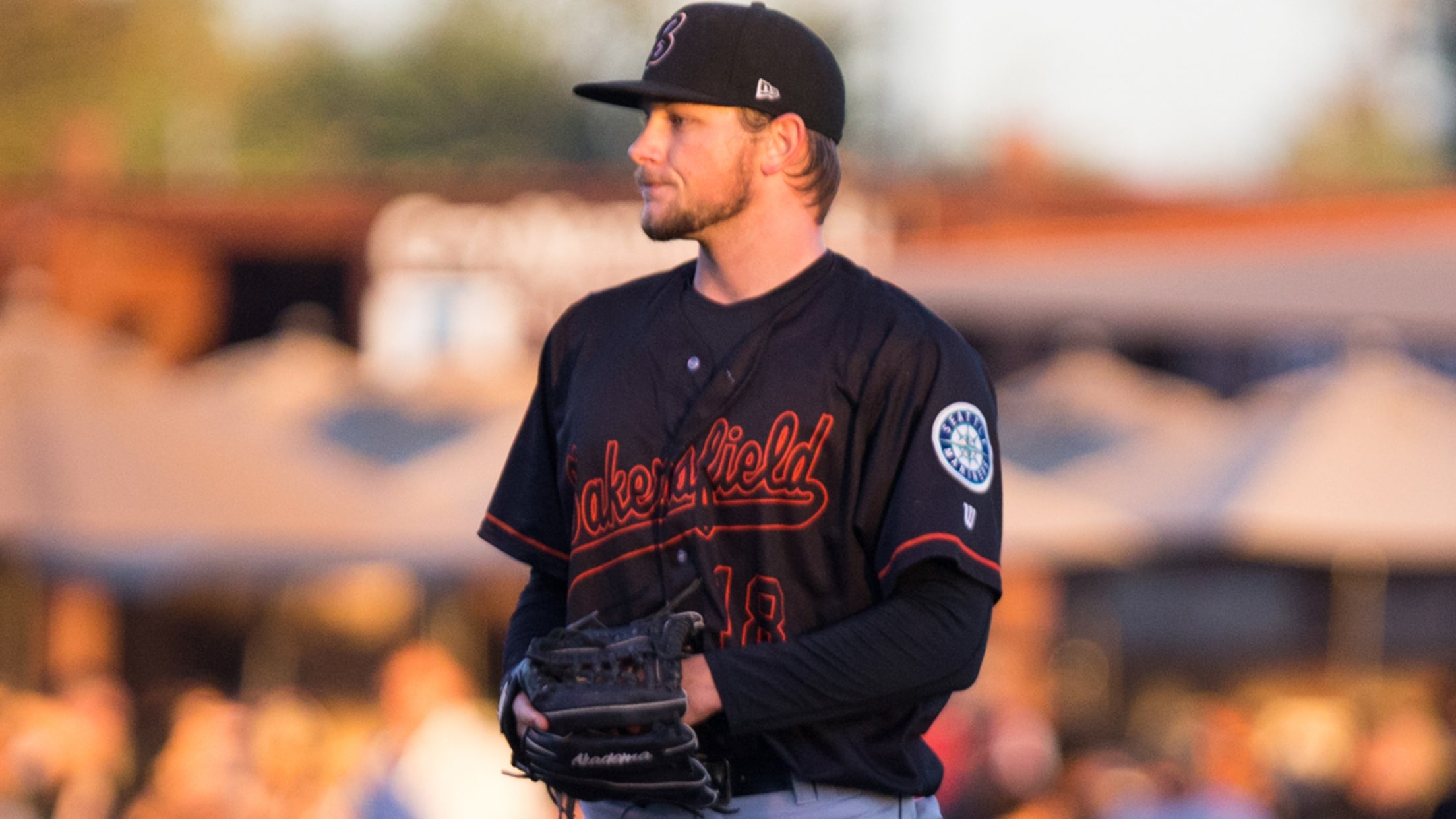 Anthony Misiewicz made 29 starts for Class A Advanced Bakersfield in the California League in 2016. (Larry Rosa/MiLB.com)
In order for Anthony Misiewicz to end strong, he had to start that way, every batter, every inning. That emphasis was the difference in the southpaw's best outing of 2017.The Seattle prospect carried a no-hit bid into the sixth en route to hurling seven one-hit innings with eight strikeouts as
In order for Anthony Misiewicz to end strong, he had to start that way, every batter, every inning. That emphasis was the difference in the southpaw's best outing of 2017.
The Seattle prospect carried a no-hit bid into the sixth en route to hurling seven one-hit innings with eight strikeouts as Class A Advanced Modesto beat Lake Elsinore, 4-1, on Thursday night.
"It was good, just throwing first-pitch strikes and really getting ahead there," Misiewicz said. "I was using my fastball effectively in and outside parts of the dish. Throwing first-pitch strikes is huge. Once I get ahead, I can kind of play with them a little bit. The walk upset me a little bit, but I was able to focus back up and put guys away when I needed to."
Misiewicz's lone walk went to Lake Elsinore's Edwin Moreno in the second inning and was the last baserunner he faced until the sixth when Taylor Kohlwey bounced a leadoff single to center to break up the no-hit bid. In between, the Michigan State product retired 11 in a row and established a steady rhythm with catcher Joe DeCarlo, a converted infielder making just the fourth start of his career behind the plate.
Box score
"At first I was skeptical, but in the bullpen he was good, catching all my pitches," Misiewicz said. "I just trusted him, and he did a really good job. I was super proud of him, blocking pitches, getting down and calling the right calls every time. We were on the same page. He did a fantastic job. I can't say enough about him. I know it's tough being a catcher and to just get into it, you would never know by tonight. He looked like a big league catcher."
Misiewicz and DeCarlo stressed first-pitch strikes and molded their approach to follow. That led to a season high in strikeouts for the southpaw in his longest outing of the year with the heater setting up multiple angles of attack behind it.
"I just think they weren't on my fastball," he said. "I was locating really well, working in and out and then when it's time to bring 'hammer time,' I've just got to drop it on them sometimes. Just dropped the curveball in there for strike three, which was good. Joe was blocking it, making good plays. I was just staying focused and working through him."
The battery's duo solved a problem that has irked Misiewicz at times this year.
"My starts I've struggled, I fall behind early," he said. "I was getting punished for it. But the last couple of starts, I went out, just getting ahead, working ahead and then I'm able to bury the curveball, throw a good changeup, get them swinging through it or swinging over it, let my fielders go to work behind me. I can't get all the outs, so I let those guys work, and they do a fantastic job behind me."
Back for a repeat tour through Class A Advanced, Misiewicz spent all of last season in the California League with Seattle's now-defunct affiliate in Bakersfield. The 29 starts he made there a year ago laid the groundwork for his mind-set coming into 2017.
"I learned a lot last year," he said. "I left the ball up a lot last year, but I'm really working down in the zone. I'm really here to prove a point, trying to get my name out there, trying to move up in the organization. I think so far it's been a good deal for me. I feel like if I just keep sticking to the plan, working my process, it's going to play out really well for me at the end of the year."
Joey Curletta did the bulk of Modesto's offensive work with a three-run homer in the fifth.
Joey Strain allowed Lake Elsinore's only run on two hits over two innings to close out the win.
Tyler Maun is a contributor to MiLB.com. Follow him on Twitter @TylerMaun.