Appy notes: Larnach getting a grip on pros
E-Twins outfielder finding his groove after capturing college title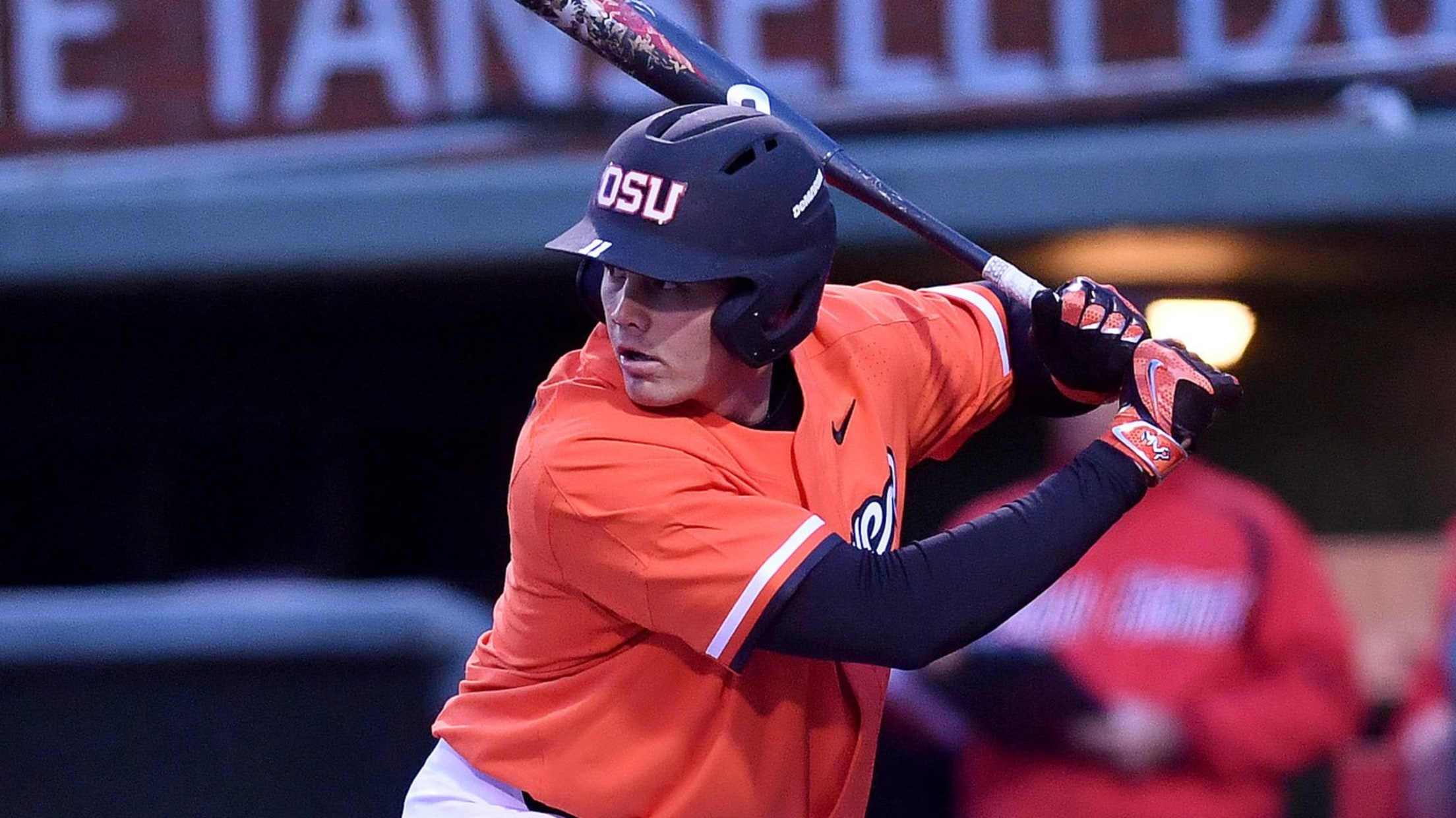 Top pick Trevor Larnach opened his Minor League career with a five-game hitting streak. (Courtesy of Oregon State)
Just wait until Trevor Larnach has a grip on the type of bat he prefers. The rookie outfielder for the Elizabethton Twins should have no problem finding suitors willing to assist in his quest for a comfortable piece of lumber."I'm waiting for a special model," said Larnach, barely a week
Just wait until Trevor Larnach has a grip on the type of bat he prefers. The rookie outfielder for the Elizabethton Twins should have no problem finding suitors willing to assist in his quest for a comfortable piece of lumber.
"I'm waiting for a special model," said Larnach, barely a week into his professional career. "I want a special barrel and handle, just waiting for that."
Even though Larnach had a couple of summers in the Cape Cod League, a wood-bat circuit for top college players, he said it takes time to make the transition to the bats after the college season.
"You need a week or two to adjust," he said.
In his case, it didn't take long. He produced a four-hit, four-RBI outing in his fifth pro game, capping a five-game hitting streak to open his career.
Larnach, who bats from the left side, has shown good patience at the plate in his early games with Elizabethton, drawing walks in half of his first 10 games. He also has demonstrated solid opposite-field pop.
A first-round pick in June before helping Oregon State to an NCAA championship later in the month, Larnach finally got around to stepping on the field as a professional. He spent a few days in Corvallis, Oregon, following the college postseason to soak in the team accomplishment and rejuvenate his energy.
"You win something like that, you cherish it with the team and your family and so many people," he said. "I stayed five days to enjoy it, the time and memories with those guys. You're going to miss it, the guys you've been with for three years or some for two years or one year."
Then it was time for the 21-year-old Californian to take the next step.
"It's not the end -- it's the beginning of something new," Larnach said.
He said he appreciated the Twins organization allowing him some time off, though he signed his deal to turn pro a day before the deadline to do so.
He joined the Elizabethton team familiar with only one of his new teammates. He competed in college against outfielder DaShawn Keirsey, a fourth-rounder who played for Utah.
Still, the aspect of bonding with new teammates is something Larnach said has been rewarding so far. He said he wants to fit in as part of this next phase of his career.
"You meet new guys," he said. "It's all part of it. I'm having a blast. I couldn't ask for anything else."

In brief
Hefty homer pace:
Elizabethton first baseman
Chris Williams
, an eighth-round pick out of Clemson in June, reached 11 home runs for the season July 29 when he bashed two long balls. That's notable because last year's Appalachian League home run leaders (
Anthony Dirocie
of Kingsport and
Jose Miranda
of Elizabethton) finished the season with 11 homers apiece.
Put it in play:
Kingsport Mets shortstop
Shervyen Newton
had 15 of his first 33 hits go for extra bases. But often, the 19-year-old shortstop from the Netherlands has some long plate appearances because slightly past the midway mark of the season, he leads the Appalachian League in walks and strikeouts. He also shares the league's top spot in doubles as he belted 11 across his first 28 games.
Make a decision:
Bluefield Blue Jays reliever
Sean Rackoski
leads the league in wins with a 5-1 record and in saves with six. The first-year pro, a nondrafted right-hander who played in college for Kansas, had a decision or save in 12 of his first 13 outings.
On the Express:
Burlington Royals manager Brooks Conrad missed four games so he could attend his July 28 induction into the Round Rock Express Hall of Fame. He played four seasons (2004-07) for the Express when it was a Double-A and then Triple-A affiliate for the Houston Astros. "It's a place really close to my heart," Conrad said. "Those were four really special years." In Conrad's absence, Burlington went 2-2 with hitting coach Nelson Liriano, a former manager of the team, filling in as acting manager.
Bob Sutton is a contributor to MiLB.com.