Takahashi headlines Pitchers of the Week
D-backs prospect wins Cal League award with eight one-hit innings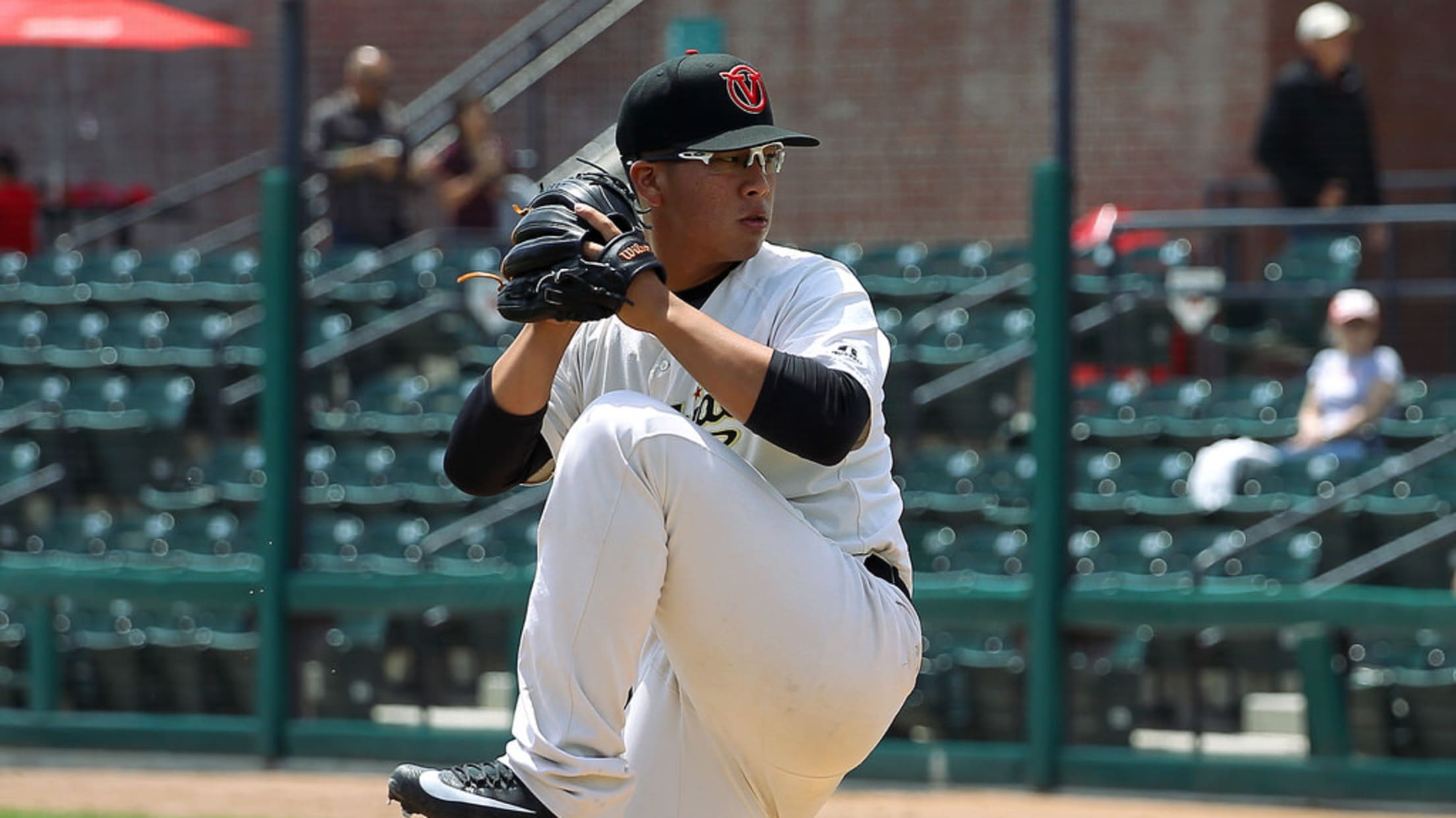 Bo Takahashi has allowed two runs on five hits with nine strikeouts over 13 frames in his last two outings. (Ben Sandstrom/MiLB.com)
Bo Takahashi fell short of throwing a no-hitter, but it was still more than enough to stand above the rest this week. The D-backs prospect was named the California League's Pitcher of the Week on Monday after taking a no-hitter into the eighth inning of his last start for Class
Bo Takahashi fell short of throwing a no-hitter, but it was still more than enough to stand above the rest this week.
The D-backs prospect was named the California League's Pitcher of the Week on Monday after taking a no-hitter into the eighth inning of his last start for Class A Advanced Visalia on Aug. 25. He finished with one hit and two walks allowed over eight frames for his seventh win.
The 20-year-old from Brazil said he approached the start like he does all his others: as if it were his last of the year.
"Every game, when I go to the mound, I pitch thinking it's my last game of the year and I try to do everything I can," Takahashi told MiLB.com after the win. "I try to do my best every pitch, try to throw strikes and get out of innings."
Arizona signed the right-hander, whose real name is Rodrigo, out of Brazil in 2013. He was voted a Cal League All-Star earlier this summer and claimed a Pitcher of the Week award on June 4 after allowing two hits over six innings for the Rawhide.
• View the Player of the Week winners »
"My fastball, slider, breaking pitch, changeup -- everything was working," Takahashi said after Friday night's gem. "I just was throwing with my catcher, Tyler Baker. I want to thank my teammates, too, because they had my back [defensively]."
Takahashi, who struck out six in the win, improved to 7-9 and lowered his ERA to 4.50.
"I just wanted my team to win because we are fighting for the playoffs right now," he said. "So if my team is winning, then I'm happy. I just want to help my team get into the playoffs and [win] the championship."
Below is the complete list of Minor League Pitchers of the Week for Aug. 21-27:
| League | Player | Team | MLB | Stats |
| --- | --- | --- | --- | --- |
| International | Artie Lewicki | Toledo | DET | 2-0, 0.68 ERA, 2 G, 2 GS, 13 1/3 IP, 7 H, 1 R, 1 ER, 2 BB, 15 K |
| Pacific Coast | Ben Bracewell | Nashville | OAK | 2-0, 0.00 ERA, 2 G, 2 GS, 13 IP, 7 H, 0 R, 0 ER, 2 BB, 10 K |
| Eastern | David Hess | Bowie | BAL | 1-0, 0.00 ERA, 1 G, 1 GS, 8 IP, 1 H, 0 R, 0 ER, 1 BB, 5 K |
| Southern | Anthony Misiewicz | Montgomery | TB | 2-0, 0.60 ERA, 2 G, 2 GS, 15 IP, 8 H, 1 R, 1 ER, 3 BB, 10 K |
| Texas | Tyler Davis | Frisco | TEX | 1-0, 0.00 ERA, 1 G, 1 GS, 1 SHO, 9 IP, 3 H, 0 R, 0 ER, 0 BB, 6 K |
| California | Bo Takahashi | Visalia | ARI | 1-0, 0.00 ERA, 1 G, 1 GS, 8 IP, 1 H, 0 R, 0 ER, 2 BB, 6 K |
| Carolina | Cristian Alvarado | Frederick | BAL | 1-0, 0.00 ERA, 1 G, 1 GS, 1 SHO, 7 IP, 4 H, 0 R, 0 ER, 0 BB, 4 K |
| Florida State | Enderson Franco | Florida | ATL | 1-0, 0.00 ERA, 1 G, 1 GS, 8 IP, 5 H, 0 R, 0 ER, 2 BB, 9 K |
| Midwest | Zack Erwin | Beloit | OAK | 1-0, 0.00 ERA, 1 G, 1 GS, 6 IP, 0 H, 0 R, 0 ER, 1 BB, 4 K |
| South Atlantic | Eduardo Vera | West Virginia | PIT | 1-0, 0.00 ERA, 1 G, 1 GS, 1 SHO, 7 IP, 2 H, 0 R, 0 ER, 1 HBP, 1 BB, 6 K |
| New York-Penn | Andrew Summerville | State College | STL | 1-0, 0.00 ERA, 1 G, 1 GS, 7 IP, 1 H, 0 R, 0 ER, 2 BB, 7 K |
| Northwest | Javier Assad | Eugene | CHC | 1-0, 0.00 ERA, 1 G, 1 GS, 6 IP, 1 H, 0 R, 0 ER, 2 BB, 9 K |
| Appalachian | Zach Prendergast | Johnson City | STL | 0-0, 0.00 ERA, 1 G, 1 GS, 7 IP, 4 H, 0 R, 0 ER, 0 BB, 12 K |
| Pioneer | Kyle Von Ruden | Great Falls | CWS | 1-0, 0.00 ERA, 1 G, 1 GS, 8 IP, 2 H, 0 R, 0 ER, 0 BB, 9 K |