Generals' Keller hurls seven one-hit frames
D-backs prospect strikes out six in longest outing of the season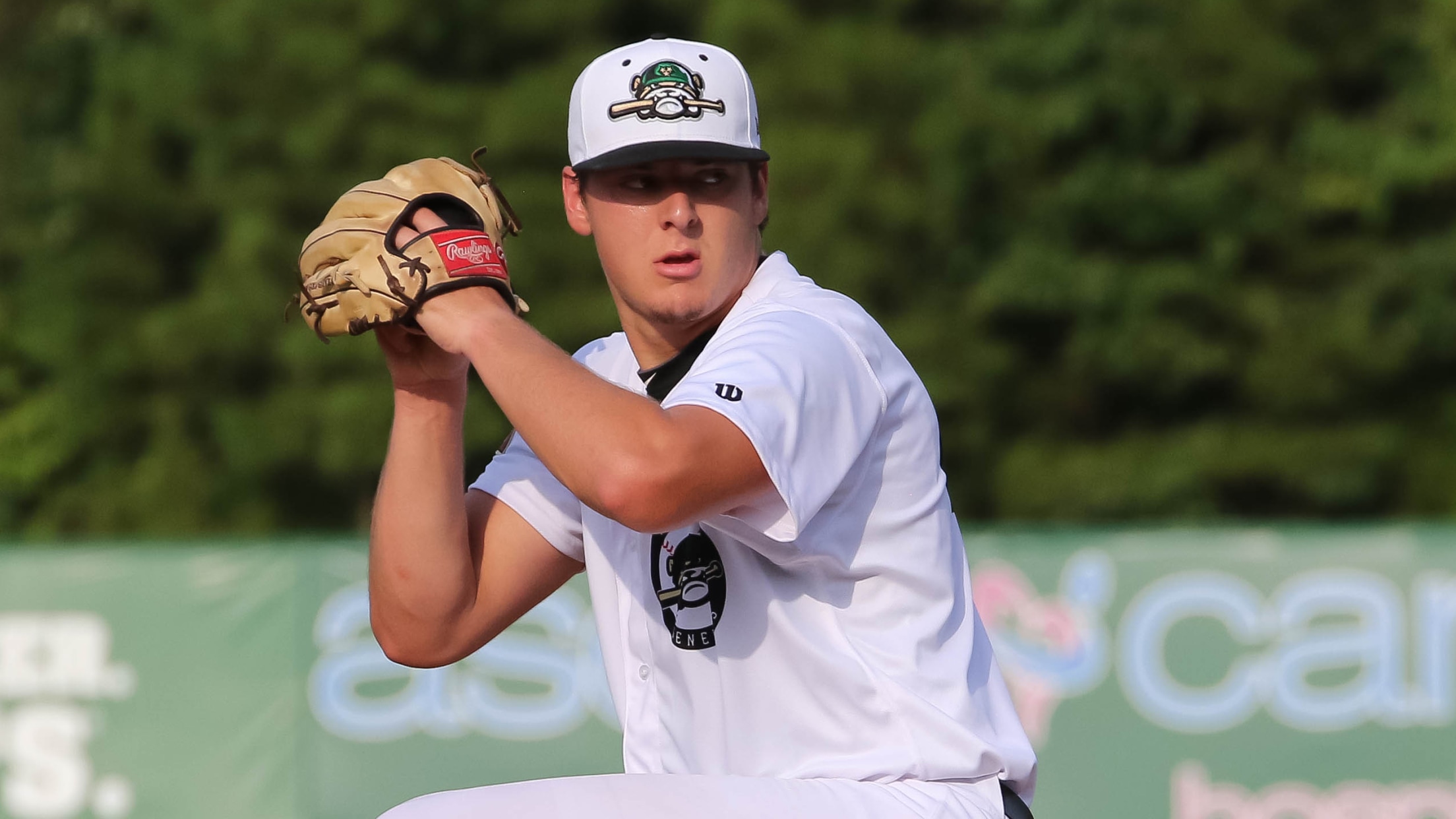 Brad Keller is 1-0 with a 1.50 ERA and 18 strikeouts over 18 innings in his last three starts. (Cody Cunningham/Jackson Generals)
A trip back to the drawing board paid huge dividends for Brad Keller. The D-backs' No. 12 prospect carried a no-hitter into the seventh en route to his longest outing of the season as Double-A Jackson blanked Chattanooga, 3-0, on Sunday at The Ballpark at Jackson. He ended up allowing one
A trip back to the drawing board paid huge dividends for Brad Keller.
The D-backs' No. 12 prospect carried a no-hitter into the seventh en route to his longest outing of the season as Double-A Jackson blanked Chattanooga, 3-0, on Sunday at The Ballpark at Jackson. He ended up allowing one hit and three walks while striking out six over seven innings.
Gameday box score
"I was working with our pitching coach, Doug Drabek, and went back and looked at a few videos and made some mechanical adjustments," Keller said. "We also honed in on pitch selection and worked on what the right pitch to throw is in certain situations. Those were huge adjustments we've made from that little rut I went through."
One of the adjustments Keller (9-9) made was to iron out his delivery and add a little more pace to his rhythm.
"I was looking at video at what I was doing last year and I could tell there was a huge difference between the two deliveries," the 22-year-old said. "I've tried to keep a smooth tempo through the delivery to help get my hand out in front more and drive the ball down in the zone."
It took a little while for Keller to find his rhythm against the Lookouts. He issued a two-out walk to Twins No. 17 prospect LaMonte Wade Jr in the first, then balked him to second.
"I didn't really know I balked," Keller said. "I just threw a first-pitch ball after walking Wade, so I stepped off to compose myself and then I leaned down to get my sign and I kind of flinched. I didn't know I did it, but Drabek said he did and the umpire did. I didn't let it affect me, I kind of felt more comfortable because I know Wade is fast and good at swiping bags, so I felt more in control and I just tried to make pitches to the next guy."
The right-hander retired Jonathan Rodriguez to end the frame, beginning a run of 14 consecutive outs.
"My problem this year has been that once things start going bad, they've been spiraling out of control. I just settled down and made my pitch and got a huge out," Keller said. "I honed in on my focus and really made good pitches and felt good in the middle innings. We had a good game plan and every pitch fed off of the other. My fastball in was working well, so my slider played off of that, and whenever I needed to get a ground ball, my changeup was working well for that."
Keller pitched himself into a jam with consecutive one-out walks in the sixth. It looked like he had a chance to get out of trouble when he got Edgar Corcino to hit a grounder to first, but a throwing error by Kevin Cron loaded the bases.
"It was a tough play for him. He had to charge it and then turn it with two fast runners," the 2013 eighth-round Draft pick said. "I tried to bear down there."
Keller got Wade to line out to second baseman Vladimir Frias, who doubled off Ryan Walker to keep the no-hitter intact.
"It definitely crossed my mind, but I didn't focus on the no-hitter," Keller said. "I was just trying to help my team win and get out of a little rut that we've been in."
Rodriguez ended the no-no with a leadoff single in the seventh. Keller was quickly paid a visit by his catcher, Oscar Hernández, and whatever the batterymates discussed worked as Keller got a flyout and a double play to finish the inning.
"Oscar came out to me and said, 'All right, now that's over with so now we got to finish this.' It amped me up a little bit and we attacked the next two guys and got them out," Keller said.
Keller finished the night with five ground-ball outs and threw 51 of 92 pitches for stikes. The 6-foot-5, 230-pounder has produced a 4.94 ERA and 1.55 WHIP over 124 innings in 24 starts this year.
"I think it's huge for me to finish this year off in the right way," he said. "Things haven't been going the way I wanted them to this year, so it's big to get these last few innings under our belt and win some games to help us go into next year."
• Get tickets to a Generals game »
Mason McCullough and Joey Krehbiel each worked an inning for the Generals, with Krehbiel registering his fourth save.
Cron collected three hits and scored a run for Jackson, while Daniel Lockhart and Emilio Bonifácio homered.
Michael Leboff is a contributor to MiLB.com.