Scorching Marte gets three more hits for Aces
D-backs infielder drives in five, raises PCL-best average to .427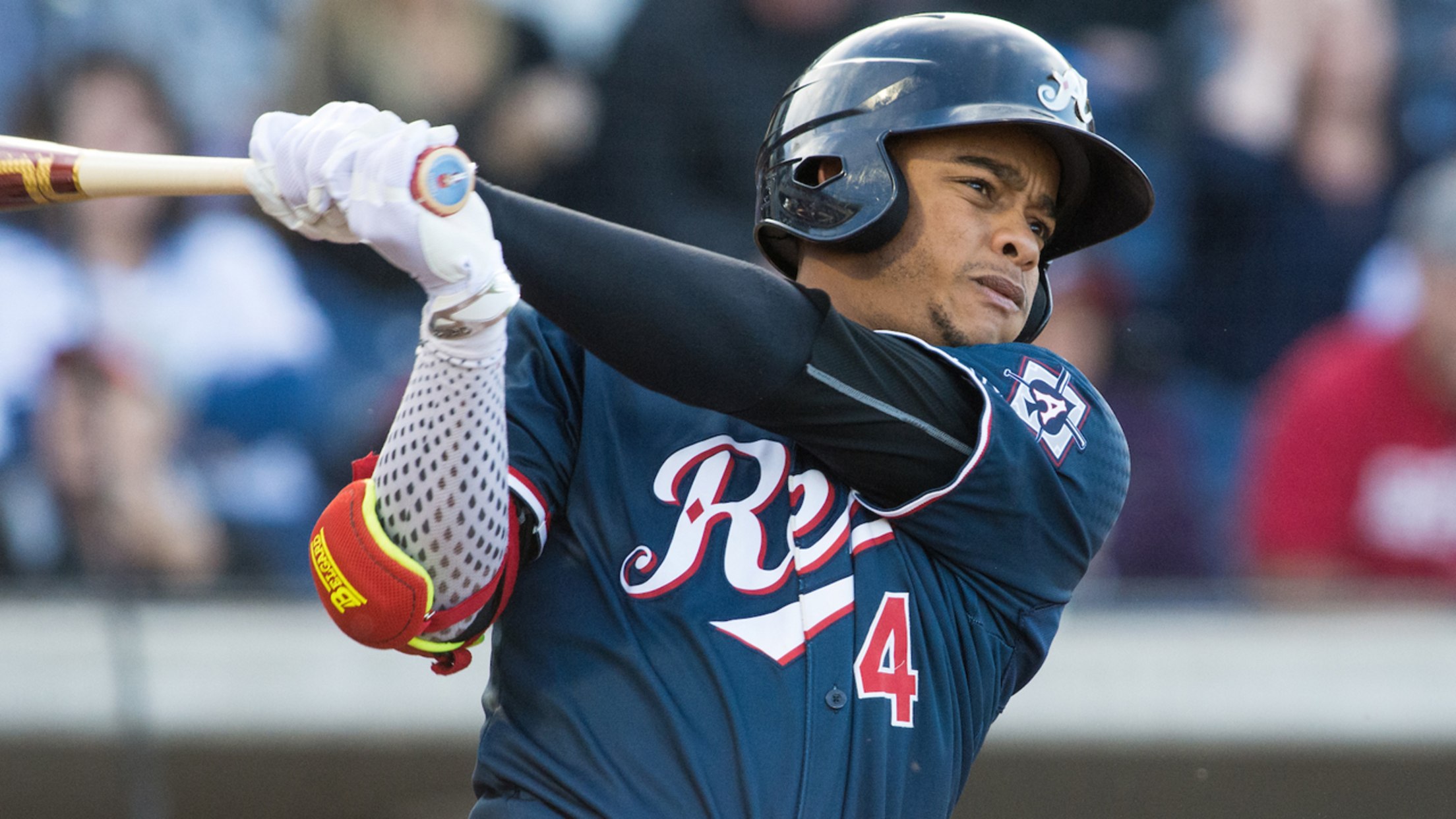 Ketel Marte leads the Pacific Coast League with a .427 batting average and 47 hits. (David Calvert/Reno Aces)
Traded over the offseason, Ketel Marte could have shrank into a diminished role in a new organization, unsure of his road back to the big leagues. Instead, he's doing everything in his power to stand out.The D-backs infielder drove in five runs on a 3-for-4 night, finishing a homer shy
Traded over the offseason, Ketel Marte could have shrank into a diminished role in a new organization, unsure of his road back to the big leagues. Instead, he's doing everything in his power to stand out.
The D-backs infielder drove in five runs on a 3-for-4 night, finishing a homer shy of the cycle, as Triple-A Reno outlasted Salt Lake, 9-6, on Wednesday night at Greater Nevada Field.
"He was hot right from the start," Aces interim manager Greg Gross said. "He worked really hard in Spring Training, just controlling the lower half of his body, staying through the middle and not trying to get real big, just take what pitchers give him. He's done a really good job. He hasn't had too many at-bats where he's varied from that."
Box score
Some of Marte's numbers this season are so impressive, they require double-checking. The 23-year-old has been held hitless twice in 25 games and 15 multi-hit contests, with Wednesday's coming one short of matching a season high. His batting average has dipped below .400 for only nine days and he's walked more times (seven) than he's struck out (six).
Marte bounced back to the mound in the first inning, but Salt Lake was unable to keep him off the basepaths the rest of the night. He laced a bases-loaded triple to right in the second, highlighting a five-run inning.
"He got something soft, middle-in, and pulled it down the right field line to clear the bases," Gross said. "It might have been a pitch earlier that he might have pulled foul or swung over the top of, but all the work he's done in Spring Training and through this first five weeks of tee work and everything else, trying to stay in line and stay up the middle with his body and try to get the barrel through and stay inside it, an at-bat like that pays off."
The swing was a microcosm of the continued all-around refinement of Marte's plate approach, according to his manager.
"The pitch selection has gotten better," Gross said. "He's worked better counts. The swing is more controlled than maybe in the past. I think he understands how to best use his skill set. I just look for him to keep getting better."
Marte doubled to left in the fourth and added a two-run single to right in the sixth. Needing a homer for the cycle, the native of the Dominican Republic was left in the on-deck circle in the eighth when D-backs No. 28 prospect Ildemaro Vargas was retired. Vargas went 1-for-5 and is batting .300/.328/.400 to form a potent duo atop the Reno lineup.
"Everybody wants to hit behind them," Gross said. "Everybody wants to play right now. That's probably the best way to put it. The thing is, they've kept it going for getting close to five weeks. The number of quality at-bats that they've had over that period of time have been really impressive. He hasn't gotten out of what he's trying to do. He's become an all-around hitter, and the pop, I think that's going to come."
The D-backs acquired Marte from the Mariners in November as part of a five-player trade that sent big league starting pitcher Taijuan Walker to Arizona and outfielder Mitch Haniger to Seattle. Marte may not have been the biggest name in the deal, but coming off a year in which he saw action in 119 games at the big league level, he's eager to prove that's where he belongs.
"He just loves to play," Gross said. "I think maybe he tries to do a little too much. He was in a situation where he had some success real early [in the Majors] and he's a real young guy. The league probably made some adjustments to him and he struggled a little bit to maybe make those adjustments back. He got probably a breath of fresh air getting traded to a new organization, a fresh start. He's definitely made an impression."
Behind Marte, Oswaldo Arcia slugged a solo homer for Reno. The Aces totaled 11 hits and went 4-for-10 with runners in scoring position. That support was enough for starter Keyvius Sampson (3-1), who gave up four runs -- one earned -- on four hits and five walks while striking out five over five innings. Silvino Bracho worked in and out of trouble in the ninth to record his third save.
Tyler Maun is a contributor to MiLB.com. Follow him on Twitter @TylerMaun.