Duplantier, Varsho have D-backs on the rise
As far as talent's concerned, season shows system isn't a desert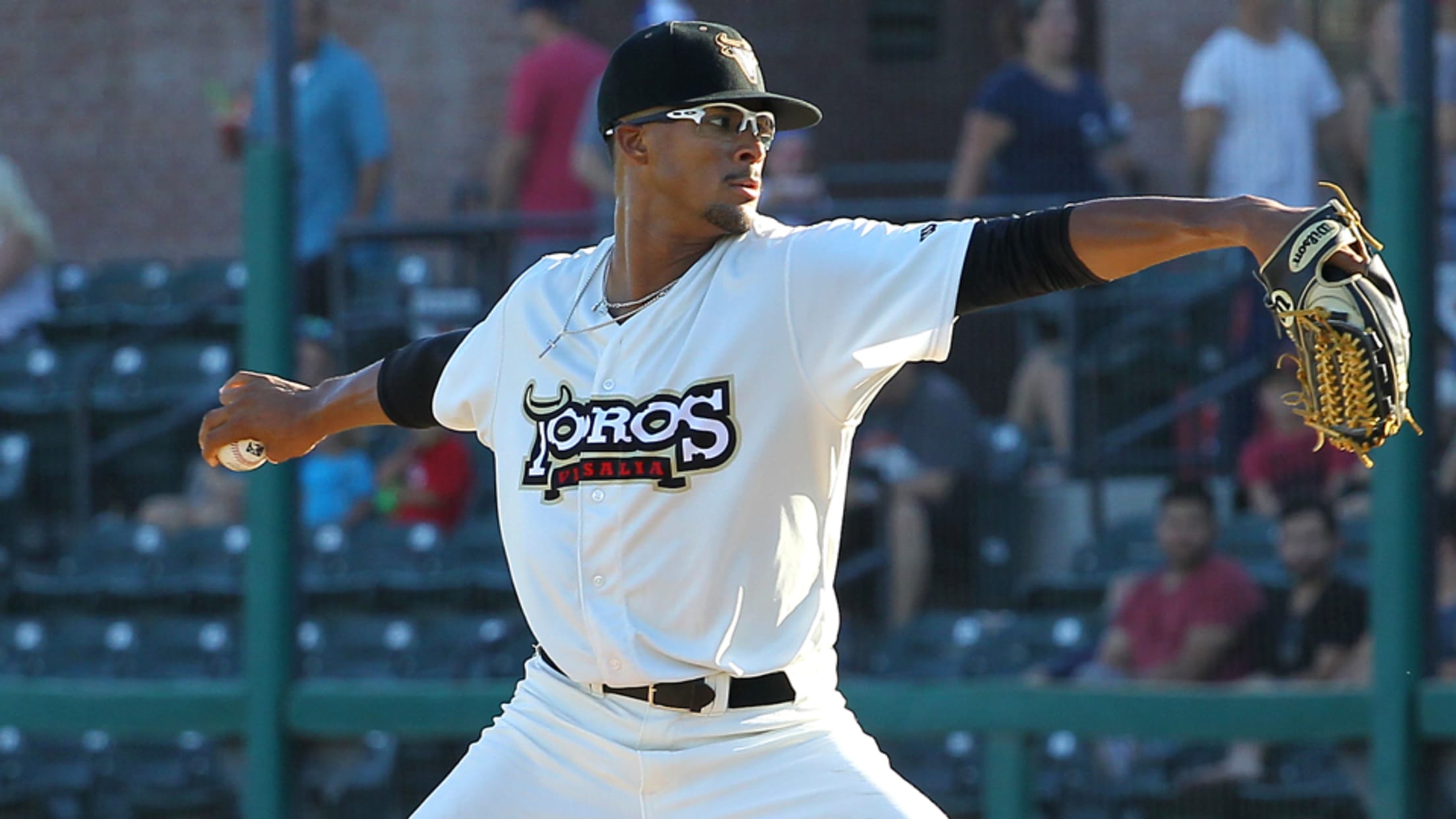 Jon Duplantier went 12-3 and allowed 26 runs -- 21 earned -- over 24 starts and one relief appearance this year. (Ben Sandstrom/MiLB.com)
This offseason, MiLB.com is taking a look at the most outstanding campaigns by players in each system across Minor League Baseball and honoring the players -- regardless of age or prospect status -- who had the best seasons in their organization.Not long ago, the Arizona system appeared more noteworthy for
This offseason, MiLB.com is taking a look at the most outstanding campaigns by players in each system across Minor League Baseball and honoring the players -- regardless of age or prospect status -- who had the best seasons in their organization.
Not long ago, the Arizona system appeared more noteworthy for what it had lost than what it was building. That's no longer the case. The D-backs, who improved from 69 victories in the Majors in 2016 to 93 this season, were mostly winners across the Minors, and several youngsters established themselves as legitimate prospects.
"We have really good, talented players, and the staff is in place," Arizona vice president of player development Mike Bell said.
D-backs affiliates sported a 455-454 record overall, but minus the complex teams in the Rookie-level Arizona League and Dominican Summer League, the system was 407-375 (.520). Triple-A Reno, Class A Kane County, Class A Short Season Hillsboro and Rookie-level Missoula Osprey all reached the playoffs.
Undeniably, solid Drafts have played a part in this success. In addition to those listed below, Matt Tabor, Drew Ellis, Anfernee Grier and Taylor Clarke show Arizona's acquired plenty of potential via that route. But the D-backs have also developed less obvious talents into serious assets and signed former fringe players who have made big leaps since then.
D-backs Organization All-Stars
Catcher -- Daulton Varsho, Hillsboro (50 games):
The 68th overall pick this year, Varsho led the Class A Short Season Northwest League in slugging (.534) and tied for first in extra-base hits (26) while finishing fifth in average (.311). That's impressive for any young hitter, but for a catcher's first crack at professional ball, it's sensational.
"I think he had a pretty good idea of the pro game, growing up and coming from his family," Bell said of the son of eight-year big league veteran Gary Varsho. "It was an easy transition for him. The offensive side of his game is incredible. I don't know if everybody knows it, but Hillsboro is not a very offensive environment, and look at what he did there.
"He has incredible athleticism. I'd heard about his athleticism, then seeing it in person, it's impressive. He caught well, received well, blocked the ball. He did it all. It was an amazing season."
First baseman -- Christian Walker, Reno (133 games), Arizona (11 games): The D-backs became Walker's fourth organization of the year after they grabbed him with a late March waiver claim. In arguably the best offensive performance by any Minor Leaguer this season, he claimed Pacific Coast League MVP honors while leading the loop in RBIs (114, also tops in the Minors) and games (133) and second in hits (159), extra-base knocks (75), runs (104) and total bases (307). He also tied for second in homers (32).
"He's a talented hitter. He worked on his approach and he has a belief in his swing," Bell said. "He's got lots of confidence and he played well all summer. Now he's playing well for us [in the Majors]."
Honorable mention: Pavin Smith, the No. 7 overall pick this year, is the club's top prospect and MLB.com's No. 62 overall prospect. He batted .318/.401/.415 over 51 games for the Hops.
Second baseman -- Ildemaro Vargas, AZL (two games), Reno (113 games), Arizona (12 games): The switch-hitting sparkplug of the Aces led the PCL with 35 doubles and was fourth with 152 hits while putting up a .312/.355/.462 line, and he struck out only 40 times all season. Vargas spent eight years in the Cardinals organization before the D-backs signed him out of independent ball.
"You know the other side -- he's grateful for the opportunity to play," Bell said. "He brings fresh energy to the ballpark every day, and he's a blast to watch. He's infectious with his teammates, and he was good on offense and on defense."
Third baseman -- Marty Herum, Visalia (87 games), Jackson (43 games): Herum won the California League Home Run Derby in front of a Visalia crowd that initially fell in love with him in the 2016 season, but it was his consistency across two levels this year that earned him this spot. He reached base at a .356 clip in the Cal League, then hung tough for a .314 OBP with 14 extra-base hits during his first chance at Double-A ball. He batted .302 with 37 doubles between the two leagues.
"Marty's a good player, just a good, solid all-around player," Bell said. "He's a good fielder, and he has a great approach at the plate. He never tries to do too much or gets in over his head -- he knows himself."
Shortstop -- Ketel Marte, Reno (70 games), Arizona (73 games): The D-backs had just three players amass 530 innings at the position in the Minors, and one of them -- Sergio Alcántara -- was traded to the Tigers in July. Marte was one of the other two, and the former Futures Game selectee batted .338/.391/.514 in the PCL before establishing himself as the everyday shortstop in the Majors.
Honorable mention:Jack Reinheimer posted a .969 fielding percentage over 533 1/3 frames at short for Reno. He also batted .278/.341/.351.
Outfielders -- Oswaldo Arcia, AZL (three games), (Reno 93 games): A veteran player who's had good Minor League seasons in the past, Arcia put together his best campaign yet, doing it almost entirely at the Triple-A level. Although he was sent to the disabled list just before the playoffs, he led the PCL in OBP (.410) and slugging percentage (.639) and was second in home runs-to-AB ratio while posting a .326 average.
"We signed him as a free agent and we knew he could hit. He did," Bell said. "He played well in the outfield too. ... He had an incredible season."
Zach Borenstein, Reno (122 games): After hitting a total of nine homers in two fewer PCL games last year, Borenstein popped 24 this season.
"He's always had raw power. He got more consistent at-bats and he made the most of it," Bell said. "He's been to that league, and repeating that level, he played with confidence. He has as much raw power as anybody."
His increase in dingers came as he boosted his OBP from .337 last year to .351 this season.
Marcus Wilson, Kane County (103 games): Wilson was tied for second in the Midwest League with a .295 average and his .383 on-base percentage was second. He also stole 15 bases and slugged 21 doubles, five triples and nine home runs. This was quite a splash for his first full season; the 21-year-old California native was a Collective Balance Round B pick out of high school in 2014.
"It's a credit to him -- for two-and-a-half years, he was in extended spring. That's tough, but he learned a lot and made the most of his time there," Bell said. "His approach was always good -- that was never an issue. We were just letting his body catch up to him."
Utility/DH -- Kevin Cron, Jackson (138 games): More a second first baseman and designated hitter option than a true utilityman, Cron was the Southern League MVP and D-backs Minor League Player of the Year. No wonder. He led the SL in homers (25), RBIs (91), extra-base hits (60) and games (138) while finishing second in hits (146), doubles (35) and slugging (.497). After 2014 14th-rounder showed similar power but struggled to hit consistently at the same level last year, this was exactly the campaign the D-backs wanted from him.
"For sure," the VP of player development said. "He changed his approach at the plate and committed to it all year full out, and because of that, he had a great year. He got on base, he drove the ball, his average was good. And he played great defense all year."
Right-handed starting pitcher -- Jon Duplantier, Kane County (13 games, 12 starts), Visalia (12 starts): A 2016 third-round pick who made just one appearance last year, Duplantier led the Minor Leagues with a 1.39 ERA. He went 12-3 and struck out 165 over 136 innings across Class A and Class A Advanced ball.
Could anything have gone better for the Rice product this season?
"No, I don't think so," Bell said. "He actually finished stronger than he started, and that's a credit to him, because it's up to him to do the work every day. We can tell him what to do, encourage him, guide him, but it's him who has to do it. He kept his body in shape, worked to keep his delivery consistent and stayed disciplined all year."
Left-handed starting pitcher -- Cody Reed, Kane County (eight starts), Visalia (17 starts): Shut down with arm fatigue after a fairly rough Cal League stint last year, Reed rebounded with a dominant first couple months in the Midwest League and a much stronger return to the Rawhide. Overall, he went 8-2 with a 3.17 ERA while punching out 139 over 136 1/3 innings. That campaign was above and beyond what the D-backs wanted for the 21-year-old southpaw this year, which was "just to stay healthy."
"We believe he's got the stuff to perform, and we always have, so [we wanted him] to keep himself in shape, to keep his body in shape, to be mentally strong and get through the year. He did that," Bell said. "You talk about young high-school guys, it takes a while sometimes [for them to get acclimated to pro ball]."


Relief pitcher -- Colin Poche, Kane County (13 games), Visalia (18 games): A 23-year-old left-hander picked out of Dallas Baptist in the 14th round last year, Poche zipped through the Midwest League and the Cal League in his first full pro year and first prolonged stint working exclusively out of the bullpen. He held opposing hitters to a .174 average with 81 strikeouts over 50 1/3 innings. He was rewarded with an assignment to the Arizona Fall League.
"He had a great year, and going to the Fall League this quickly, that's going to be a big boost to his confidence," Bell said. "We'll look for him to keep doing the same thing. He's a really consistent person, a hard worker, and we believe he'll have a good fall."
Honorable mention:Jimmie Sherfy appeared in 44 games for Reno (44 games), finishing second in the PCL with 20 saves, and pitched his way into the big league bullpen.
Josh Jackson is a contributor to MiLB.com. Follow and interact with him on Twitter, @JoshJacksonMiLB.