Generals' Widener fans career-high 13
D-backs No. 4 prospect allows one run over seven innings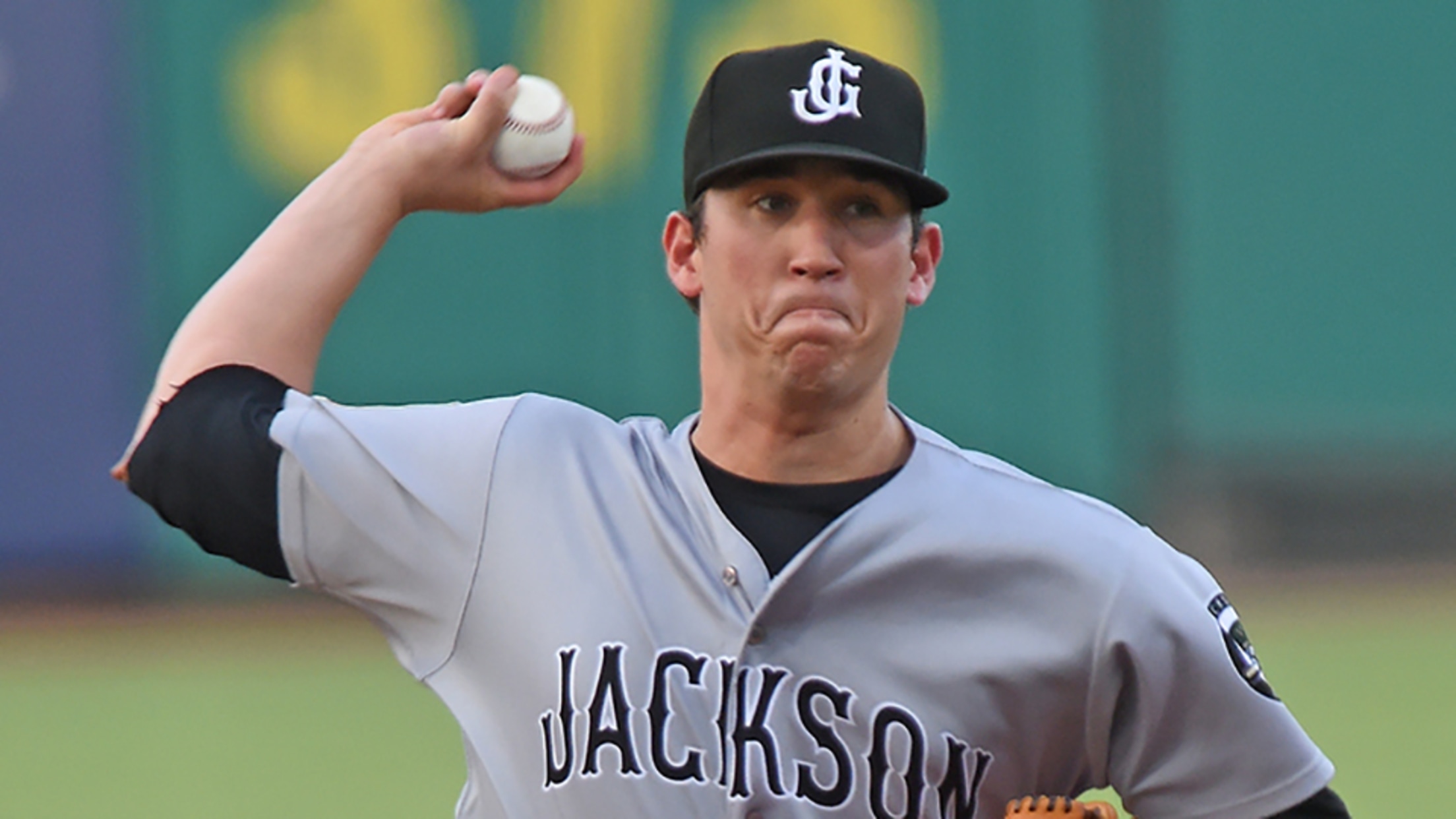 Taylor Widener ranks third in the Southern League with a 2.60 ERA in 16 starts for Jackson. (Brian McLeod/MiLB.com)
The Southern League's strikeout leader asserted his dominance on Saturday. Taylor Widener recorded a career-high 13 strikeouts and pitched his first career complete game, but Double-A Jackson fell to Tennessee, 1-0, in the opener of a doubleheader at The Ballpark. He gave up a run on three hits and a walk
The Southern League's strikeout leader asserted his dominance on Saturday.
Taylor Widener recorded a career-high 13 strikeouts and pitched his first career complete game, but Double-A Jackson fell to Tennessee, 1-0, in the opener of a doubleheader at The Ballpark. He gave up a run on three hits and a walk over seven innings.
"I felt really good early in the game. I felt really good later in the game, too," Widener said. "I had a little more energy early in the game, so I was able to give them my best stuff early. Later on, I just had to maintain it."
The only time Widener (4-5) ran into trouble was the fourth inning, when Cubs No. 22 prospectZack Short and Trent Giambrone smacked back-to-back doubles. Other than that, the D-backs' fourth-ranked prospect allowed a double to Will Remillard in the third and issued a free pass to Jesse Hodges leading off the fifth.
Widener credited his catcher, Marcus Littlewood, for piloting the outing.
"Marcus was back there, mixing up my pitches really well," the University of South Carolina product said. "He was letting everything work off each other. I thought he did a phenomenal job back there, calling the game, helping me out."
The two have a strong relationship, Widener said, especially with their lockers adjacent to one another. They speak all the time. On Saturday, however, Littlewood had to give his batterymate some tough love.
"He told me there was some pitch that I shook on that I gave up a double, [he said] that I shouldn't have went to that pitch," Widener said. "I agreed with him; I made the mistake. That's just good, to be able to talk to him, and for him to be honest with me to tell you that I messed up right there. ... I should've listened to him is all that was."
Gameday box score
Of the first nine batters Widener faced, he fanned eight, including five in a row. He struck out the side in the second and third before the Smokies tagged him for the game's lone run in the fourth. After the doubles, the right-hander popped up Eddy Martinez and got Jeffrey Baez swinging to prevent further damage.
Following the walk to Hodges, Widener set down the final nine hitters he faced. He threw 67 of a season-high 101 pitches for strikes and eclipsed his previous best of 12 strikeouts, set on June 13 when he threw seven scoreless innings against Jacksonville.
"I just really had to pitch more [later in the game], instead of going up there and throwing," Widener said. "I just had to use everything."
The 2016 12th-round pick has 114 strikeouts over 86 2/3 innings this season to lead the league. His 1.02 WHIP ranks second and trails Biloxi's Zack Brown by 0.01. Even though the midseason All-Star has one win since the beginning of June, he lowered his ERA to 2.60.
"I guess [the numbers are] good for me, showing that all of the work I put in in the offseason and everybody else that's helping me," he said. "I guess it does a credit to everybody."
During the offseason, Widener decided his 50 walks in 119 1/3 innings with Class A Advanced Tampa in the Yankees system were too many. But missing more bats wasn't necessarily the desired outcome.
"My goal was actually to cut down on the walks," he said. "I think just going right after guys has helped me get more strikeouts.
"I know how hard hitting is; I know it's not easy to hit up there. You just have to be very aggressive and go after these guys. You can't fall behind these guys, because as soon as you fall behind these guys are good enough in this league to where they're going to make it pay for it."
Traded on Feb. 20 as part of the three-team deal that sent Brandon Drury to New York, Rays No. 15 prospect Anthony Banda to Tampa Bay and Steven Souza Jr. to Arizona, Widener feels at home in the D-backs organization.
"I'm really comfortable with everybody," he said. "Everybody here is really nice. It's made the transition super-easy for me."
Unfortunately for Widener, Cubs No. 18 prospect Keegan Thompson (2-1) was dealing again. He allowed three hits and two walks in stretching his scoreless streak to 11 1/3 innings. The right-hander has not given up a run in three of his last four starts.
Chris Bumbaca is a contributor for MiLB.com based in New York. Follow him on Twitter @BOOMbaca.