Astros' Robinson cleared for takeoff
No. 27 prospect moving up the chain with power, strong arm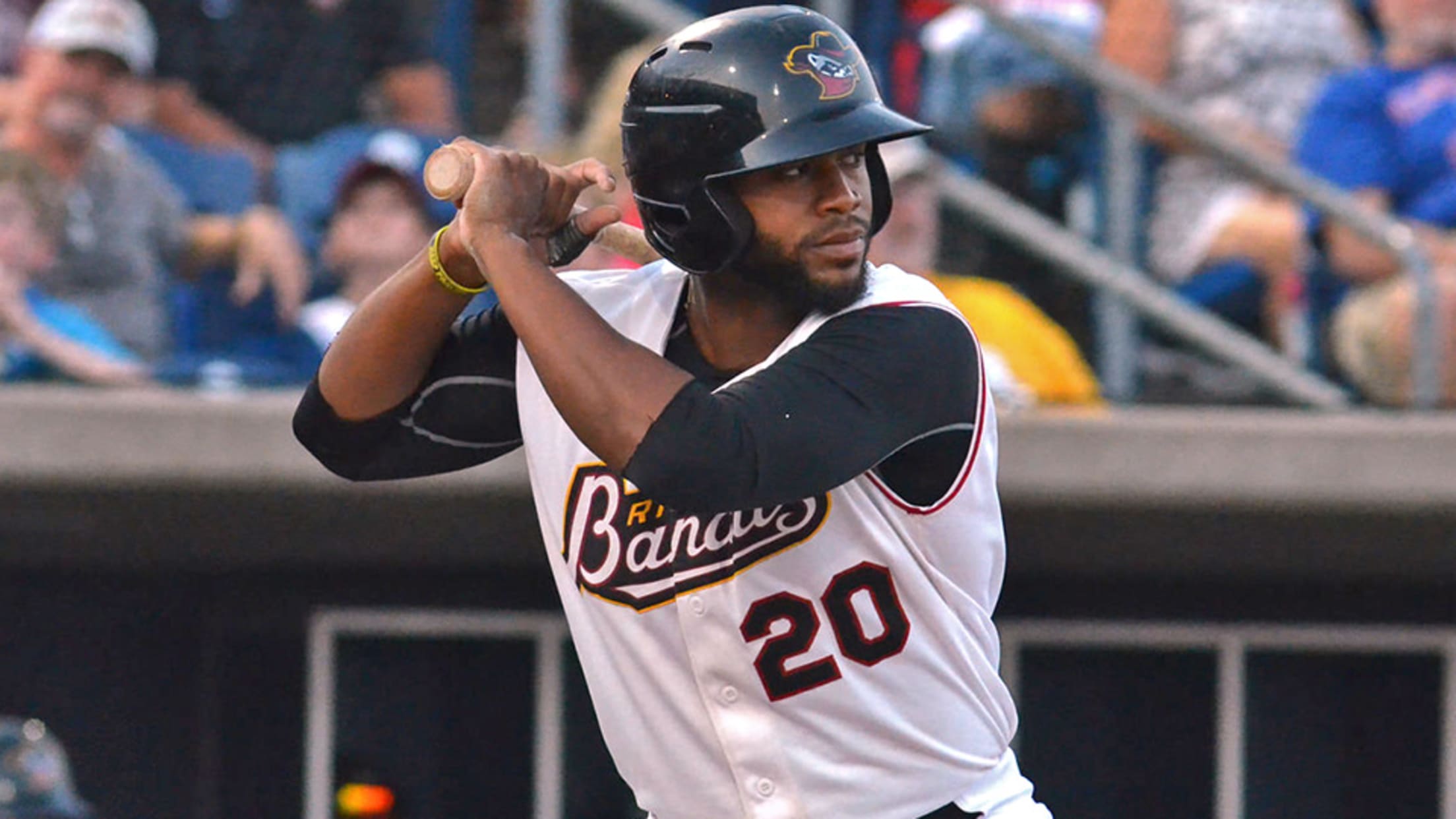 Chuckie Robinson was second in the Midwest League with 77 RBIs and tied for second with 32 doubles last season. (Paul R. Gierhart/MiLB.com)
WEST PALM BEACH, Florida -- Chuckie Robinson wanted to go into the family business. He also wanted to just plain hit.His grandfather, Chuckie Robinson Sr., was a catcher in the White Sox organization for a brief time in the 1960's. His dad, Chuckie Jr., played a season behind the plate
WEST PALM BEACH, Florida -- Chuckie Robinson wanted to go into the family business. He also wanted to just plain hit.
His grandfather, Chuckie Robinson Sr., was a catcher in the White Sox organization for a brief time in the 1960's. His dad, Chuckie Jr., played a season behind the plate for Rookie-level Huntington in the Cubs system in 1991. With that kind of lineage, Robinson was blessed with an arm that gave him options entering Danville (Illinois) High School. He chose the only one he'd ever known.
"I kinda caught my whole life," he said. "I was a big kid, and in Little League, if you were the big kid, they put you behind the dish. Plus, I could actually catch the ball a little bit. I played a little infield and pitched, too. When high school came, I had to choose between pitching and catching. I had a good arm. But I thought, 'Man, I want to hit.' So I was a catcher. It was only right."
Years -- and some bumps along the road -- later, the Astros' No. 27 prospect already has the best Minor League resume in his family and could be primed for another big year in his second full season in the system.
It wasn't always a given that Robinson would follow his familial footsteps to the Minors, however. After a standout career in which he set the Danville High School record with 19 homers, he made the jump to Division I ball at the University of Southern Mississippi. However, he got only 109 at-bats between his first two years with the Golden Eagles. The arm was as advertised with a 42.1 percent caught stealing rate as a sophomore and scouts still showed interest because of his power potential after he hit nine homers in a 38-game stint in the New England Collegiate Baseball League in the summer of 2015. But entering his Draft-eligible junior year in 2016, it was far from a given that the right-handed-slugging backstop would hear his name called in June.
Having paid his dues, Robinson finally got his chance to become the Southern Miss starter and made the most of his opportunity. He hit .288/.349/.433 with seven homers and a 39 percent caught-stealing rate in 59 games for a team that won the Conference USA tournament over Rice that spring.
"I was always ready," Robinson said. "Freshman year, I didn't play much; sophomore year, I didn't play much. My whole life, I played a lot. So that taught me not to take the game for granted. So when I did get the opportunity and my card was pulled, I just went out there and gave it my all. I didn't take it for granted. When you're in the lineup every day, you can think, 'Oh, I'm tired, I'm tired.' My whole mentality has changed since those two years. All I can think is, 'Oh, I want to play. Dang it, I want to be in there.'"
The Astros noticed and took a flier on Robinson in the 21st round on the final day of the 2016 Draft. They offered him $100,000 -- the most a player drafted outside the top 10 rounds could sign for in 2016 without it counting toward the bonus pool. The player could have seen the potential in getting noticed and opted to go back to school to improve his stock. (College seniors can, and often, sign for less than six figures.) Instead, he struck while the iron was hot.
"Really, I just wanted the opportunity," he said of the decision to sign. "I believe in myself wholeheartedly. Despite the numbers, despite everything, I see good ballplayers. I know good ballplayers. I think I'm a good ballplayer. I know what I'm capable of and, honestly, I just wanted to get an opportunity. When it came, I took it."
But even after showing what he could do as a full-time starter, Robinson still found himself in a part-time role upon joining the Houston system. Jake Rogers was the Astros' third-round pick in the same Draft out of Tulane and the two were paired at Class A Short Season Tri-City in 2016 and again at Class A Quad Cities in 2017. Because of Rogers' powerful start and defensive prowess, he was promoted to Class A Advanced Buies Creek on May 15.
That's when it became Robinson's time to shine. From May through July, the 23-year-old hit .298/.356/.489 with 10 homers in 72 games. He scuffled in August, hitting .222 in 23 games, not uncommon for someone not used to playing 100-plus games behind the plate. But he still went deep five times in the season's final full month, more than any other month that season. He finished with a .274/.330/.463 line, 15 homers, two triples and 32 doubles in 108 Midwest League contests, thanks to improvements brought on by a bigger focus on his lower half and maximizing his swing path.
When Minor League baseball last saw Robinson, he went 4-for-5 with a homer, double and three RBIs as the River Bandits completed a sweep of Fort Wayne in the Midwest League Finals. He totaled four homers in nine postseason games.
"I think me as a hitter, I need a lot of reps," Robinson said. "I need to be in that comfort zone. I've never been a guy to start off hot. When you're in that situation where you're playing only once a week, twice a week, you put a lot of pressure on yourself and may think you have to hit a homer in every game. But if you're in the lineup every day, I have some room to breathe. Getting comfortable, knowing you're playing the next day, it helps a lot."
As good as he's been offensively, Robinson can be just as flashy defensively. Thanks to his plus arm, he caught 41 percent of would-be basestealers last season. The Major League average was 27 percent. But questions remain about his ability to handle the finer parts of the craft like receiving and pitch-framing. Given the ways other aspects of his game have taken off, the Astros aren't going to fret yet.
"He's got the work ethic to take the feedback from our staff and really improve, so that's not something we're worried about at all," Astros director of player development Pete Putila said. "He'll continue to get game reps and keep working on it. It's a very trainable skill, so we're looking forward to him progressing there, too."
The organization trusts Robinson enough that it threw him into right field for an intrasquad game on the Spring Training backfields Wednesday, just to fill a hole. The assignment wasn't because the Astros wanted to give his arm a look at a new position but more because they knew he'd treat the chance to play with respect. His teammates enjoyed Robinson's presence enough that they cheered when he made his lone catch on a fly ball.
The slugging catcher certainly has his fans among those in Astros blue and orange.
"He's one of our most-liked players by staff just because he's such a hard worker," Putila said. "Physically, he's an explosive player. It shows up in his arm strength and bat speed. He's just really working to round out his skill set. It's surprising power, even when he's not in a position to hit. He's gotten better in all facets, really -- his defense, his hitting, his body. It's really a great pick by Justin Cryer, our former area scout in the Deep South. We're thrilled to have him and he's going to get a lot of playing time this year."
Another jump is possible in 2018, especially if Robinson improves defensively. Rogers was traded to the Tigers last August in the deal that brought Justin Verlander to Houston, so he won't be blocking his fellow 2016 Draft pick again. In fact, Garrett Stubbs, who finished 2017 at Triple-A Fresno, is the only catcher ranked higher in the Astros system by MLB.com at No. 24. If Robinson can continue to tap into his power potential and throw out attempted basestealers at an elite rate, he could move quickly, given his age and college pedigree. The Astros said his performance will determine how quickly they push him, but it's worth noting that Robinson's appearance on Wednesday came in the Triple-A vs. Double-A game.
Whatever happens this year, Robinson has given himself at least a chance to go where the tools of ignorance have taken no one in his family -- the Major Leagues.
"So far, so good," he said. "I have a long way to go development-wise, and I'm still trying to learn a lot. But, yeah: so far, so good. I'm having fun, so I'm really glad I was drafted by the Astros."
Sam Dykstra is a reporter for MiLB.com. Follow and interact with him on Twitter, @SamDykstraMiLB.