A's Prospect Primer: Barreto on the cusp
Top Oakland prospect looks poised to make big league debut in 2017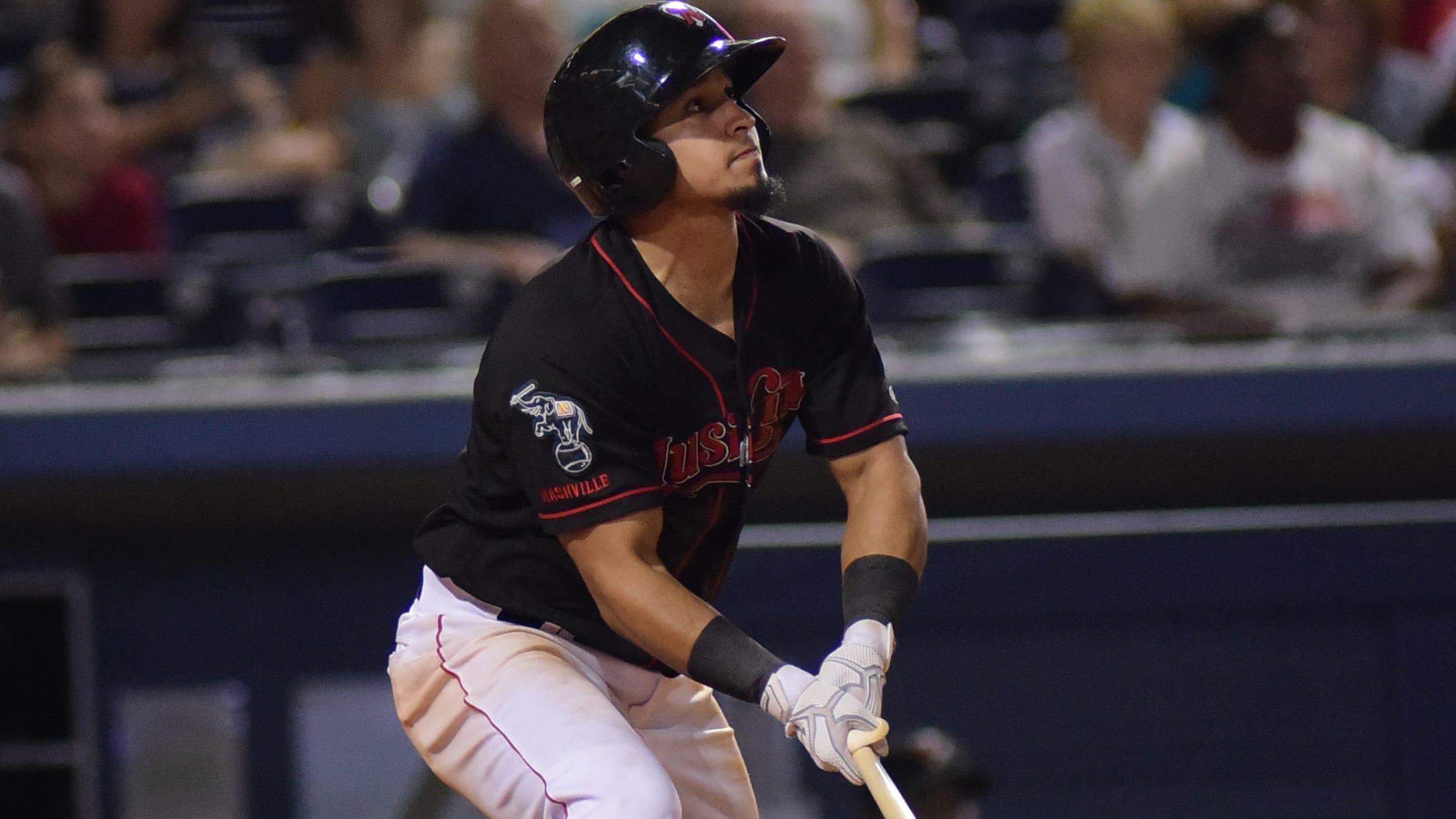 Franklin Barreto, who turned 21 last month, owns a .293/.349/.465 slash line in 345 Minor League games. (Nashville Sounds)
Some players are on the verge of stardom, others are entering a crucial phase of their development and still others are getting their first tastes of full-season ball. With the 2017 season approaching, MiLB.com takes a look at the most intriguing prospects from each MLB organization.Major League-ready: Franklin Barreto , SS After
Some players are on the verge of stardom, others are entering a crucial phase of their development and still others are getting their first tastes of full-season ball. With the 2017 season approaching, MiLB.com takes a look at the most intriguing prospects from each MLB organization.
Major League-ready: Franklin Barreto , SS
After a seamless transition to full-season ball in 2015, Barreto marked another major milestone in his development in 2016 by putting together a fantastic season for Double-A Midland, despite being just 20 years old.
In 119 games with the RockHounds, the A's top prospect batted .281/.340/.413 with 10 homers and 50 RBIs and earned a four-game stint with Triple-A Nashville at the end of the season.
"He's done everything he's needed to do so far," said A's director of player development Keith Lieppman. "He's right on target for, hopefully, making an appearance in the big leagues at some point this year."
The shortstop prospect has continued to check off more boxes this offseason, playing in the Arizona Fall League before attending Major League Spring Training. Barreto will begin 2017 at Triple-A, where he could see time at second base and/or center field as Oakland prepares for his arrival. Should he put together a strong showing in the first few weeks of 2017, Barreto could be in green and gold in short order.
"He's not very far away from being able to play in the Major Leagues," Lieppman added. "We just want to make sure he's completely ready to go and we have a way to fit him in with regular at-bats."
Full-season debutant: A.J. Puk , LHP
The A's jumped at the opportunity to select Puk sixth overall in the 2016 Draft, and the 6-foot-7 southpaw posted terrific numbers in his first professional season. In 10 games with Class A Short Season Vermont, Puk posted a 3.03 ERA and 1.07 WHIP. The 21-year-old overpowered New York-Penn League lineups, striking out 40 and holding hitters to a .185 average in 30 2/3 innings for the Lake Monsters.
"We're very excited about how and when we got A.J. We felt he was undervalued at the Draft, and we were lucky to get him where we did," Lieppman said. "He did very well in Vermont. He threw strikes and made some good adjustments in his delivery."
Lieppman said the plan would be for Puk to start 2017 with Class A Advanced Stockton, but it wouldn't be surprising to see the University of Florida product climb the ladder quickly.
"We're thrilled about having a young arm like that in our system. We've been able to get guys through our system pretty quickly, whether it's a Mark Mulder, Tim Hudson or Barry Zito, and we hope he may be on that same kind of track," Lieppman added.
Loudest tool: Matt Chapman , 3B
The best way to describe Chapman's game is "loud." Whether it's the sound of his bat hitting the ball or the pop of the glove on the receiving end of one of his throws from across the diamond, the 23-year-old's game packs some serious punch.
In 117 games with Midland, Chapman blasted a Texas League-best 29 homers and finished second with 83 RBIs. In August, the A's promoted the 2014 first-round pick to Nashville, where he continued to knock the cover off the ball -- going yard seven times in his first 18 Triple-A games.
"He has the potential to be that 40-homer guy," Lieppman said. "If he can just touch the ball, that's half the battle. He's spent a lot of time during Spring Training working on his approach. He's got such big power that we just need him to get it over the fence -- he doesn't have to swing big to do it. We've helped him with his effort level and pitch selection and he's made a lot of progress."
Chapman is pegged to start 2017 with Nashville, where the organization hopes he will be able to develop better plate discipline. Should the California native improve his approach, his power will become that much more dangerous as he knocks on the door to the big leagues.
Breakout prospect: Max Schrock , 2B
Over the years Oakland has developed a reputation for making shrewd, under-the-radar moves. That's exactly what they were going for when they acquired the unheralded but productive Schrock from Washington in August in exchange for reliever Marc Rzepczynski.
Ever since he was taken in the 13th round of the 2015 Draft, Schrock has shown an ability to hit well at every level. He began 2016 with Class A Hagerstown, where he batted .326 in 67 games. He made the jump to Class A Advanced in June and posted a .341/.373/.453 slash line in 54 games before being dealt to Oakland. He made it to Midland after just two games with Stockton.
"He's just a solid hitter that brings it everyday. He never lacks for putting together professional at-bats," Lieppman said. "He's worked hard on his defense and is in a good place right now. He's not a real big guy, but when you have a hit tool like he does size doesn't matter."
Back and healthy: Frankie Montas , RHP
Though a rib injury limited Montas to just 16 innings in 2016, the A's liked him enough to get him as part of the deal that sent Rich Hill and Josh Reddick to the Dodgers.
Despite not appearing in regular-season action for any of Oakland's Minor League teams in 2016, the organization got a good look at the 24-year-old in the Arizona Fall League. Montas pitched 17 innings there, posting a 0.53 ERA and 0.88 WHIP while hitting triple digits on the radar gun.
.

Others to keep an eye on: With two plus-pitches already in his arsenal, Grant Holmes , another player the A's acquired from the Dodgers last year, could be a quick riser if he can improve his changeup and his command. ... The Athletics acquired Paul Blackburn from Seattle in November, and after logging 143 innings at Double-A last year, the 23-year-old figures to be the anchor of the staff in Nashville. ... He may still have a ways to go before making an impact in the Minors, but 17-year-old Cuban import Lazaro Armenteros is definitely one to keep tabs on over the next couple of seasons.
Michael Leboff is a contributor to MiLB.com.