Davidson putting it all together in Arizona
Braves' 2014 first-round pick leads Fall League with six dingers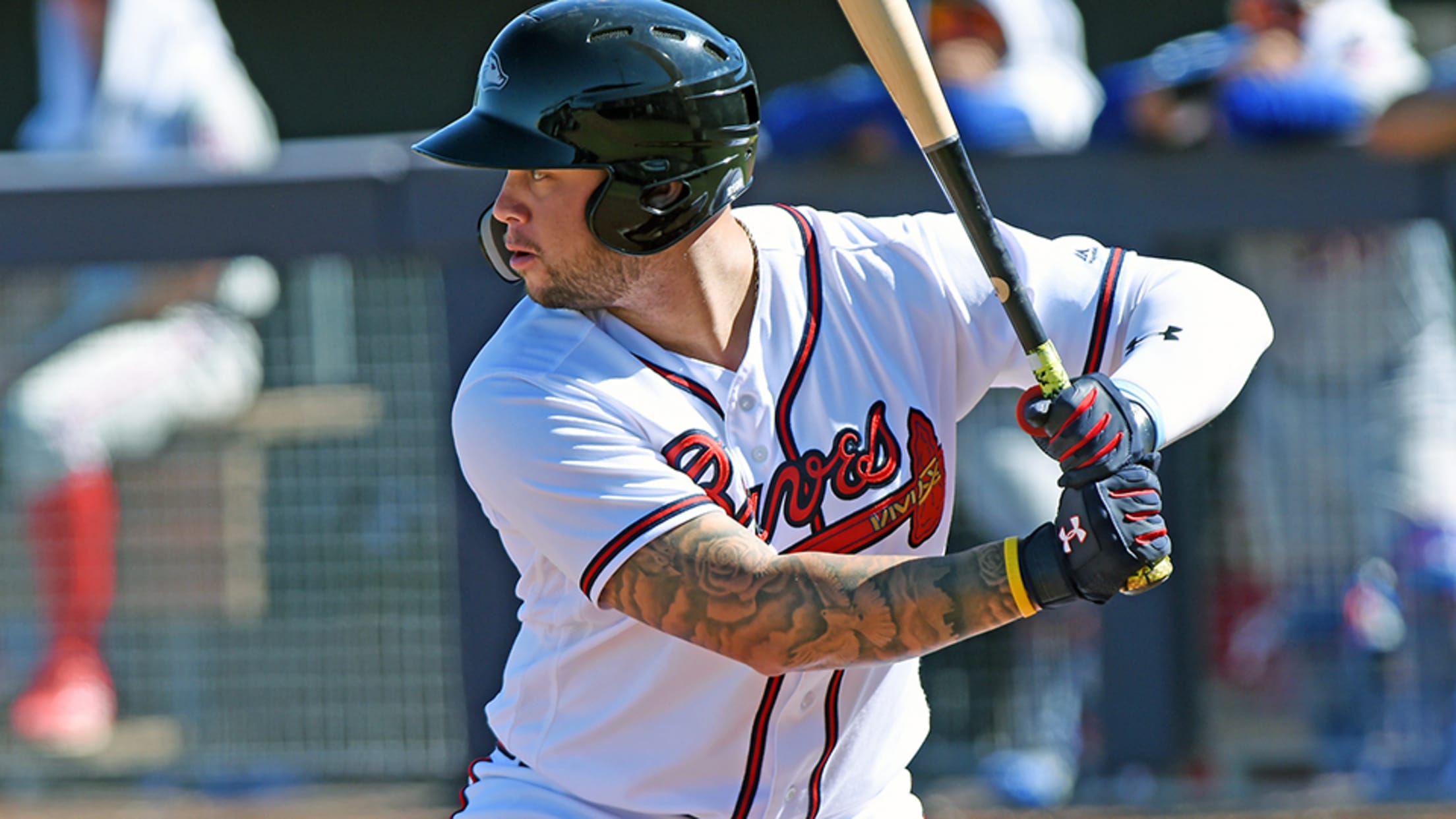 Braxton Davidson ranked second in the Florida State League with 20 home runs for the Florida Fire Frogs this season. (Brian McLeod/MiLB.com)
Timing is everything.Especially for Braxton Davidson, who is enjoying a breakout campaign in the Arizona Fall League. The Braves' first-base prospect attributes his newfound success to a minor adjustment in his swing.
Timing is everything.
Especially for Braxton Davidson, who is enjoying a breakout campaign in the Arizona Fall League. The Braves' first-base prospect attributes his newfound success to a minor adjustment in his swing.
"I sat down with (Javelinas hitting coaches) Doug Banks and Joe Szekely when I got here and watched video from my season. And I realized that I was pulling off a lot of pitches -- my timing was late," Davidson said. "So now I'm starting my swing a little earlier, starting when the pitcher starts. You can see the pitches better and recognize them better. It's made a huge difference. ... My timing was off a lot this year."
Huge might be an understatement. Despite posting a career-best 20 long balls and 64 RBIs this season with Class A Advanced Florida, the 2014 first-rounder's average, on-base percentage and walks declined for the third straight year. Davidson also finished atop the Florida State League with 213 whiffs -- 61 more than Daytona's Ibandel Isabel, second on the circuit with 152.
But through 16 games with Peoria, the 22-year-old ranks fourth in the AFL with 18 RBIs and tops the circuit with six dingers. He is hitting .254 with 12 walks, a pair of doubles and 12 runs scored.
"Coming into the Fall League, you see the power numbers he had this year -- with the Braves organization -- but you also notice the strikeout numbers," Javelinas manager Daren Brown said. "But when you get to see him for yourself here, you realize what a big, strong guy he is. If he can get the barrel to the baseball, he's going to do damage. He's got power to all fields and he showed that during that big stretch he had with us. It's just about getting strikes to hit and limiting the swings at bad pitches."
Davidson was named the AFL Player of the Week for Oct. 29-Nov. 4. The first baseman topped the leaderboard in hits (seven), homers (four), total bases (20), RBIs (seven), slugging (1.250) and OPS (1.721) over four games during that span. Of the four long balls, two were to center field, one was to left and the other went the opposite way.
"I think I just have more of a different approach and different mind-set to the game since I got here," Davidson said. "For so long, I would just go up there and try to hit homers, and really that's not my game. Now I'm staying through the middle of the field, trying to keep control the other way and react to anything that's inside. It's really that mind-set and fixing my timing that's made the difference. Then when you start to do well, obviously your confidence shoots up and having success really comes down to being confident."
Davidson doesn't appear to be cooling off either. He is batting .395/.769/1.165 over his last 10 games with four walks, seven extra-base hits, 16 RBIs and seven runs. The Asheville, North Carolina, native is faring particularly well with runners in scoring position this fall -- going 6-for-14 with two dingers and 10 RBIs in those situations.
"Being down here, I know everyone is a really good pitcher and really good hitter, so I'm just trying to rise to the occasion," Davidson said. "I know what type of player I am. I'm confident. I believe I'm here for a reason. I believe I can compete with the best and that's just been my mind-set in the Fall League."
And he isn't the only one. Even after noting his struggles during the regular season, Davidson's coaches haven't been surprised by his recent success.
"He's really come a long way from the start of the season," first-year Fire Frogs skipper Luis Salazar said. "We always knew about his power, that was no secret. But the strikeouts were causing him a lot of problems. I think it was getting to him a little, and you could see him tighten up with two strikes as the season went on. I think 70 percent of his strikeouts were looking. But when he has his confidence -- like he does now -- you really see what he's capable of. He got hot for us during the season and hit seven home runs in 10 days. He's just a real power hitter, with natural ability, and when he's aggressive, he's got a swing that can turn everything around."
"This was the first time I got to work with him, and his swing was something new and exciting for me. I've never seen anybody with the power that he has," Florida's hitting coach Rene Tosoni added. "His average never really got there this year, but he worked hard. He had a good routine, was in the cages every day with me, and he showed the ability to use the whole field.
"In the beginning, he was pretty narrow on his stance and he moved his head quite a bit, so we spread him out and tried to shorten him out a bit. Just tried to slow everything down and make more consistent contact. And he really worked his butt off. I think it comes down to being more selective with pitches. He's too good to always get a 2-0 fastball."
Davidson is aware the fall numbers might be perceived as the proverbial flash in the pan if he doesn't continue the success into next season, but he's confident that won't happen.
"It's been very frustrating," he said of his struggles over the past three seasons. "I know the type of player that I am ... and that I can be, and out here in Arizona, it's just starting to show a little bit. I know there's more work to be done, but this is a good step forward.
"I'm going to take this fall and bring it over 144 games this upcoming season and hopefully up into the big leagues."
Rob Terranova is a contributor to MiLB.com. Follow him on Twitter, @RobTnova24.