FSL notes: Jackson taking off back at catcher
Braves prospect hits his way to Double-A while switching positions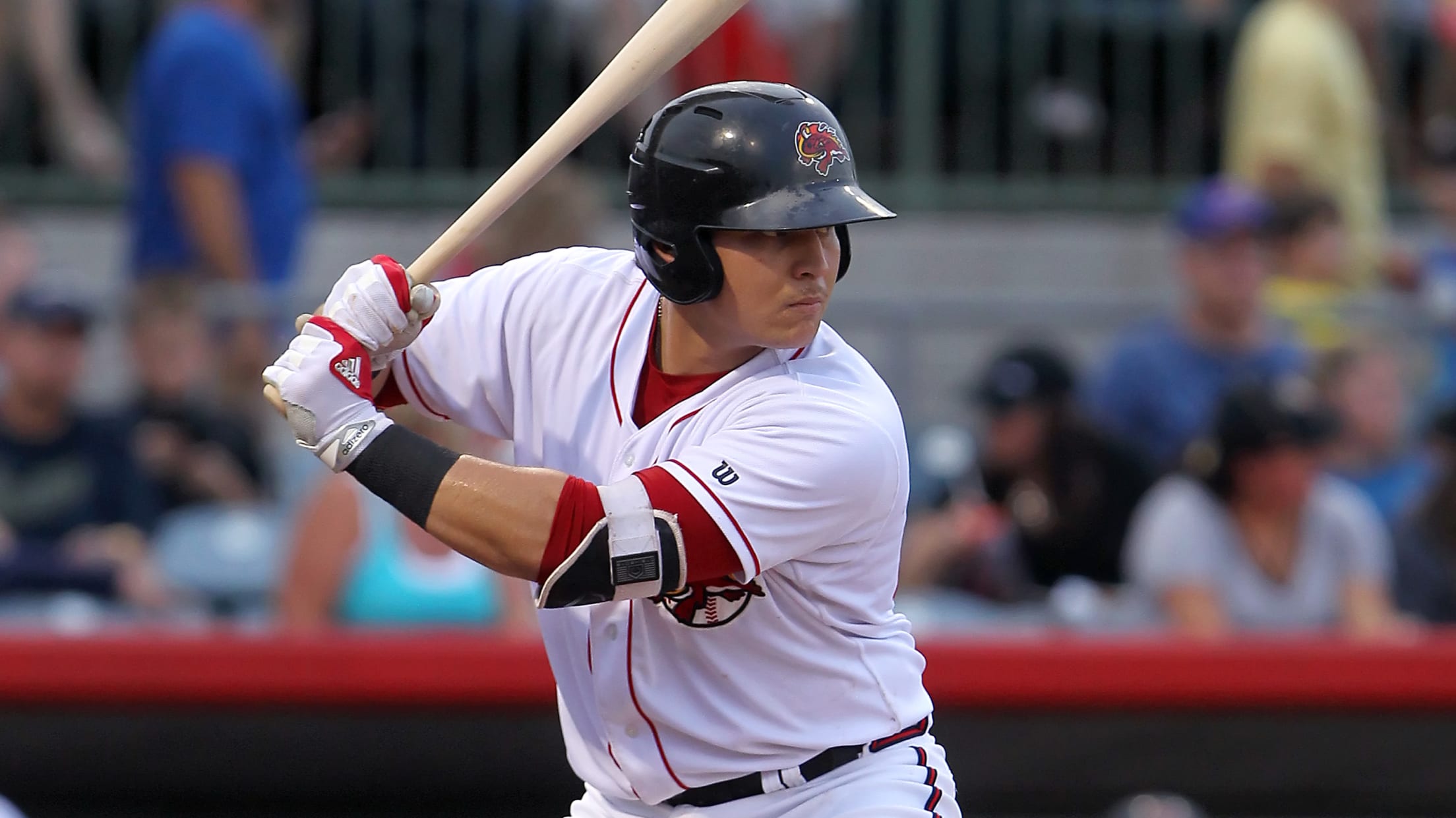 Alex Jackson hit .272 with 14 homers and 45 RBIs for the Fire Frogs prior to his promotion to the M-Braves. (Cliff Welch/MiLB.com)
The Braves knew how good a hitting prospect Alex Jackson was coming out of high school three years ago."He had a chance to go No. 1 in the Draft," Braves general manager John Coppolella said. "Everyone had him rated very high. Guys who are top picks aren't by accident."
The Braves knew how good a hitting prospect Alex Jackson was coming out of high school three years ago.
"He had a chance to go No. 1 in the Draft," Braves general manager John Coppolella said. "Everyone had him rated very high. Guys who are top picks aren't by accident."
The Braves also knew that Jackson was both a catcher and an outfielder in high school. Catchers were a huge need for a Braves system loaded with top-rated pitchers.
In the 2014 Draft, the Mariners took Jackson with the No. 6 pick. But two years later, the Braves finally got their guy.
The Braves acquired Jackson in exchange for pitchers Max Povse and Rob Whalen in November 2016.
"We're very heavy on pitching and we're trying to find impact power bats," Coppolella said. "When we made the trade, we didn't know if he'd be interested in catching."
The Braves had earlier sent director of player development Dave Trembley and assistant Jonathan Schuerholz to meet with Jackson and find out.
"We told him he had to want to catch," Coppolella said. "We were fine with it if he said he didn't want to catch and we'd have kept him in right field. But we told him we were short on catching and that there was an opportunity."
Jackson, eager for a new start, gave the Braves the answer they had been hoping for. He was ready to work behind the plate.
The Braves completed a trade that was little noticed but could become a huge factor in Atlanta's rebuild.
After hitting .233 with 21 homers over three seasons in the Minors for Seattle, the 21-year-old California native has found his stroke with Atlanta, hitting .257 with 25 homers in the midst of his second season with the organization.
His performance at the plate earned him a promotion to Double-A Mississippi at the end of July.
Jackson's seven homers in April helped him place fourth in the pitcher-friendly Florida State League with 14 homers, despite missing a month with inflammation in his left wrist.
The right-handed hitter struggled for a while after returning from the disabled list June 19, but had three hits in his final game with the Fire Frogs. Jackson finished with a .272/.333/.502 slash line to go with his 45 RBIs in 66 FSL games.
That production, combined with his improvement defensively as the season progressed, moved him from No. 24 to No. 17 on the Braves' loaded prospect list, which had nine players on MLB.com's Top 100.
Alternating between catcher and designated hitter to keep his bat in the lineup, Jackson caught 33 games for the Fire Frogs. He had 10 errors and five passed balls, but the majority were early in the season. Ten of 53 attempted base stealers were gunned down.
"He's getting better every day," Coppolella said. "He's got a cannon arm. It's a 60-65 arm [on the 80-point scouting scale]. He had to improve his footwork and receiving skills. We've seen improvement. We have all the faith that he can be a frontline catcher."
Jackson is taking advantage of a new start, and the Braves feel that they were able to shore up two prospect shortcomings in one trade.

In brief
Finding his niche:
Sam Clay
struggled as a starter for Fort Myers after his promotion from Class A Cedar Rapids last year, but the left-hander has been a revelation for the Miracle in the bullpen this season. The fourth-round pick in the 2014 Draft out of Georgia Tech is 8-0 with a 1.33 ERA and had converted eight of 10 save opportunities. Clay, 24, held opponents to a .178 batting average in 34 appearances, striking out 55 and walking 24 in 58 innings. He was 1-3 with a 6.80 ERA in 10 starts for Fort Myers last year, allowing a .315 batting average and walking 29 in 41 innings.
Injury setback:
Jupiter Hammerheads right-hander
Jeff Brigham
, the Marlins' No. 11 prospect, was placed on the disabled list with a right oblique strain after having to leave a start against Florida on July 25 after two innings. He missed April and May because of shoulder tendinitis but had excelled since his return. Brigham, 25, didn't allow an earned run in three of his 11 starts, going 4-2 with a 2.90 ERA. He had 53 strikeouts to 20 walks in 59 innings and opponents were batting .226, getting just one hit in two games and only two hits in the another.
Reversing roles:
Aaron Brown
led NCAA pitchers with 13 victories for Pepperdine University in 2014, but the Philadelphia Phillies liked his bat even more than his arm when they selected the two-way college standout in the third round of the Draft that year. The left-handed hitter and thrower stalled out at the plate, though, after reaching Double-A, and he is now back on the mound with the Clearwater Threshers. Brown, 25, made the decision after hitting .222 in 28 games with Reading this season and .224 in 78 games with the Fightin' Phils last year. He joined the Threshers' bullpen after four outings in the Rookie Gulf Coast League.
Easing back in:
Tampa Yankees left-hander
Stephen Tarpley
is making the most of his limited workload after missing the first two months of the season. Pitching every five days or so out of the bullpen after coming of the disabled list, the 24-year-old didn't allow a run in his first 10 games and had a 4-0 record to go with his perfect ERA. Tarpley had allowed just five hits over 22 innings and had 25 strikeouts to 12 walks. The New York Yankees are the third organization for Tarpley, who was taken in the third round of the 2013 Draft by Baltimore. He was traded to Pittsburgh in the winter of 2015 and then by the Pirates to the Yankees at the end of August last year.
Guy Curtright is a contributor to MiLB.com