Late Homer Sinks Trash Pandas In 3-2 Loss
Smith strikes out seven in fourth Double-A start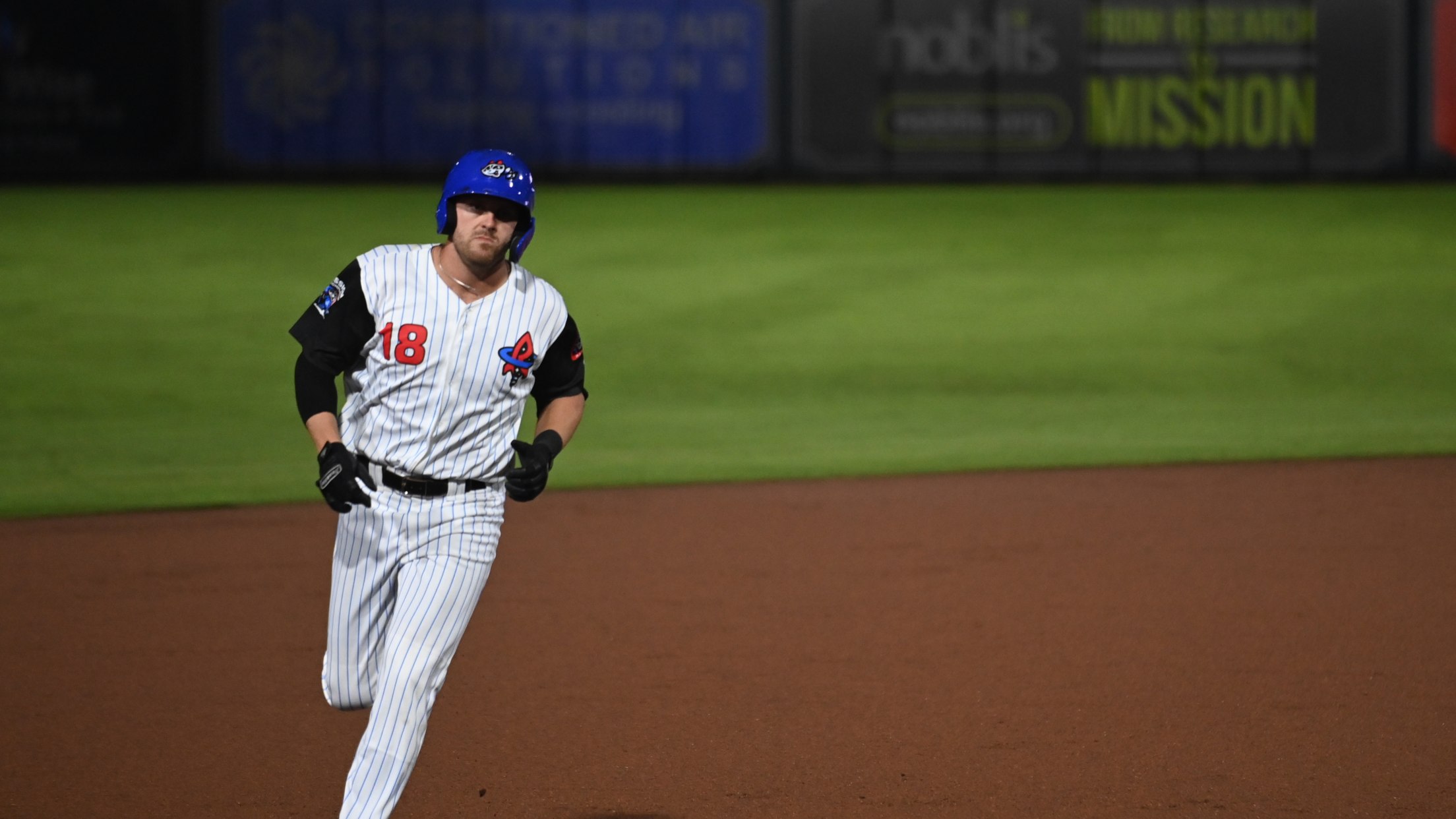 Mitch Nay hit his 20th home run of the season on Wednesday night. (Cristina Byrne/Rocket City Trash Pandas)
The Rocket City Trash Pandas suffered a 3-2 loss to the Chattanooga Lookouts on Wednesday night in the second game of their seven-game series on a soggy night at Toyota Field. Chattanooga got the scoring started in the top of the first against Trash Pandas starter Ryan Smith when Robbie
The Rocket City Trash Pandas suffered a 3-2 loss to the Chattanooga Lookouts on Wednesday night in the second game of their seven-game series on a soggy night at Toyota Field.
Chattanooga got the scoring started in the top of the first against Trash Pandas starter Ryan Smith when Robbie Tenerowicz slugged a double off the wall in center field to plate Miguel Hernandez.
Smith rebounded to strike out the side in the second, with all three Lookouts going down swinging. Chattanooga starter and Huntsville native Graham Ashcraft was also sharp to begin the night, retiring the first seven hitters he faced before a walk to Carlos Herrera in the third.
In the fourth, a solo home run from Mark Kolozsvary doubled the Chattanooga lead to 2-0. Rocket City responded off Ashcraft in the bottom half as Orlando Martinez reached second on an error and came home to score on an RBI single from Brendon Davis to cut the lead in half.
Following the fourth, heavy rain caused a 47-minute delay.
After the delay, Smith returned to the mound for the Trash Pandas and pitched a clean inning to keep it a one-run game. He finished a solid start by giving up two runs on four hits with one walk and seven strikeouts over five innings.
Mitch Nay immediately tied the game in the bottom of the fifth with a 363-foot solo home run to left for his team-leading and career-best 20th home run of the season.
Matthias Dietz was first out of the Trash Pandas and kept the game tied with a pair of scoreless innings.
In the eighth, the Lookouts restored the lead with a solo home run from Wilson Garcia off Trash Pandas reliever Elvis Peugero (L, 1-1). That would prove to be the decisive run.
The Trash Pandas threatened to tie the game in the eighth, but David MacKinnon grounded into a double play with the tying run on third to end the inning with Chattanooga ahead 3-2.
Lookouts reliever Daniel Duarte (S, 1) finished the win by striking out pinch-hitter Michael Cruz with the tying and winning runs on base to earn the save.
At the plate, Martinez, Davis, and Herrera each recorded a pair of hits in the loss.
The Trash Pandas (45-44) continue their series against the Lookouts (43-45) with a single-admission doubleheader on Thursday night. First pitch of Game One is at 5:05 p.m. Game Two will begin approximately 30 minutes following the conclusion of Game One. Both games will be seven-inning contests. Tickets for Thursday are valid for both games of the twin bill. Josh Caray will be on the call for 103.9 FM THE UMP and 730 AM SportsRadio. The games will be televised locally on WAAY-31.6, This TV.