Indians' Meadows finds greener pastures
Bucs No. 2 prospect logs three hits, Brubaker shines in IL debut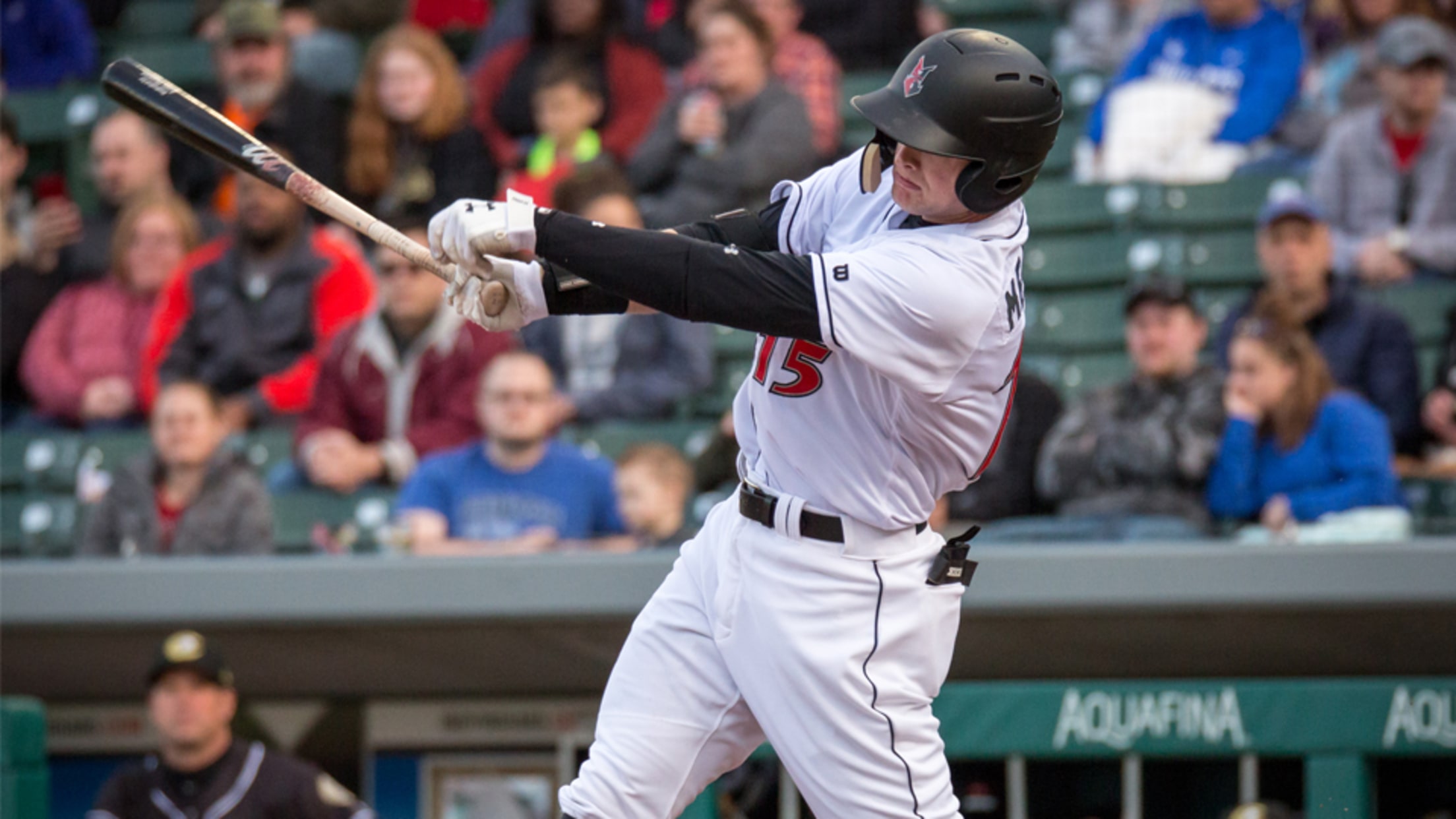 Austin Meadows has 47 extra-base hits across 137 International League games. (Adam Pintar/Indianapolis Indians)
Austin Meadows started to heat up at the plate at the end of April, but when his bat cooled in May, he tried not to fixate on the numbers. Instead, he looked at the larger picture and figured that, eventually, things could start to break his way if he kept
Austin Meadows started to heat up at the plate at the end of April, but when his bat cooled in May, he tried not to fixate on the numbers. Instead, he looked at the larger picture and figured that, eventually, things could start to break his way if he kept the same approach.
Pittsburgh's second-ranked prospect collected three hits and two RBIs on Thursday as Triple-A Indianapolis rolled to a 7-1 win over host Louisville. J.T. Brubaker delivered six scoreless innings for the Indians, yielding six hits and one walk with two strikeouts in his International League debut.
MLB.com's No. 44 overall prospect finished April with a .313/.380/.444 slash line after recording six hits over the final three games of the month. He began May with a two-hit night at Toledo, but fell into a 2-for-24 slide over the next seven contests to drop his average to .258.
"When things are going good, you don't think too much, you just go up there and put the bat on the ball -- that's kind of how it works," Meadows said. "When things are going south or you're scuffling a little bit, you're going to obviously try not to worry about results, you've gotta worry about the process. Sometimes you're going to feel good at the plate but you might not have the results you want. For me, it's putting together a good gameplan each and every night, attacking the fastball and not letting pitches get by me. That's kind of what it boils down to."
Meadows and Indians hitting coach Ryan Long have developed a strong rapport as the two have honed in on a pregame routine involving some cage work and analyzing scouting reports. The preparation proved to be beneficial in the outfielder's latest effort.
Gameday box score
"We get in there and do some flips and then do some more realistic situations, some fastballs, some changeups," Meadows said. "For [Long], he's going to try to give me a little challenge in the cage before the game to get used to the game. We go over the gameplan, we go over what the pitcher has that night, what I want to do up at the plate each night. It's a good thing that we've got going."
With two outs in the first inning Thursday, Meadows worked the count to 2-2 against left-hander Cody Reed and legged out an infield single on a roller up the first-base line.
Following a groundout in the third, the 2013 first-round pick lined a single to center field in the sixth. Meadows stepped in an inning later with a golden opportunity and came through for the Indians. With the bases full, the 23-year-old pulled a double into right against Evan Mitchell to score Jerrick Suiter and Pittsburgh's No. 7 prospect Kevin Newman to extend the Indianapolis lead to 5-0.
"He worked a little bit in to me on that first pitch," Meadows said. "So for me, up there, if he throws something to me soft, like a changeup or slider, I'm going to try to see it up. He threw that changeup a little bit up and I put a good swing on it. It was more of a reaction swing. I'm always going to be on the fastball. But if it's a good changeup up, I'm going to take advantage of it and I was able to do that."
In one final at-bat in the eighth, Meadows whiffed after a seven-pitch battle with Reds No. 13 prospect Jimmy Herget. But with the 3-for-5 effort, the Atlanta native boosted his average to .276 and OPS to .702. Sitting one step away from the Majors, Meadows isn't looking to make wholesale changes to his game but hopes to refine small aspects of his play -- largely on the defensive side -- before he makes the next step.
"Me and my manager [Brian Esposito], we'll go out there and test the track and see how the ball comes off the wall in the outfield, whether it's in left or center," he said. "We'll work on being aggressive and coming in to get the ball and getting it in as fast as possible and making a good strong throw. It's about making good habits out there, that's my biggest thing for me. On the bases, staying aggressive, and at the plate, staying aggressive as possible."
Brubaker sported a 2-2 record, 1.80 ERA and 1.06 WHIP across six starts with Double-A Altoona before his promotion to Indianapolis. The 24-year-old right-hander trimmed his cumulative ERA to 1.54 after posting the six zeros against the Bats. He tossed 49 of his 78 pitches for strikes and induced three double plays.
"It was good, he had a great debut," Meadows said. "He was out there throwing strikes, he was aggressive in the zone and playing behind him was awesome. Seeing him shoving up there was special to watch. He has a lot of talent, is composed and he's a good kid. I'm excited to see where his future goes, but it was definitely awesome to play behind him today."
Andrew Battifarano is a contributor to MiLB.com. Follow him on Twitter, @AndrewAtBatt.