Shorebirds' Wells runs shutout streak to 30
O's No. 15 prospect sets down first 14 batters in one-hit outing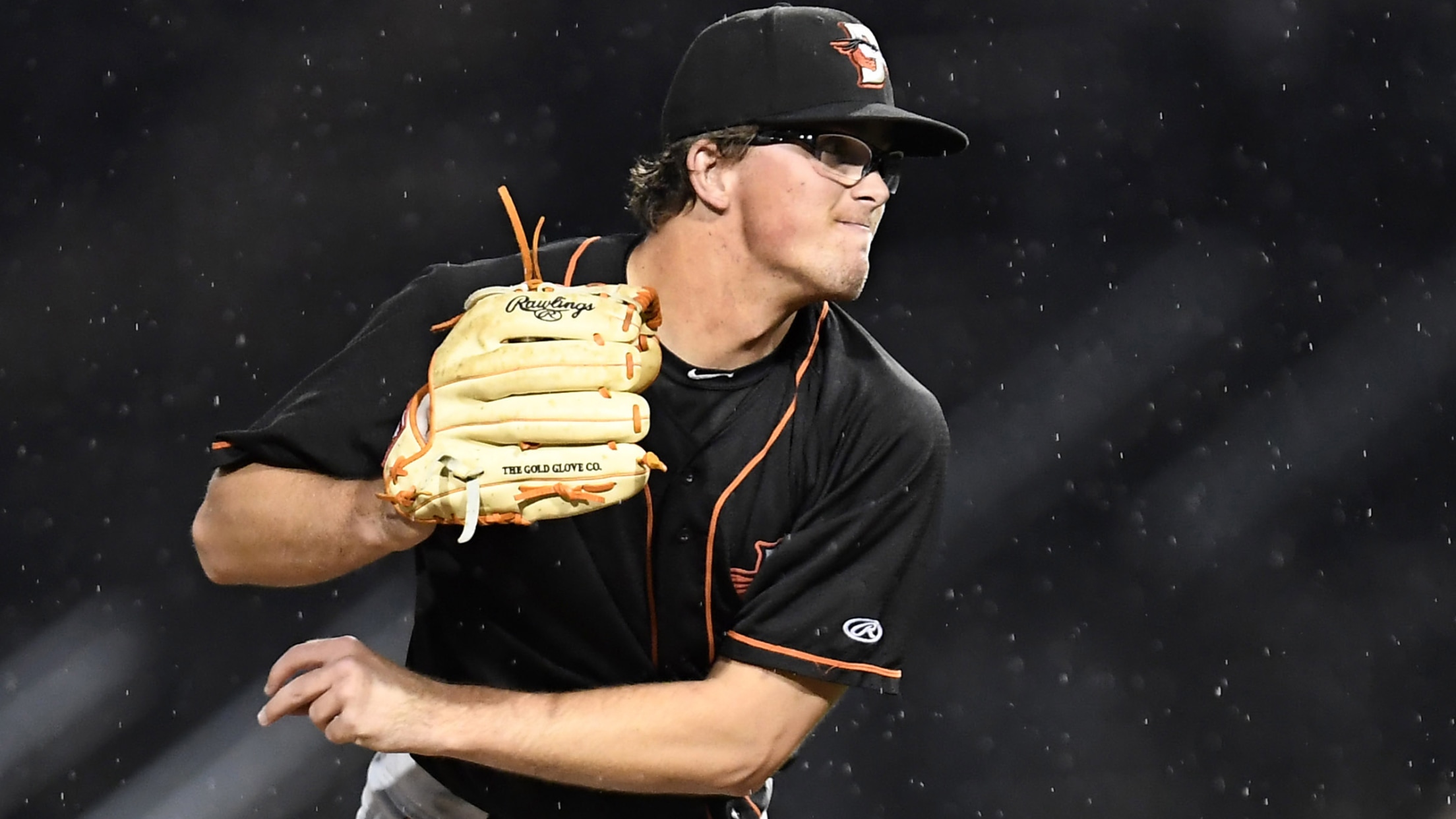 Alex Wells has a .118 opponents' batting average in four starts in July. (Tom Priddy/AP)
Alex Wells is making a habit of putting zeros up on the scoreboard. The Orioles' No. 15 prospect retired the first 14 hitters, allowed one hit over six innings and extended his scoreless streak to 30 on Sunday as Class A Delmarva beat Rome, 8-0, at State Mutual Stadium. 
Alex Wells is making a habit of putting zeros up on the scoreboard.
The Orioles' No. 15 prospect retired the first 14 hitters, allowed one hit over six innings and extended his scoreless streak to 30 on Sunday as Class A Delmarva beat Rome, 8-0, at State Mutual Stadium.
"It was really just him doing his thing today," Delmarva pitching coach Justin Lord said. "He's a strike-thrower. He throws three pitches for strikes and even though he's not an extremely hard thrower, he still challenges hitters with his fastball. He's got a little deception with his delivery and his arm action, so his fastball gets on hitters sometimes."
Gameday box score
It was the sixth straight quality start for Wells (9-4), who struck out five and didn't walk a batter. The 20-year-old southpaw has gone 36 innings since issuing his last free pass.
"I try not to think about [not walking hitters] too much. Instead, I just go out there and continue to pound the strike zone and pitch to early contact," Wells said.
"He's shown the ability to pitch and he does what you want to see young pitchers do," Lord added. "He changes speed, throws strikes and he stays in control. That's a huge part to his development and he's putting himself in position for future success."
Wells struck out the first two Braves to begin a 1-2-3 opening frame, the first of four straight perfect innings. He retired the first two batters in the fifth before Carlos Martínez reached on an infield single.
"I was a little disappointed," Wells said of losing the no-hitter. "I made a pretty average pitch and he got enough barrel on it to get it past me. I was aware of what was going on, so I was a little angry with myself for the pitch I threw more than anything else."
The unlucky break didn't rattle Wells, who needed only 14 pitches to set down the last four hitters he faced.
"Alex is pretty good at making adjustments through the game," Lord said. "Second time through the lineup, he'll switch it up and throw a first-pitch curveball or changeup to hitters he knows are early swingers. That's the sign of a good pitcher, being able to adjust to a hitter's swing. His in-game adjustments are a key to his success. "
In 19 starts for Delmarva, Wells ranks second in the South Atlantic League with a 2.42 ERA and third with a 0.95 WHIP. The Australia native has 84 strikeouts against 10 walks in 108 innings.
• Get tickets to a Shorebirds game »
Jake Ring collected a career-high five hits, including his 12th homer, and three RBIs for the Shorebirds. The 2016 31st-round pick also registered his league-leading 28th double, while Ryan McKenna doubled twice in a four-hit effort.
Michael Leboff is a contributor to MiLB.com.