Wojciechowski mows 'em down for Tides
O's right-hander fans career-high 12 in seven shutout innings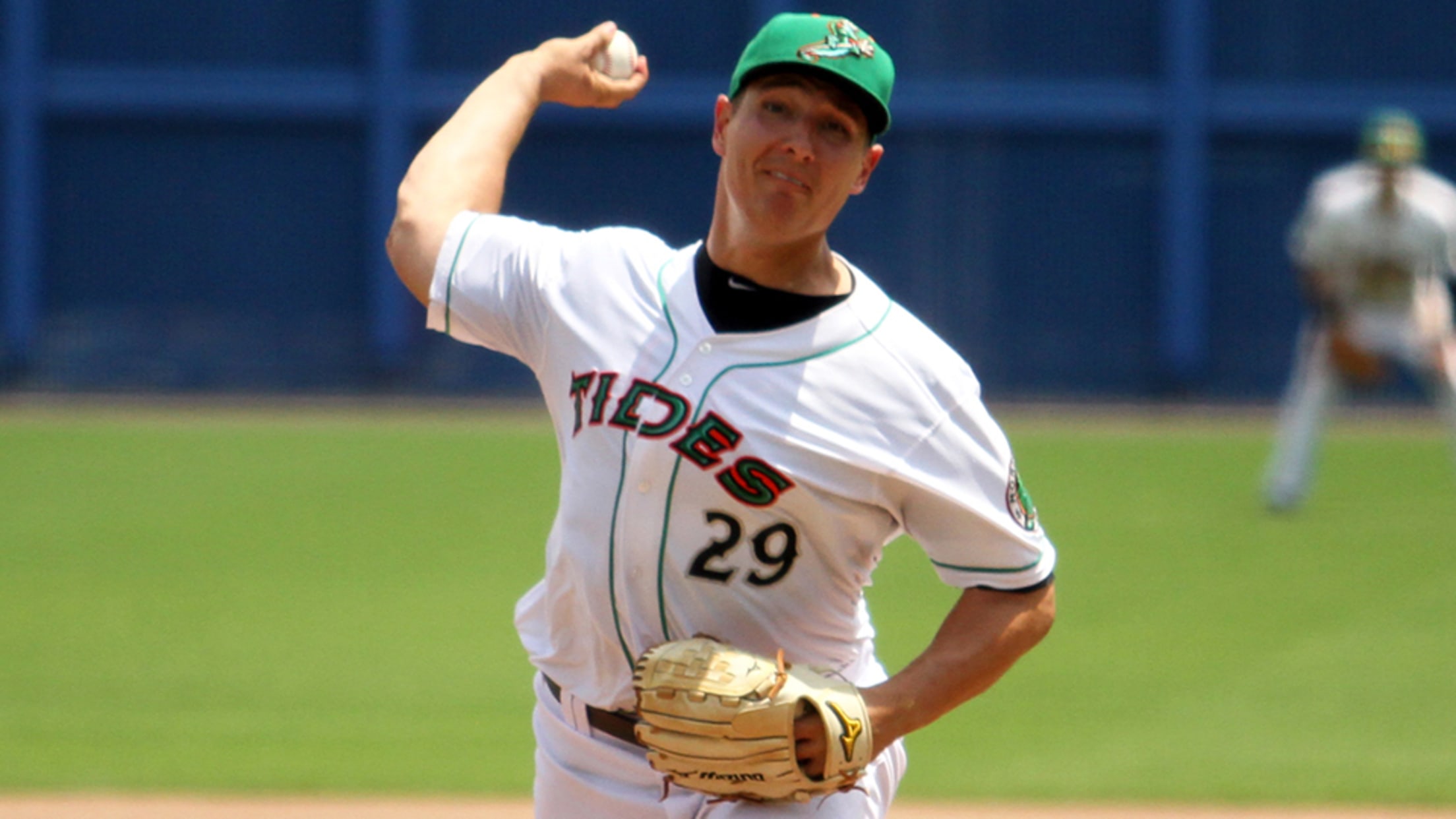 Asher Wojciechowski is 5-4 with a 3.76 ERA and 81 strikeouts over 76 2/3 innings. (Les Treagus/Norfolk Tides)
The continuing propensity for strikeouts in the Majors appears to have trickled down to the Minor Leagues. At least it did during Asher Wojciechowski's start on Friday night.The Orioles right-hander fanned a career-high 12 batters and allowed three hits over seven innings as Triple-A Norfolk blanked Durham, 1-0, at Durham
The continuing propensity for strikeouts in the Majors appears to have trickled down to the Minor Leagues. At least it did during Asher Wojciechowski's start on Friday night.
The Orioles right-hander fanned a career-high 12 batters and allowed three hits over seven innings as Triple-A Norfolk blanked Durham, 1-0, at Durham Bulls Athletic Park. It was the second double-digit strikeout performance in 163 Minor League appearances for Wojciechowski, who eclipsed his previous best of 10, set July 3, 2015 with Fresno.
The 29-year-old has notched a career-high six strikeouts four times in the Majors, most recently last Aug. 23 with the Reds.
Wojciechowski (5-4) took the mound in the bottom of the first inning with a lead, thanks to Orioles No. 5 prospectCedric Mullins' leadoff homer. He struck out two in the opening frame and surrendered one of Durham's three hits, a single to Brandon Lowe, the Rays' 14th-ranked prospect. Wojciechowski fanned two more in the second and struck out the side in the third, giving him four straight punchouts.
Gameday box score
The 2010 first-round pick worked around a leadoff double by Rob Refsnyder in the fourth -- the only inning he failed to record a strikeout -- before working a clean fifth. Kean Wong reached on an infield single in the sixth for the last Bulls hit against Wojciechowski, who fanned Brandon Snyder leading off the seventh to establish a new career high with his 11th whiff.
The product of The Citadel lifted after throwing 70 of his season-high 102 pitches for strikes, completing seven frames for the first time this season. The 12 strikeouts were two fewer than he totaled in his previous four starts, a span of 20 1/3 innings.
Wojciechowski made his Major League debut with the Astros in 2015. He spent the next year in the Minors but returned to the big leagues in 2017, appearing in 25 games, including eight starts, for Cincinnati. Overall, Wojciechowski is 4-4 with a 6.64 ERA in 30 Major League outings, including 11 starts.
Donnie Hart struck out three in the eighth and Jhan Mariñez fanned a pair in the ninth to pick up his 11th save.
Mullins delivered the only offense on either side with his fourth Triple-A homer, which came on the fourth pitch of the game from Durham starter Forrest Snow (5-5). The right-hander yielded three hits and a walk with eight strikeouts in seven innings.