Carolina notes: Kline's comeback on track
Orioles prospect thriving in Keys 'pen after long rehab process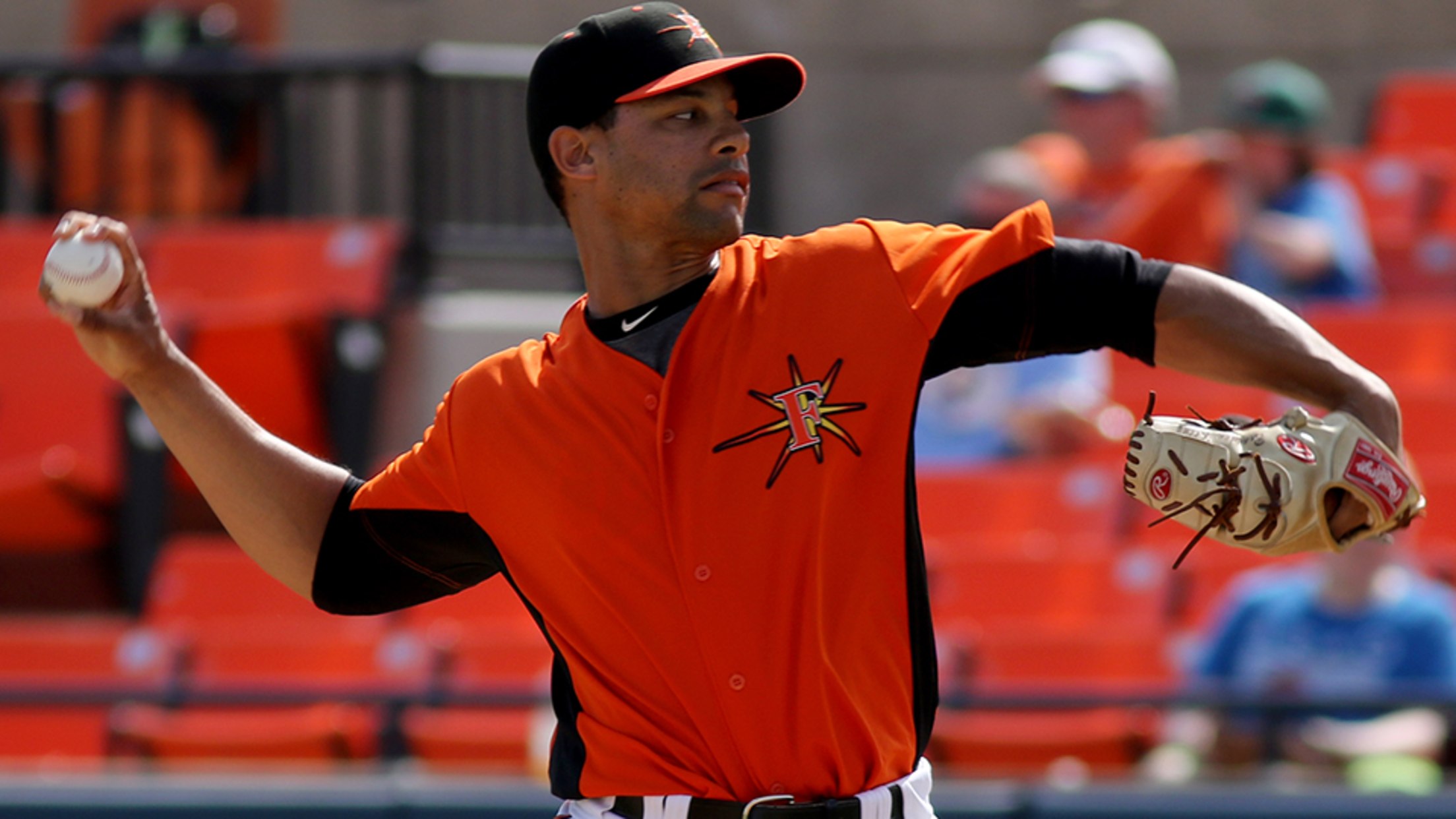 Branden Kline has scattered five hits and struck out eight in 8 1/3 scoreless innings for Frederick. (Andy Grosh/MiLB.com)
The road back to the mound took unexpected turns and lasted far longer than Branden Kline could have ever imagined.Just when he felt ready to take the last step toward competing again, he hit another setback. Questions of whether all of his work was worth it popped into his mind.His
The road back to the mound took unexpected turns and lasted far longer than Branden Kline could have ever imagined.
Just when he felt ready to take the last step toward competing again, he hit another setback. Questions of whether all of his work was worth it popped into his mind.
His wife, Sarah, squashed those questions each time they talked.
"I truly believe that if it wasn't for her, I wouldn't be in the situation I'm in," the 26-year-old right-hander said. "There were some dark days when you just kind of question if it's even worth all the rehab, all the time on the sideline just watching everybody going out and playing baseball, and you're just kind of stuck in the training room or stuck to a very strict throwing program. She was just always there to keep me on the right path."
Kline's support system of his wife and the Baltimore Orioles organization helped push him through a near three-year rehabilitation process that included three surgical procedures. Now healthy, Kline has returned to the mound -- and his hometown -- as a member of the Frederick Keys bullpen.
"My job is to go out there and get as many hitters out as I possibly can, so whether that's for six, seven innings or one or two, I'm going to give my best," said Kline, who worked exclusively as a starter for his first four pro seasons. "I'm just happy to be back out there and being able to compete. I feel just like my old self, like I did in 2015 the last time I was on the field, and now it's just kind of getting into the day-to-day grind of making sure I get in everything from my shoulder work and with throwing and with running and all of that. So far everything's been going really well."
Kline's appearance on April 5 at Myrtle Beach came nearly 59 months after he was pulled from a May 20, 2015 start at Trenton with Double-A Bowie. Tests revealed Kline needed Tommy John surgery, and he went under the knife that October to repair the ligaments in his right elbow.
The 2012 second-round Draft pick understood he was going to miss the 2016 season, so he focused on getting back to the mound for the 2017 campaign.
When that time came, Kline felt discomfort whenever he threw a pitch. Another round of tests showed tissue lodged in the joint line of his right elbow, and he required two arthroscopic procedures to fix the issue.
"As soon as I would kind of get over a hump on something, it seemed like there was always something else right behind it," he said.
Kline knew he had the natural ability to return to form physically, but there are other challenges that arise with being sidelined for so long. Three individuals within the Orioles organization -- Minor League medical coordinator Dave Walker, Florida and Latin American pitching coordinator Dave Schmidt and Gulf Coast League Orioles pitching coach Wilson Alvarez -- helped him with mental preparation, so that when he did get back on the mound there were no lingering questions or doubts.
"Everything's been really, really locked in," he said.
The University of Virginia product has made five relief appearances for the Keys this season, going 1-0 and allowing five hits while striking out eight over 8 1/3 scoreless innings. His fastball velocity has consistently been between 93 and 98 mph, he said, while his secondary pitches are as strong as they were when he was pitching in 2015.
In his next appearances, he'll be focused on maintaining command and continuing the day-to-day process of getting back into the grind of baseball life, whether that be out of the bullpen or eventually back in the starting rotation.
"Any situation or any role the Orioles want to put me in, I'm completely OK with," Kline said. "Whatever gets me to stay on the field but also to the big league level, I'm going to be all aboard."

In brief
No entry allowed:
Base hits have been difficult to come by for batters facing Buies Creek pitching in the season's early stages. The Astros are the only Class A Advanced team to allow fewer than 100 hits (90 in 155 2/3 innings), and the lack of knocks has resulted in a 2.08 ERA, best in Minor League Baseball. The staff has also thrived in limiting the long ball and whiffing hitters, as Buies Creek leads the Carolina League in home runs allowed (four) and strikeouts (186).
Finding that home-run touch:
Being elevated to a full-season roster last year paid dividends for
Emmanuel Tapia
. The 22-year-old first baseman clubbed 29 home runs with Class A Lake County after hitting only 14 in his first four seasons in the Cleveland Indians organization. He connected on his first homer with the Hillcats on April 18 against the Keys, then hit a solo jack on Sunday at Potomac to help Lynchburg win for the sixth time in seven games.
No slowing him down:
Ever since Kansas City selected
Rudy Martin
in the 25th round of the 2014 Draft, the 5-foot-7 outfielder has been able to steal bases almost at will. The only issue has been keeping Martin on the field for an entire season. He played in 46 games between two Rookie-level teams in 2016, then appeared in only 37 games last season with Lexington in the Class A South Atlantic League. He stole 46 bases in those two seasons combined. He's continuing the trend with Wilmington, having ripped off 13 bags in 16 games.
Damien Sordelett is a contributor to MiLB.com.