O's Sisco soars with home run, double
Baltimore's No. 3 prospect raises spring OPS to 1.166 in 16 games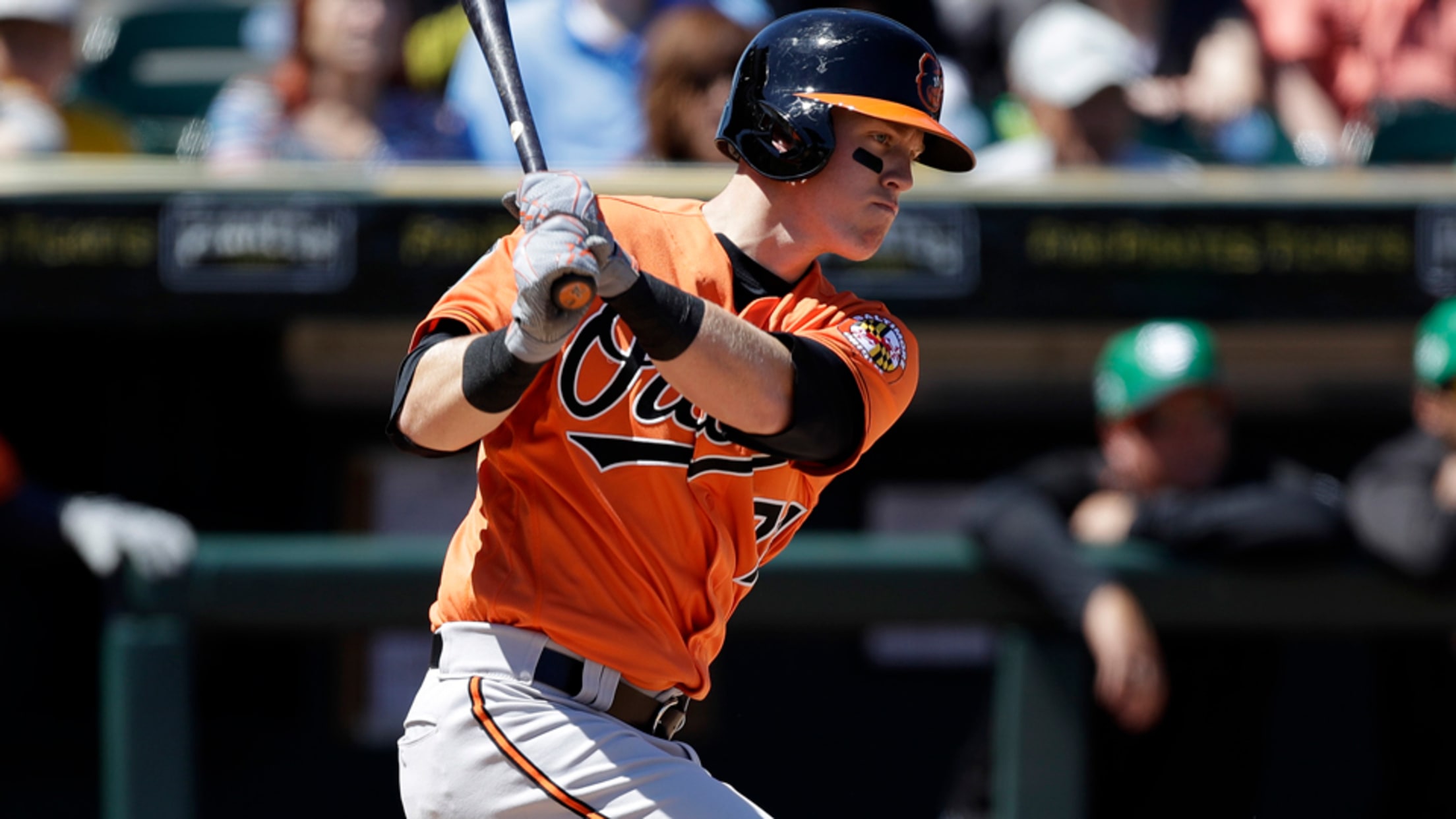 Orioles No. 3 prospect Chance Sisco hit his second home run of the spring Thursday. (Chris O'Meara/AP)
If Chance Sisco is going to claim the backup catching job in Baltimore, he's going to do so with his bat. He showed just how qualified he may be with one week to go before Major League Opening Day.The Orioles No. 3 prospect homered, doubled and drove in four runs
If Chance Sisco is going to claim the backup catching job in Baltimore, he's going to do so with his bat. He showed just how qualified he may be with one week to go before Major League Opening Day.
The Orioles No. 3 prospect homered, doubled and drove in four runs in his club's 10-7 win over the Red Sox on Thursday in Sarasota.
The long ball -- Sisco's second in Grapefruit League play -- came off Boston starter Hector Velazquez in the fifth inning, when the left-handed slugger lifted a two-run shot the other way to left. One frame later, he plated another pair with a line-drive double toward the right-field corner.
The performance gave Sisco, who finished 2-for-3, consecutive multi-hit games after he went 2-for-2 with a triple and double Monday. The 23-year-old backstop has produced a .419/.471/.839 line with eight extra-base hits and 10 RBIs in 16 games this spring.
Ranked as MLB.com's No. 7 catching prospect, the 2013 second-rounder batted .267/.340/.395 with seven homers and 23 doubles in 97 games last season at Triple-A Norfolk. He was called up to make his Major League debut in September and got limited time in the season's final month, going 6-for-18 with two homers and two doubles over 10 games.
Sisco is competing with Andrew Susac, who is 6-for-13 in limited time this spring, for the chance to back up Caleb Joseph behind the plate in Baltimore. Part of the evaluation will come down to defense -- long considered Sisco's weakness -- and he may have hurt himself there with his first throwing error of the spring. As good as his Grapefruit League has been offensively, it's possible the O's send Sisco back to Norfolk to get regular playing time and opportunities to improve his defense.
Top Orioles prospect Austin Hays, battling for a Major League role in right field, doubled in his only plate appearance. Fellow outfielder and No. 8 prospect Anthony Santander went 1-for-4 with an RBI and a run scored. Rule 5 Draft pick Pedro Araujo tossed 1 2/3 scoreless innings in relief.
No. 5 Red Sox prospect Sam Travis walked twice, singled and scored a run in the loss.


In other spring action:
Cardinals 8, Braves 2 (Box)
St. Louis No. 12 prospect Yairo Muñoz homered during a 1-for-3 day. Now batting .378/.417/.994 this spring, the shortstop belted a solo shot in the third. Munoz also walked and scored en route to the win.
Marlins 15, Astros 7 (Box)
No. 27 overall prospect Lewis Brinson continues to tighten his stranglehold on the center-field job in his first spring with Miami. Brinson went 3-for-4 with a triple, a double, three RBIs and two doubles. He sports a .365/.393/.654 line through 20 Grapefruit League games. No. 9 Marlins prospect Brian Anderson went 1-for-2 with a walk and two RBIs, while No. 10 Nick Neidert struggled on the mound, giving up three earned runs on two hits and five walks in 1 2/3 innings. No. 9 Astros prospect J.D. Davis went 2-for-3 with an RBI and a run scored and has a .969 OPS on the spring.
Tigers 6, Phillies 2 (Box)
Christin Stewart went 3-for-5 as his spring average dropped -- to .700. Detroit's No. 10 prospect has hits in all five games he's appeared in and is 7-for-10 overall. The 24-year-old outfielder has fanned just once after finishing second in the Tigers system with 138 strikeouts in 135 games for Double-A Erie last year. For Philadelphia, Scott Kingery doubled and J.P. Crawford singled while Roman Quinn went 0-for-3.
Yankees 2, Twins 1 (Box)
New York's No. 19 prospect Billy McKinney hit his fifth homer of the spring and No. 18 Domingo Germán fired three hitless frames. No. 26 Tyler Austin went 2-for-3 with a double and a walk. Minnesota managed just six singles in the game -- all off Yankees starter Jordan Montgomery -- with Mitch Garver and former Yankee Jake Cave each notching a base hit. Center fielder Zack Granite (No. 27) went hitless but made a smooth diving catch to take a hit away from Jace Peterson.

Blue Jays (ss) 5, Pirates 4 (Box)
Toronto's top prospect Vladimir Guerrero Jr. went 2-for-4 with a double, an RBI and a run scored while second-ranked Bo Bichette smacked a two-run homer for his first long ball of the spring. No. 8 Pittsburgh prospect Colin Moran finished 3-for-5 while driving in a run and scoring once.
Brewers 1, Royals 0 (Box)
Brett Phillips is finding his groove. Milwaukee's No. 6 prospect slugged his second homer in three games. He's gone 3-for-7 over that span after beginning his spring 4-for-41. Kansas City's No. 17 prospect, Burch Smith, worked around a hit and two walks with two strikeouts in two scoreless innings.
Reds 7, Rangers 6 (Box)
Cincinnati's No. 30 prospect Tanner Rainey notched his second save, striking out a pair and walking one over two scoreless innings. The 25-year-old sports a 2.16 ERA in seven appearances spanning 8 1/3 frames this spring.
Mariners 5, Rangers 4 (Box)
Texas' ninth-ranked prospect Pedro Gonzalez singled in three at-bats and played the entire game. Mariners No. 16 prospect Mike Ford finished 1-for-2 with an RBI double.
White Sox 3, D-backs 1 (Box)
In just his third at-bat of the spring, Arizona's fifth-ranked prospect Marcus Wilson doubled for his first Cactus League hit.