Jimenez remains untouchable for Shorebirds
Orioles righty extends hitless-inning streak to nine in first start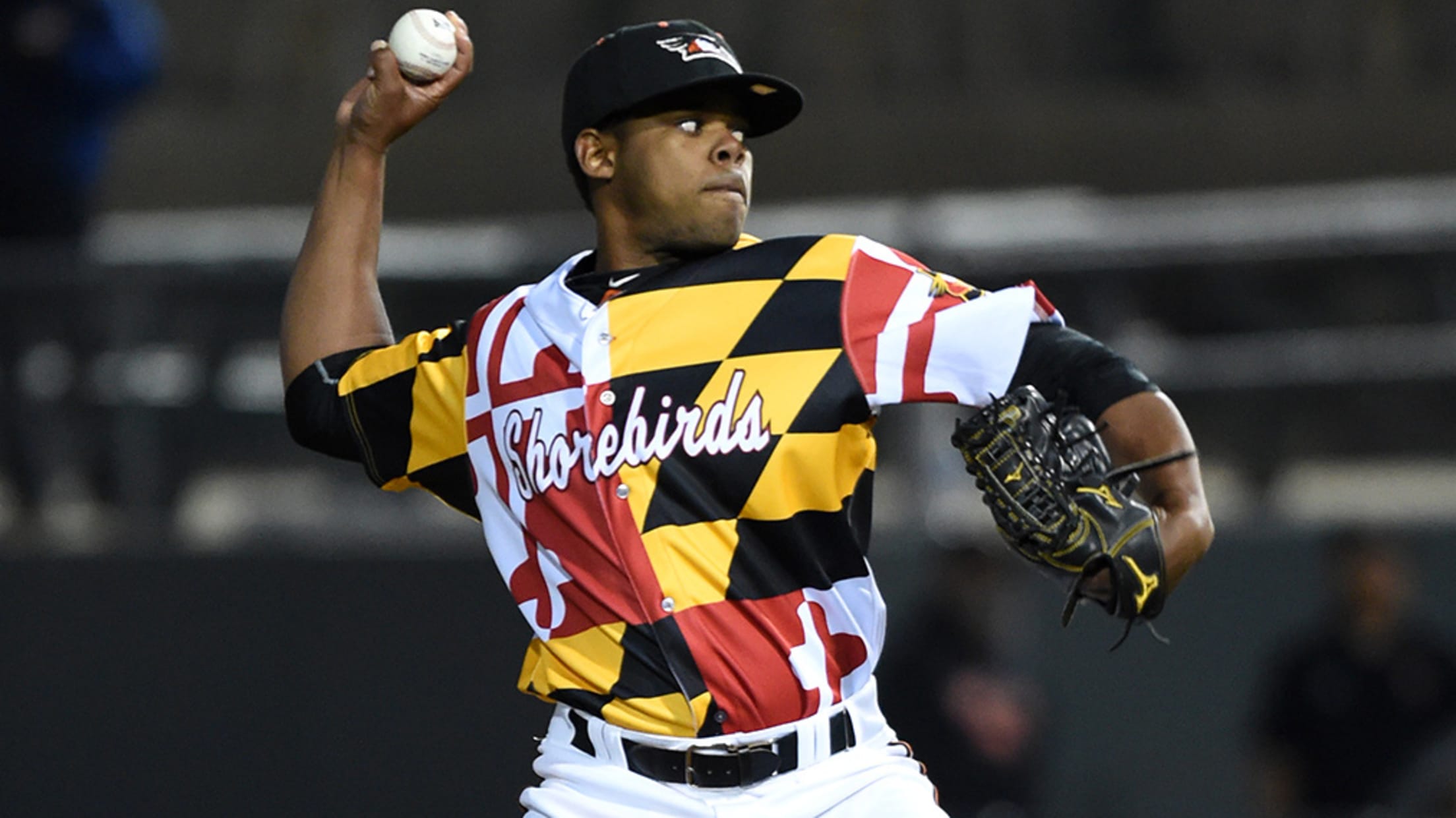 Francisco Jimenez struck out five in six hitless frames Thursday against Charleston. (Delmarva Shorebirds)
A punishing schedule for Class A Delmarva that included three doubleheaders in seven days threw the Shorebirds rotation out of whack and forced pitching coach Justin Lord to rely on a spot starter for Thursday's game against Charleston. He turned to Francisco Jimenez, a former starter who was shifted to
A punishing schedule for Class A Delmarva that included three doubleheaders in seven days threw the Shorebirds rotation out of whack and forced pitching coach Justin Lord to rely on a spot starter for Thursday's game against Charleston. He turned to Francisco Jimenez, a former starter who was shifted to the bullpen in his second season with the club. The 22-year-old did not disappoint.
"We weren't going to bring any pitchers back on short rest, not this early in the season," Lord said. "It was just a need that we had for a spot to be taken up by a reliever. [Jimenez] had sufficient rest and he was a good candidate to put in there."
The Orioles right-hander didn't allow a hit over six frames in the Shorebirds' 2-1 victory over the Charleston RiverDogs in 13 innings at Arthur W. Perdue Stadium. In his last two outings spanning nine innings, Jimenez has not allowed a hit.
Box score
"Like the majority of good outings for starting pitchers, it all starts with the fastball command and he was able to do that," Lord said. "He threw some really good two-seamers that resulted in ground-ball outs and the defense played really well behind him. He was able to mix in his slider and changeup tonight off of his fastball."
The Dominican Republic native entered the season with 56 starts in his career, but has been limited to three outings, none longer than 4 1/3 frames, in his new role as a reliever this season.
"There's no restrictive pitch count on him," Lord said. "We were able to get six strong innings out of him and he got us where we needed him to get us to."
Jimenez reached a three-ball count only three times in the outing, with all three coming at the top of an inning. David Vidal, who proved to be a tough out, led the game off with a groundout in a 3-2 count and started the fourth with a pop fly to center, also in a full count.
Blake Rutherford was the only Charleston batter to reach base during Jimenez's outing. The Yankees' No. 3 prospect drew a four-pitch walk to lead off the fifth.
"He had some really close misses. Sometimes they have patient hitters at the plate and they want to take a pitch or two and they're good, quality pitches, they're just not strikes," Lord said. "The good thing was that on two of those, he was able to throw a contact pitch in a 3-2 count and got an out. I don't think it's a matter of focus for him, I think he just had some close misses there to start those innings."
Rutherford was caught trying to swipe second by catcher Daniel Fajardo, allowing Jimenez to face the minimum over six innings before exiting with the no-hitter still intact. Lord admits he was tempted to allow his pitcher try to complete the bid, but too many competing factors were at play.
"That's always a tough decision, but it's not a tough decision. You have to keep what's best in mind for the player," Lord said. "You want to put him in a position to be successful all season long, and for me, it was the right decision for him."
"He's going to pitch a lot more this year and I didn't want to push him too far too early and we're still in April."
Vidal worked the count full once again to lead off the seventh against reliever Steven Klimek. Vidal promptly singled to right eventually and eventually tied the game on Rutherford's groundout.
"You bring in a guy that's capable of carrying the team the rest of the way, and Steve's had a good start to this season as well," Lord said. "He's thrown very well for us out of the bullpen. They got a ground ball hit back up the middle and it just is what it is."
Klimek allowed two hits and struck out a pair in his three-inning appearance.
Chris Shaw ended the 13-inning marathon with a bases-loaded single that plated Chris Clare for the walk-off victory.
Charleston failed to record a steal against Fajardo as the Venezuela native mowed down all three would-be base stealers who challenged him.
Gerard Gilberto is a contributor to MiLB.com. Follow and interact with him on Twitter, @GerardGilberto4.