Shorebirds' Dietz dances in and out of trouble
O's No. 12 prospect allows two hits over 6 2/3 shutout innings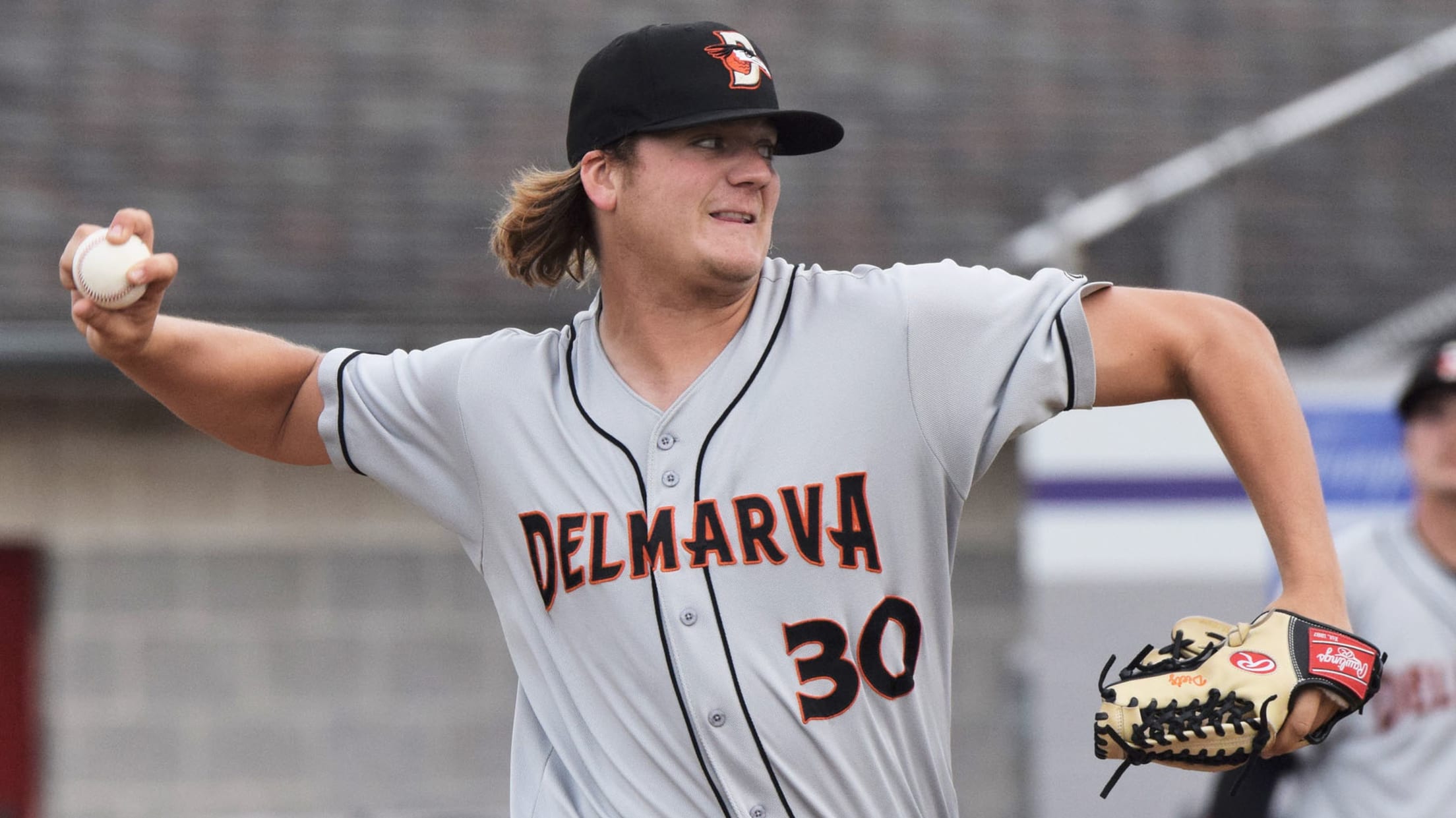 Matthias Dietz has allowed an unearned run on seven hits over 12 2/3 innings in his last two starts. (Patrick Cavey/MiLB.com)
Matthias Dietz admitted he was "all over the place" on Tuesday, but that didn't stop him from pitching a gem."I was kind of effectively wild, with having five walks, but I just had to forget about it," he said. "That added pressure at the same time, which was almost helpful
Matthias Dietz admitted he was "all over the place" on Tuesday, but that didn't stop him from pitching a gem.
"I was kind of effectively wild, with having five walks, but I just had to forget about it," he said. "That added pressure at the same time, which was almost helpful because you're really focusing in and making sure you don't make a bad pitch."
In spite of those free passes, the Orioles' No. 12 prospect turned in the longest outing of his career with 6 2/3 scoreless innings before Class A Delmarva dropped a 3-1 decision to Hagerstown at Municipal Stadium. He allowed two hits and tied a career high with seven strikeouts.
Gameday box score
Facing the top offensive team in the South Atlantic League, the 21-year-old right-hander struck out Nationals No. 14 prospectBlake Perkins in the first before getting both Aldrem Corredor and No. 27 prospect Daniel Johnson to line out for his only 1-2-3 inning on the night.
Dietz opened the second with back-to-back walks and saw both runners move into scoring position when No. 18 prospect Jakson Reetz grounded out. But 26th-ranked prospect Telmito Agustin flied to Ryan McKenna in center field and McKenna fired an acurate throw to the plate to get Jake Noll for the double play.
"The guys were making good plays. That made the game go by a little bit easier, sometimes a little bit quicker, too," Dietz said.
The 2016 second-round pick issued two-out walks to Perkins and Tyler Beckwith in the third and fifth sandwiched around a two-out single in the fourth by Nationals No. 23 prospect Nick Banks. He did not yield in what was a pitchers' duel with Nationals No. 17 prospect Tyler Watson, who allowed three hits and struck out four over six innings.
"I wasn't even thinking about that," Dietz said. "About 95 percent of the time, I don't even know who I'm pitching against, to be honest.
"I know the runs will come eventually. It's not like I'm going to let up runs just because we getting more hits. [Watson] was doing a great job and he held us down pretty good."
Dietz exited after retiring both batters he faced in the seventh, but neither he nor Watson factored in the decision. It was the second time in a week that the Illinois native has shut down the Suns. He gave up an unearned run on five hits without issuing a walk over six innings on May 24.
"There are some guys who will chase certain pitches, but we pretty much had the same game plan as any other team," Dietz said. "I've just been fortunate enough they didn't get a lot of barrels on balls."
The two starts have lowered Dietz's ERA by nearly two points to 4.84, giving him a little peace of mind two months into his first full season.
"Starting off, I was just pitching with way too much adrenaline because I was so amped up and excited," the John A. Logan Community College product said. "Now I've been getting more comfortable and relaxed, realizing it's not as crazy as I thought it was in the beginning."
Matt Trowbridge (0-2) took over for Dietz and was tagged with the loss after giving up three runs in the eighth, highlighted by Noll's two-run single.
Hayden Howard (3-0) yielded an unearned run on two walks while fanning three over three innings for the win.
Michael Peng is a contributor to MiLB.com. Follow him on Twitter @MichaelXPeng.