Orioles Prospect Primer: Harvey's healthy
Righty ready to stretch out; Hays, Sisco get closer to Camden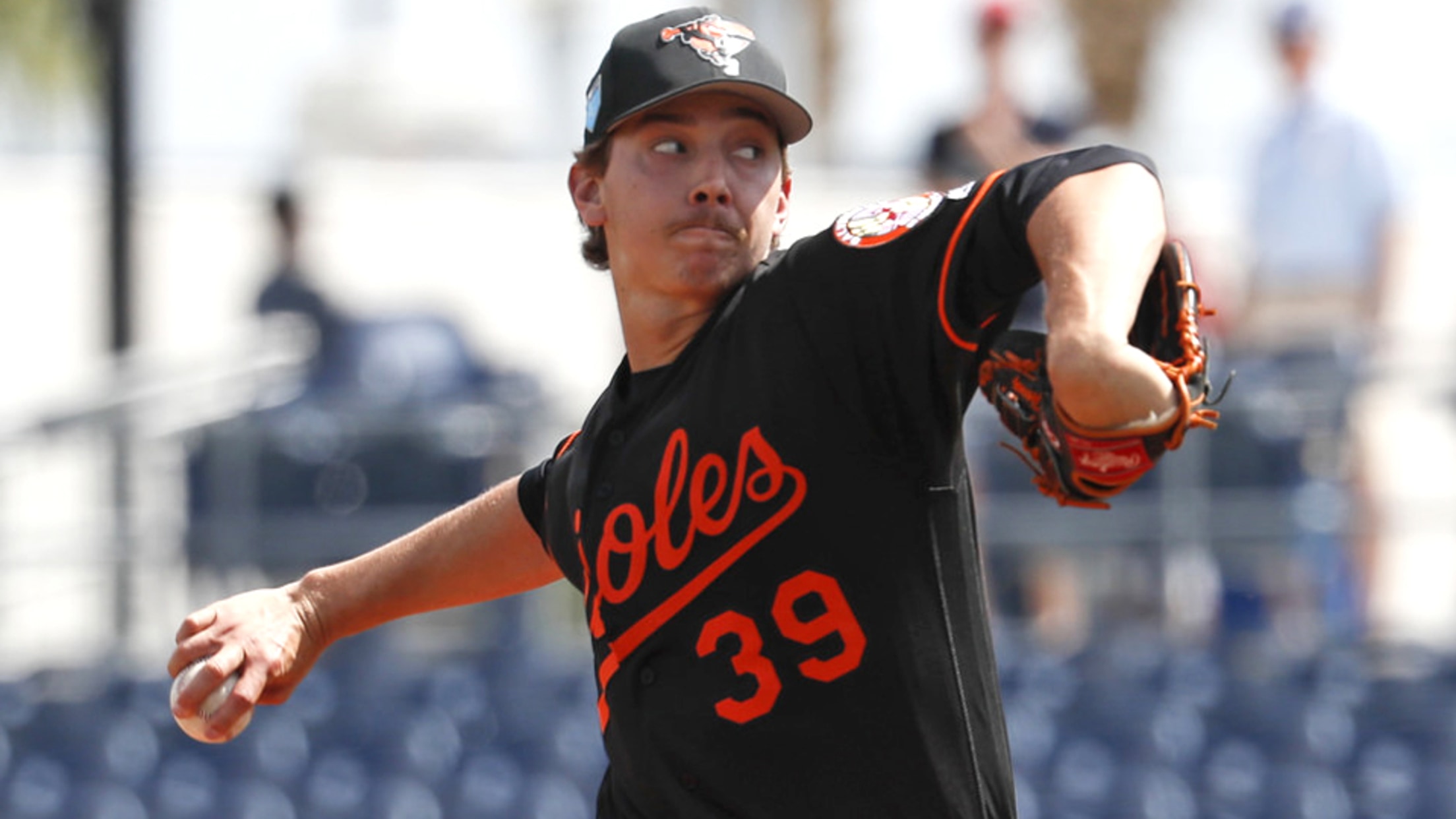 A first-round pick in 2013, Hunter Harvey has a 1.12 WHIP over 144 1/3 career innings in the Orioles system. (John Minchillo/AP)
Some players are on the verge of stardom, others are entering a crucial phase of their development and still others are getting their first tastes of full-season ball. With the 2018 season approaching, MiLB.com takes a look at the most intriguing prospects from each MLB organization.Back and healthy: Hunter Harvey,
Some players are on the verge of stardom, others are entering a crucial phase of their development and still others are getting their first tastes of full-season ball. With the 2018 season approaching, MiLB.com takes a look at the most intriguing prospects from each MLB organization.
Back and healthy: Hunter Harvey, RHP
It's no secret Harvey has battled his share of setbacks as elbow issues and Tommy John surgery have limited him to 144 1/3 innings over his five Minor League seasons. Despite the challenges, the Orioles' top pitching prospect has been marvelous when on the field.
Harvey has recorded a 2.56 ERA, 187 strikeouts and 51 walks over 38 career starts, advancing as high as Class A Delmarva last summer. With a Major League pedigree -- his father, Bryan, pitched for the Angels and Marlins -- and two plus pitches in his fastball and curve, the 23-year-old is poised to prove himself over what would be his first fully healthy season.
"Hunter's a very mature kid. He's also a tough kid who's worked really hard to get back to where he is now," said Brian Graham, the Orioles' director of player development. "He has size, he has velocity, he has all the qualities you want in a front-line pitcher."
In his third start at big league camp on March 11, Harvey was stretched out to three innings with 27 pitches and picked up the win. (He has a 3.86 ERA with seven strikeouts over seven Grapefruit League innings this year.) Graham said the Orioles want to be cautious with their 2013 first-round pick as he returns from injury, and they will be monitoring his innings, pitch count and velocity.
Shining star: Austin Hays, OF
A third-round selection in 2016, Hays was regarded as a mid-tier prospect prior to the start of the 2017 season. He's now looking like a Draft day steal after grabbing the spotlight as well as the top spot among the team's prospect rankings. Hays won the organization's Triple Crown, hitting .329 with 32 homers and 95 RBIs as he moved from Class A Advanced Frederick to Double-A Bowie in just his first full season.
"His numbers in high-A ball and Double-A were almost identical from number of at-bats to home runs to RBIs to batting average; it certainly shows what kind of player he is," Graham said. "He's a talented player, he's mentally a tough kid and I think that's the separator with him is his ability to make adjustments, his ability to handle pressure and just his mental toughness."
The end of the Minor League season was not the end of Hays' 2017. The 22-year-old made the leap to the Majors for his debut in September. While the results were not the same -- .217/.238/.317 in 20 games -- Graham believes they're part of the typical adjustment process and that Hays just needs to catch up to the Major League pitching.
Hays missed about a week of Spring Training with a shoulder issue but has been an everyday player since. While he will likely start the season with Triple-A Norfolk, it shouldn't be long before the outfielder returns to Camden Yards.
Loudest tool: Tanner Scott, LHP
When asked what it's like to watch Scott's fastball in person, Graham couldn't help but laugh.
"Every time Tanner Scott takes the mound, everybody sits on the edge of their seat because it's exciting to see 100 mph," he said.
Scott showcased his 80-grade fastball (on a 20-80 scale) for a 2.22 ERA and 87 strikeouts in 69 innings over 24 starts for Bowie last year, earning two appearances in the Majors. Shaking off a blister on his middle finger that sidelined him for three weeks, the left-hander held foes to a .188 average before taking his fastball to the Arizona Fall League. But as with many flamethrowers, walks have been an issue. The Howard College product issued 46 free passes last year, but Graham isn't concerned.
"It doesn't necessarily have to be a perfect strike. Command is secondary to the velocity," he said. "If he can get his fastball in the strike zone, he's developed a really good slider to go with his fastball. So he has two weapons right now. It's really fun to watch him.
"When you throw 100 mph, keeping the ball in the strike zone consistently is always going to be a chore, but he's getting better every time he pitches."
Major League-ready: Chance Sisco, C
Puns aside, Sisco has a legitimate chance at being Baltimore's backup catcher. He just needs to work on, well, his catching. The 23-year-old threw out 23 percent of would-be basestealers last season with Norfolk, in line with his career mark. But over the past three full seasons, Sisco has cut his passed balls from 16 in 2014 to four last summer.
"He continues get better," Graham said. "He's catching well, he's blocking well, he's throwing better. He's doing a good job."
Offensively, Graham likes Sisco's pitch recognition and swing. The left-hander hitter posted a .267/.340/.395 line in 97 games with the Tides and then got even better in the Majors, where he hit .333/.455/.778 over 10 games for the Orioles.
With the pressure of breaking camp lingering, Sisco's bat continues to surge as he's hitting .346 (9-for-26) with six RBIs and two walks in his first 14 spring games. But Graham said defense remains the biggest hump -- Sisco needs to show he can catch Major Leaguers and have consistent throws before he can return to The Show.
Full-season debutant: Brenan Hanifee, RHP
After being selected in the fourth round of the 2016 Draft out of a Virginia high school, Hanifee had to delay his pro debut to nurse a back injury. Following his 19th birthday last May, Hanifee went 7-3 with a 2.75 ERA, 44 strikeouts and 12 walks in 68 2/3 innings over 12 starts for Class A Short Season Aberdeen.
"Tremendous control and command -- he has a really good delivery. He's a sinker/slider guy with a good changeup," Graham said. "The hitters are going to tell you what kind of pitcher he is, and that's hopefully early-count outs, a lot of strikes down in the strike zone and a ton of ground balls. He's a guy who is going to continue to throw strikes and pitch to the level of his ability."
Graham will look for Hanifee to continue improving his changeup while throwing more breaking balls when behind in the count. The first test for the Orioles' No. 10 prospect with Class A Delmarva this season will be to throw more than 85 pitches or complete the seventh inning for the first time in pro ball.


More to keep an eye on: Ryan Mountcastle cracked the Top-100 prospect rankings this spring after a breakout 2017, but O's fans will have to wait for an encore as the club's No. 2 prospect broke his hand at camp and will miss four to six weeks. ... Pitchers and early 2017 Draft picks Zac Lowther and Michael Baumann will try to carry over their success from Aberdeen into their respective full-season debuts. ... Left-hander Keegan Akin shook off a rough first full season with Class A Advanced Frederick by going to the Arizona Fall League. There, the 22-year-old pitched mostly out of the 'pen, but he will likely return to the rotation with Double-A Bowie this season.
2018 organization predictions:
Most home runs in the system: Pedro Álvarez
Most stolen bases:Kirvin Moesquit
Most strikeouts: Alex Wells
Current prospect to get most Major League playing time: Sisco
Non-Top-100 prospect to end 2018 in the Top 100: Harvey
Kelsie Heneghan is a contributor to MiLB.com. Follow her on Twitter @Kelsie_Heneghan.