Nathans goes deep three times for Baysox
Orioles farmhand notches his first multi-homer game since 2013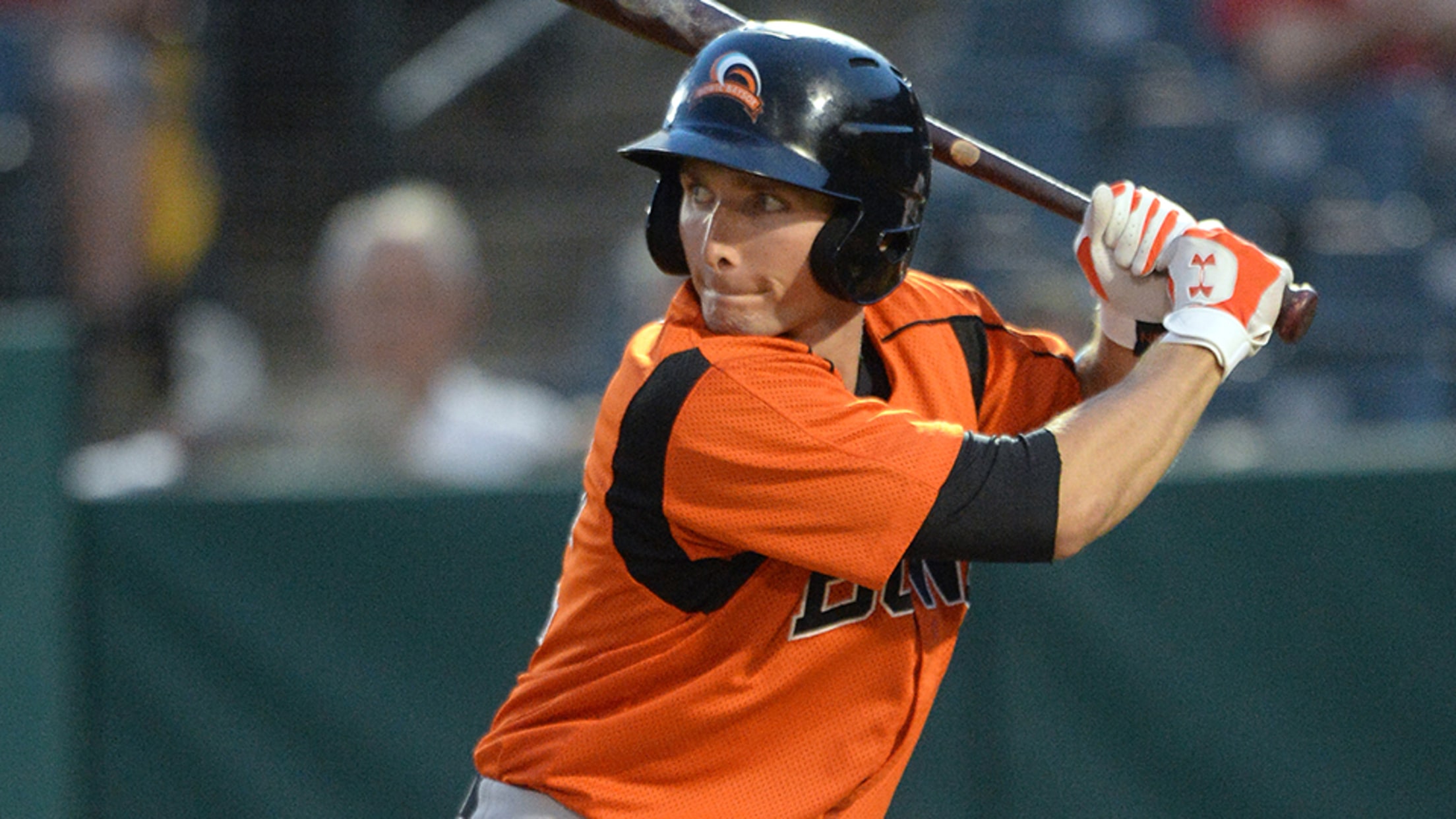 Tucker Nathans had seven home runs over 102 games at Double-A entering Wednesday. (Kevin Pataky/MiLB.com)
Tucker Nathans could be forgiven for lacking confidence entering Bowie's matinee with Erie on Wednesday. He hadn't been officially added to the Double-A Baysox roster until April 21, when Cedric Mullins' trip to the disabled list opened up a spot. He started slow, going 3-for-23 (.130) over his first six
Tucker Nathans could be forgiven for lacking confidence entering Bowie's matinee with Erie on Wednesday. He hadn't been officially added to the Double-A Baysox roster until April 21, when Cedric Mullins' trip to the disabled list opened up a spot. He started slow, going 3-for-23 (.130) over his first six games in sporadic playing time.
But when the 28-year-old outfielder stepped to the plate in the ninth inning having already homered twice on the day, there might not have been a more confident person in Prince George's Stadium.
"I wasn't so much thinking about another home run as I was thinking that if I get another good pitch to hit, I'm not gonna miss it," Nathans said. "It's either that, or he's going to walk me. I figured he was going to have to come right at me, and that was my approach. I was going to make hard contact."
Box score
He did more than that.
The Orioles farmhand went deep again, finishing 4-for-5 with five RBIs in Bowie's 11-9 loss to Erie. It was Nathans' first career three-homer game and first multi-homer performance since May 14, 2013 with Class A Delmarva. The last Baysox hitter to homer three times was Brandon Waring against Binghamton on Aug. 29, 2013.
Nathans, a left-handed hitter, began his day with a three-run shot against SeaWolves southpaw Matt Crouse in the first inning, clubbing a 1-0 fastball over the right-field fence. He went solo on an 0-1 fastball against right-hander Adam Ravenelle in the fifth and completed the hat trick with a solo blast that capped a seven-pitch at-bat against righty Angel Nesbitt.
The New York native also singled in the seventh, and his four hits matched a career high that he's now achieved five times. Interestingly, he had one four-hit game in each of his first four seasons in the Orioles system. However, this type of power had never been produced before by the Fairfield University product, who went deep four times over 61 games in the Eastern League last season.
"Hopefully this is the start of something, because I felt like I had been swinging the bat well," he said. "I just hadn't been rewarded until today with the 20 or so at-bats I'd had. It's a long season. There are ups and downs. I know that. All I've wanted to do was come to the park and put in my best effort, but it's definitely nice to see that pay off."
The weather in Bowie might have played a role in Nathans' milestone day. Winds were blowing from left to right -- the direction of all three of his blasts -- at around 18 mph at the time of first pitch, and Bowie's No. 6 hitter admitted the first long ball may have gotten a little push from Mother Nature. Then again, his three homers were the only ones hit by a Baysox or SeaWolves player in a game that featured 20 runs and 27 hits between the two sides.
"I think both teams did well swinging the bat in some tough conditions," Nathans said. "Even playing the outfield, you couldn't tell if any fly balls were going to go over or just fly straight into the ground. The wind was swirling that bad. But both teams played in the same conditions, so it was a good battle."
The Orioles signed Nathans in February 2013 after he played his first two years out of college in the independent Can-Am and Frontier Leagues. He's now in his third season at Double-A, where he's produced a .245/.290/.375 line with 10 homers in 103 games after Wednesday's breakout. If Mullins hadn't been placed on the DL with a hamstring injury last month, it's unclear when Nathans would've made his season debut.
"It's pretty good right now," Nathans said of his confidence. "Going into the game, I thought it was pretty high as well. I think you always have to be confident in yourself. If your swing feels off or you're going into the box worried about something, you're not going to have success. You have to get in there believing something can happen first."
Tigers No. 7 prospect Mike Gerber went 4-for-5 with two doubles, an RBI, three runs scored and a walk to drive Erie's offense in the win. The club's starting center fielder had originally been credited with a career-high five hits but his fifth-inning single, which had been lost in the sun by third baseman Garabez Rosa, was changed to an error after the game. No. 2 Detroit prospect Christin Stewart chipped in two doubles and three RBIs from the cleanup spot.
Sam Dykstra is a reporter for MiLB.com. Follow and interact with him on Twitter, @SamDykstraMiLB.