Band of Brothers
A brother's memory remains a permanent fixture for one Baysox pitcher.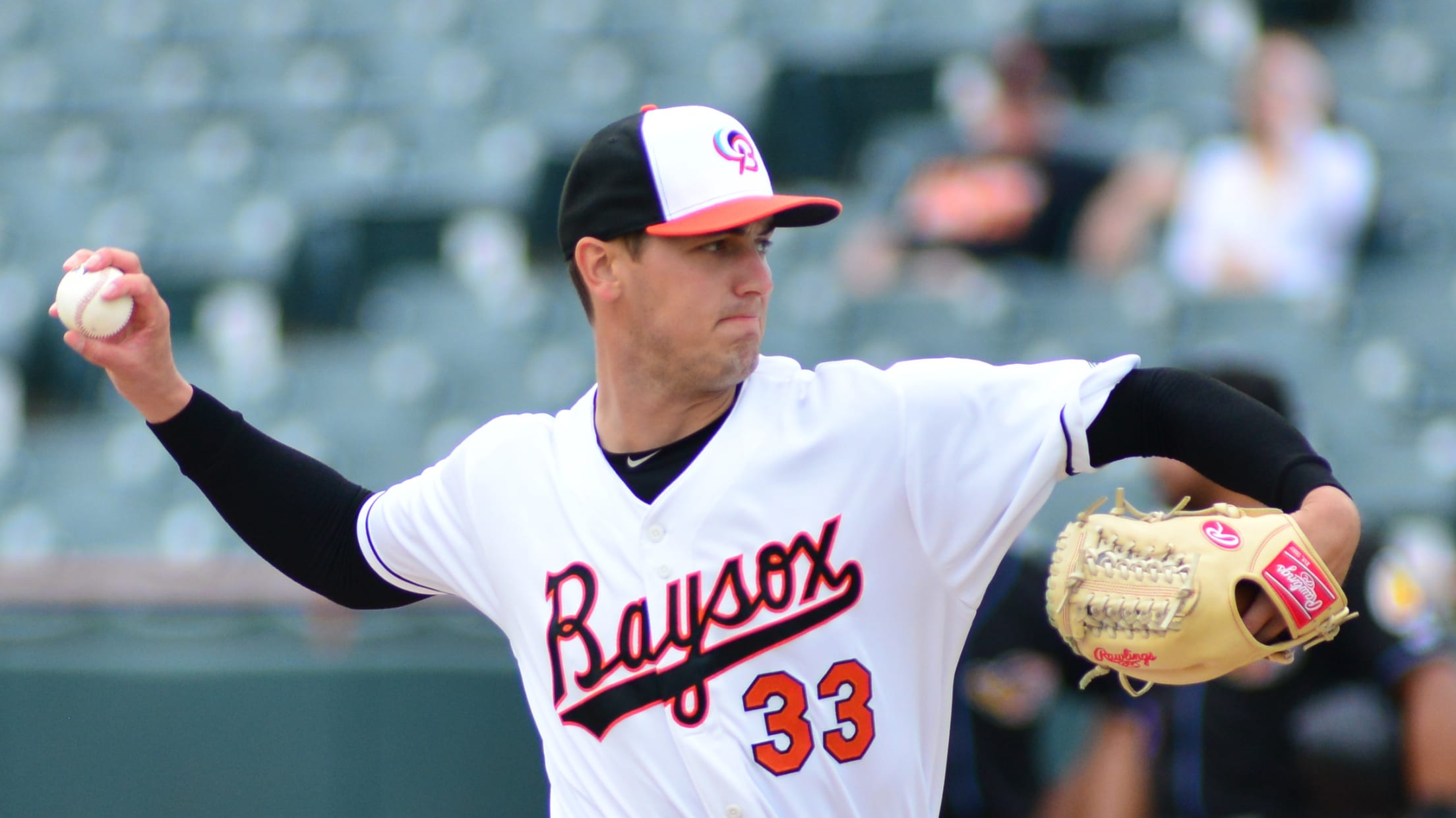 (Bert Hindman )
"We Came As Romans" is a Michigan band in the metalcore genre, a type of music that blends metal and punk rock.
"We Came As Romans" is a Michigan band in the metalcore genre, a type of music that blends metal and punk rock.
Their song, "Intentions," features the following line: "For we are nothing without brotherhood, and brotherhood is nothing without your brothers."
That line is inscribed in ink on the right arm of Baysox RHP Tanner Chleborad. It is a tattoo that he shares with his younger brother, Austin, and it packs as much of a powerful punch as the raw emotion that pulses through the song from which it originates.
That tattoo is one of four on the relief pitcher's body. There is one on his chest, his shoulder and his bicep to complement the one that can be seen emerging from the No. 33 jersey.
"(All of my tattoos) embody my older brother," said Chleborad. "Not just one is for him. They're all for him. It's all about remembering and embodying his personality and who he was."
Flashback to the mid-1990s in Rapid City, South Dakota. The second-largest city in the Mount Rushmore State is home to the Chleborad family. Parents Brian and Amy raised three rambunctious boys-Jason, Tanner and Austin.
The Chleborads were very much a baseball family.
"Getting into baseball was a family thing," said Chleborad. "My dad loved it. My grandpa loved it. My uncle was a pitcher, so I was around it. It was always fun to watch it on TV, especially when it was just my dad and I on the couch. That was pretty special.
"My dad did coach me in Little League and in Ponys. He definitely held his own kids to a higher standard, but he was always fun. We always played the game to have fun. We always wanted to win and be competitive, but the main thing was to have fun and enjoy it."
The brothers all played up through high school, but it was Tanner who made it the farthest.
"I signed within a day or two of the signing date to Washington State University," said Chleborad. "A month or two before then is when I really started getting noticed and getting a lot of emails and calls from colleges. It took a while and I had to be patient, but it worked out in the end."
Being patient and focusing on the mental side of the game has been engrained in Chleborad's athletic DNA since American Legion ball.
"I got into the mental game a lot my senior year in high school," said Chleborad. "Buddy Bartholow, one of our pitching coaches who also played professionally for the Phillies, really emphasized being mentally tough. (WSU Pitching Coach Gregg) Swenson went into more depth on the different aspects of the game-what you can control, what you can't-and really narrowing it down to a science almost.
"In my three years at WSU, I just kept growing and it was a huge factor. I know the kind of stuff that I have and the type of pitcher that I am, so I don't try to become something that I'm not. Obviously, knowing situations is huge, but I'm never going to get away from the type of pitcher that I am. The more that you realize who you are in any situation will help you because you don't get so worked up."
While playing in his first season on the Palouse, Tanner's journey took an unexpected and tragic turn. About 1,150 miles south of Pullman lies the Orange County coastal town of Dana Point-midway between Anaheim and San Diego.
On Valentine's Day of 2012, a group of four men were heading home on a rainy Southern California night when the driver lost control of the vehicle and crashed on the side of the road. The car crashed into a tree, killing all inside with the exception of the driver.
One of the three to pass away that night was Jason.
He was a Corporal in the United States Marine Corps. He was 22 years old.
"Going through something like that is tough," said Chleborad. "You don't know what to do. You don't know how to react to a loss like that. You're angry. You're sad, but you're told to celebrate life. Everybody looks for some way to help them cope with the idea that it just happened."
When Tanner went back home, he got the first tattoo on his chest, right over his heart.
Philippians 4:13 says 'I can do all things through Christ who strengthens me.' It was a verse that his grandparents had regularly told him, especially through such a trying time.
"When he passed away, it was one of the quotes that came to my mind first," said Chleborad. "That helped me through the grieving process and the whole situation. What better way to express yourself then to put it on you? You look down or see yourself in the mirror and you remember every day."
Needless to say, there's a lot of great aspects of Jason worth remembering, as well as a multitude of ways he impacted his younger siblings.
"We definitely were brothers. Some of my best memories are the massive fights we had: the huge pillow fights and the wrestling matches, stuff like that," said Chleborad. "My bond with my brothers has always been strong. My older brother did amazing things and my little brother continues to do amazing things.
"My older brother was a nerd. He loved cartoons and playing video games. He saved up his money to buy a computer, not a car. That's the type of person he was. He never really cared what other people thought. He did his own thing (and) he did what he wanted to do."
That last part made quite the impact on Tanner, especially.
"The biggest thing I always took away from him was to do what you wanted to do and be the person that you want to be," said Chleborad. "That was huge for me being a guy who played multiple sports in high school and being constantly around sports. You sometimes get lost in that world and he always reigned me in, saying that there was always more to it than baseball or basketball or football. Be your own person (and) find something that you enjoy personally that maybe only you enjoy.
"Especially now as a professional, you're around baseball all the time and at the field for a good part of the day. We have games every day. So, when we have time off and you're by yourself, if you find something that you truly love to do other than baseball, then you should do it and find that happiness and joy in something else. That's what he taught me."
Never going away from the person he wants to be. Never going away from the pitcher he is.
Turns out Jason has made an impact on Tanner both on and off the field.