Barons Bats Bested By Biloxi, 5-1
Adams suffers second loss of the season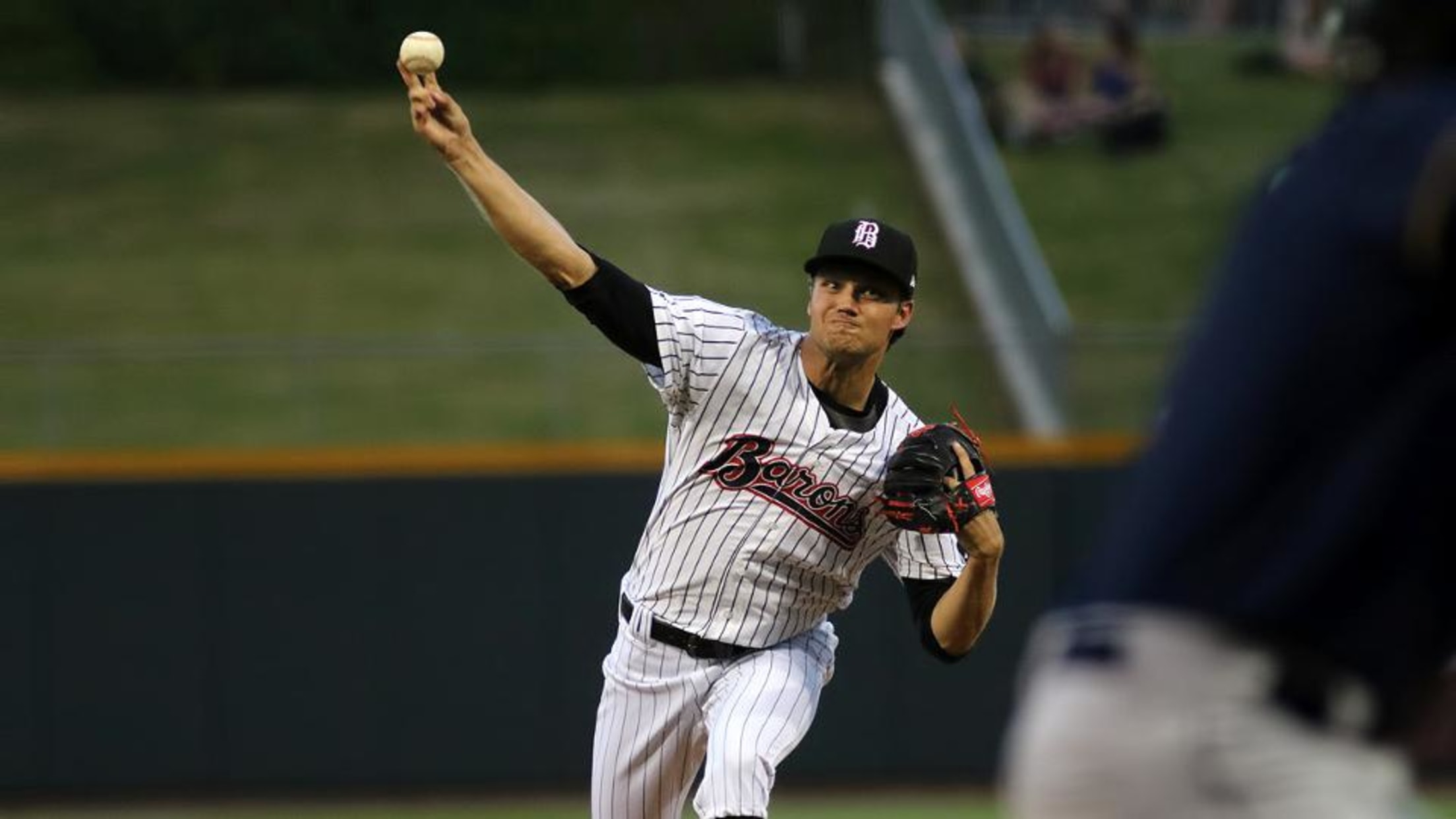 Spencer Adams took the loss on Friday night. (Michael Wade)
After falling behind early, the Birmingham Barons (10-12) were not able to get their offense going as the Biloxi Shuckers (14-8) used a solid pitching performance to win 5-1 on Friday night. Facts And Figures: Former National League All-Star Wade Miley (W, 1-1) dominated on the mound for Biloxi. The Barons
After falling behind early, the Birmingham Barons (10-12) were not able to get their offense going as the Biloxi Shuckers (14-8) used a solid pitching performance to win 5-1 on Friday night.

Facts And Figures: Former National League All-Star Wade Miley (W, 1-1) dominated on the mound for Biloxi. The Barons struck out 11 times against the left-hander, who gave up just two hits and three walks over 6.0 scoreless innings to earn the win.
He Said It: "It's always great to play against the best and tonight facing Miley was a great opportunity," Barons catcher Zack Collins said.
Moments That Mattered: The Barons began a comeback in the seventh inning against Biloxi reliever Jon Olczak as Collins began the inning with a triple off the center field wall, his first of the season. Eloy Jiménez followed with a RBI single, his fourth straight game with an RBI.
Quotable: "I saw a pitch I liked and was able to drive it. Getting the triple was a good confidence builder," Collins said.
Turning Point: In the bottom of the seventh inning Jimenez, was called out on a close play at third base after the ball bounced away from the catcher. Manager Ryan Newman came out to argue the call, and was ejected by the third base umpire.
By The Numbers: Barons' starter Spencer Adams (L, 1-2) allowed eight hits in just 6.0 innings of work. He gave up one run in the second inning and three more in the fourth. After surrendering the runs, Adams rebounded to retire the last seven batters he faced, ending his start.
Up Next: The Barons and the Shuckers will play game three of the series on Saturday night at Regions Field. Right-hander Jordan Stephens (1-3, 4.50 ERA) gets the start for the Barons while fellow right-hander Zack Brown (0-0, 5.14 ERA) will get the nod for the Shuckers. Curt Bloom will have the call on 960 WERC News Radio and the iHeart Radio app.