Barons Edged By Smokies In Finale, 2-1
Luis Basabe reached base four times in loss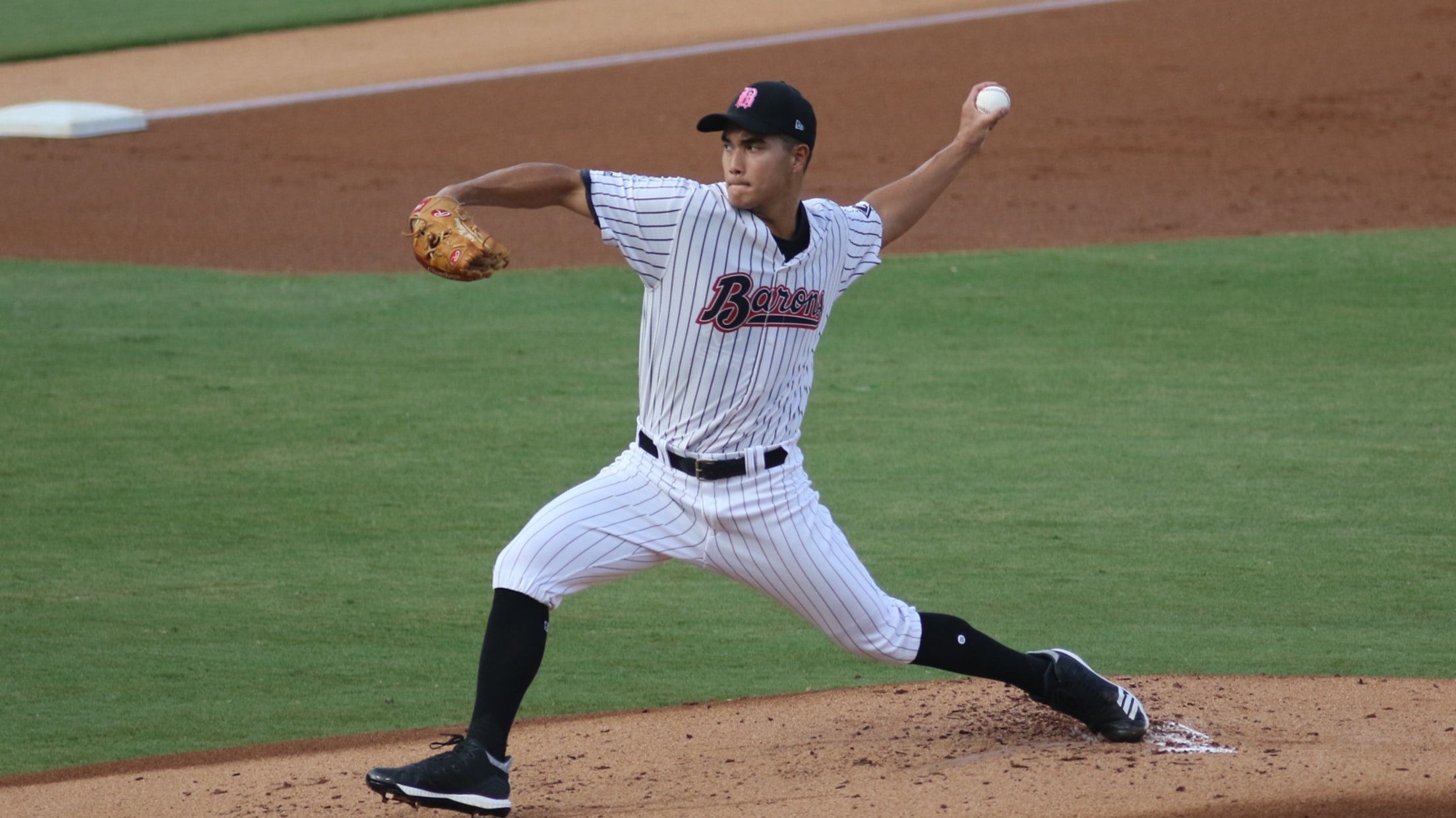 Kodi Medeiros threw 8.0 brilliant innings in Saturday night's loss. (Michael Wade)
A late run was enough to hand the Birmingham Barons (58-65) a 2-1 loss to the Tennessee Smokies (62-61) on Saturday night at Regions Field. With the loss, Birmingham drops the series three games to two, but wins the season series with 15 wins in 25 games. Turning Point: With the
A late run was enough to hand the Birmingham Barons (58-65) a 2-1 loss to the Tennessee Smokies (62-61) on Saturday night at Regions Field. With the loss, Birmingham drops the series three games to two, but wins the season series with 15 wins in 25 games.

Turning Point: With the game still tied 1-1 in the ninth inning, Eddy Martinez reached base and advanced to second on an error by Barons third baseman Trey Michalczewski. Two pitches later, P.J. Higgins crushed a ball to left to score pinch runner Wynton Bernard and plate the winning run for the Smokies.
By The Numbers: On the mound, Kodi Medeiros was tremendous in his best start with the Barons. His only blemish came on a solo shot by Charcer Burks in the fifth inning. In his fourth appearance with Birmingham, he pitched 8.0 innings, allowing one run on five hits with three strikeouts. Brian Clark (L, 1-3) entered the game in the ninth inning. He gave up one hit, added a strikeout, and did not allow an earned run in the loss. For Tennessee, Wyatt Short (W, 3-3) pitched 1.0 flawless relief inning with one strikeout. Allen Webster (S, 2) closed out the ninth and struck out two batters.
Moments That Mattered: Birmingham struck early with a run in the first inning. Luis Basabe walked before advancing to third on a single by Zack Collins. Basabe scored the lone run of the night for the Barons as he came home on a sacrifice fly by Alex Call.
Facts And Figures: Basabe had another big night at the plate for the Barons. He reached base four times with two hits, including his fifth double of the season, a walk, and a hit by pitch. The only other batter to reach base was Collins on his single in the first frame. Call drove in his 24th run of the season.
Up Next: Birmingham travels to Jacksonville to take on the Jumbo Shrimp in a five-game series starting on Sunday at 5:05 p.m. Tanner Banks (3-4, 2.85) will make his eighth start of the season for the Barons. For Jacksonville, McKenzie Mills (0-1, 67.50) will take the mound. Curt Bloom will have the call on 960 WERC News Radio and the iHeart Radio app.