Barons' Errors Costly In 4-2 Loss
Basabe's hitting streak snapped in opener in Mississippi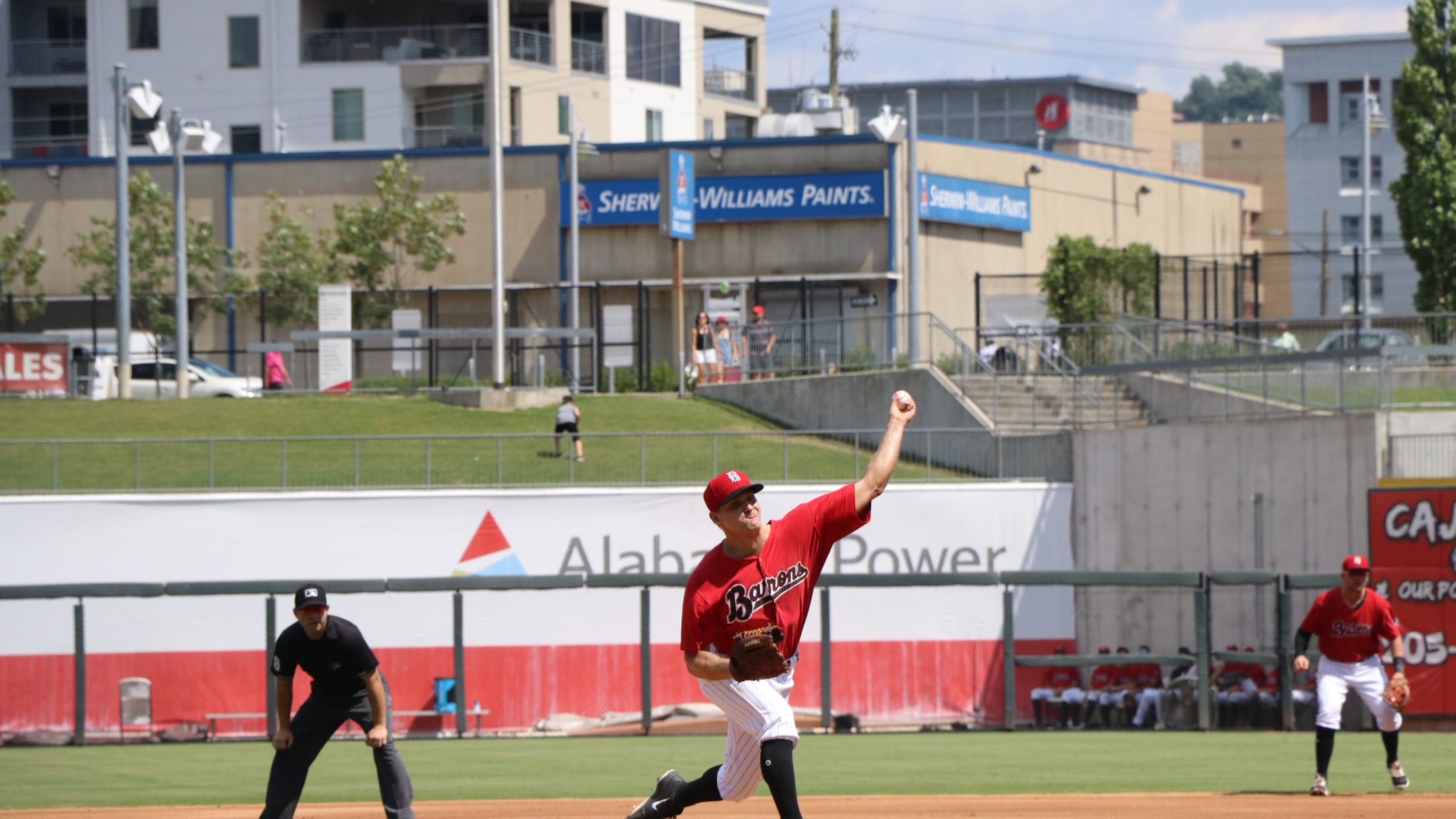 Tanner Banks gave up four unearned runs in Saturday's loss. (Aaron Cheris)
After a lengthy rain delay, the Birmingham Barons (53-51) fell behind early and couldn't get their offense on track in a 4-2 loss to the Mississippi Braves (47-58) on Saturday night in the opener of their five-game at Trustmark Park. Turning Point: In the bottom of the fourth, the Barons' defense
After a lengthy rain delay, the Birmingham Barons (53-51) fell behind early and couldn't get their offense on track in a 4-2 loss to the Mississippi Braves (47-58) on Saturday night in the opener of their five-game at Trustmark Park.

Turning Point: In the bottom of the fourth, the Barons' defense faltered in what proved to be the decisive inning. First, Bryant Flete's throw on a sacrifice bunt was wide of first base, allowing Ray-Patrick Didder to score the game's first run. Two batters later, Travis Demeritte's pop up was dropped in the middle of the infield by Matt Rose, allowing the M-Braves to load the bases. The next hitter, Tyler Marlette, cleared the bases with a double to left-center, giving the home team a 4-0 lead they wouldn't relent.
By The Numbers: The fourth inning runs proved to be the only blemish on Birmingham starter Tanner Banks (L, 2-2). The Barons lefty was sharp over the rest of his outing, giving up the four unearned runs on four hits with two walks and four strikeouts. Jake Johansen and Zach Thompson combined to pitch 3.0 scoreless innings to keep the game close, but the offense could never muster a comeback.
Moments That Mattered: Birmingham got on the board in the top of the fourth as Danny Mendick began the inning with a single and scored on Alex Call's double into the left field corner. In the eighth, the Barons again got closer on an RBI groundout from Mendick that scored Luis Basabe, but the visitors stranded the tying run at the plate in the ninth as Joel Booker struck out to end the game.
Facts And Figures: Call led the way for Birmingham by going 2-for-4 with a pair of doubles and an RBI at the plate while Zack Collins also recorded two hits in the loss. Basabe finished 0-for-2 with two walks and a run as his hitting streak was snapped at 15 games, tied for the longest streak in the Southern League this season.
Up Next: The two sides will continue the series with a 5 p.m. matchup on Sunday. Alec Hansen (0-4, 6.03) is set to toe the rubber for Birmingham against Mississippi's Michael Mader (2-2, 2.98). Curt Bloom will have the call on 960 WERC News Radio and the iHeart Radio app.