Barons One-Hit Smokies
Lambert shines in 3-0 Birmingham win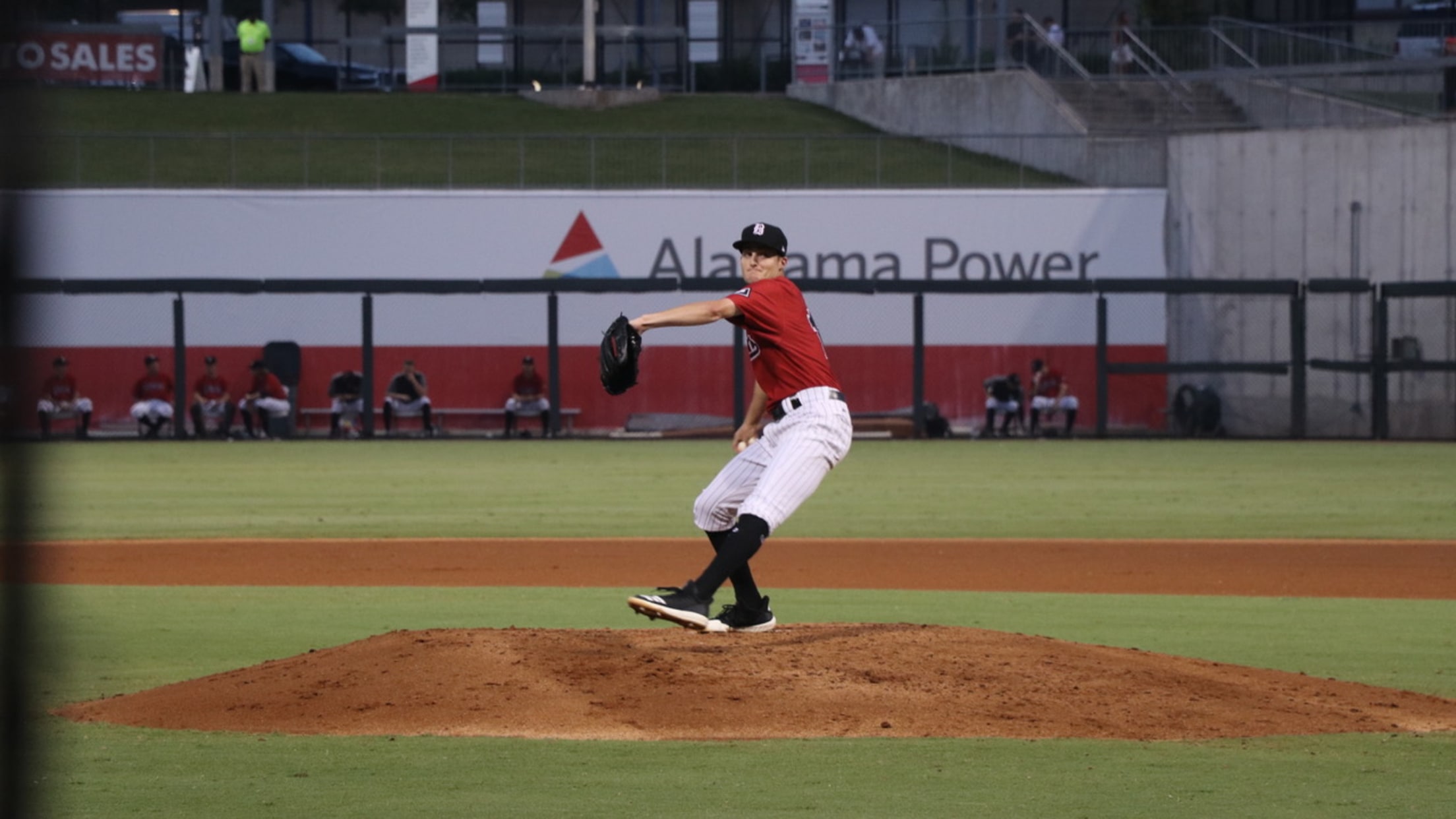 Jimmy Lambert retired 17 straight between the first and seventh innings, allowing just one hit in his third high-quality start on Saturday. (Aaron Cheris)
Behind timely hitting and phenomenal pitching, the Birmingham Barons (45-46) notched their third straight over the Tennessee Smokies (49-44), earning a 3-0 win on Saturday at Smokies Stadium. With the win, the Barons not only clinched their series with the Smokies but are now tied for first in the Southern
Behind timely hitting and phenomenal pitching, the Birmingham Barons (45-46) notched their third straight over the Tennessee Smokies (49-44), earning a 3-0 win on Saturday at Smokies Stadium. With the win, the Barons not only clinched their series with the Smokies but are now tied for first in the Southern League North Division.

Moments That Mattered: Jimmy Lambert

(W, 3-1) was nearly un-hittable as he worked rough shot through the Tennessee lineup, retiring 17 straight after giving up two walks in the bottom of the first. His bid for a no-hitter ended in the bottom of the seventh after Zack Short broke through with a leadoff single.

By the Numbers:

Lambert finished the night with his third high-quality start in four outings, allowing just one hit over seven complete scoreless innings. With 10 strikeouts on the night, he becomes the third Baron to reach that number, following Dane Dunning and Tanner Banks .

Facts and Figures:

Brian Clark and José Ruiz finished what Lambert started, each dealing one hitless frame. The combined one-hitter is the first for the Barons since Scott Snodgress and JR Ballinger achieved the feat against Chattanooga on July 22, 2013. On the other side of the ball, the Barons recorded 12 hits in the win - all singles. Trey Michalczewski and Danny Mendick each recorded three hits, while Alfredo Gonzalez finished with two.

Turning Points:

Offensively, the Barons jumped ahead in the top of the first, rapping out three straight singles with two away as Matt Rose plated Michalczewski for a 1-0 lead. Mendick drew a leadoff walk to begin the fourth, while Gonzalez plated the shortstop three batters later, extending the Birmingham lead to 2-0. Mendick drove in Alex Call in the fifth as part of another two-out rally, plating the game's final run.
Up Next:

Birmingham and Tennessee continue in the series on Sunday with first pitch set for 4:30 p.m. Southpaw Bernardo Flores (2-2, 1.67) looks to keep his momentum rolling against right-hander Thomas Hatch (6-4, 3.82). Curt Bloom will have the call on 960 WERC News Radio and the iHeart Radio app.