Barons Pitching Key in 5-4 Win
Birmingham takes 2-1 advantage in road series at Tennessee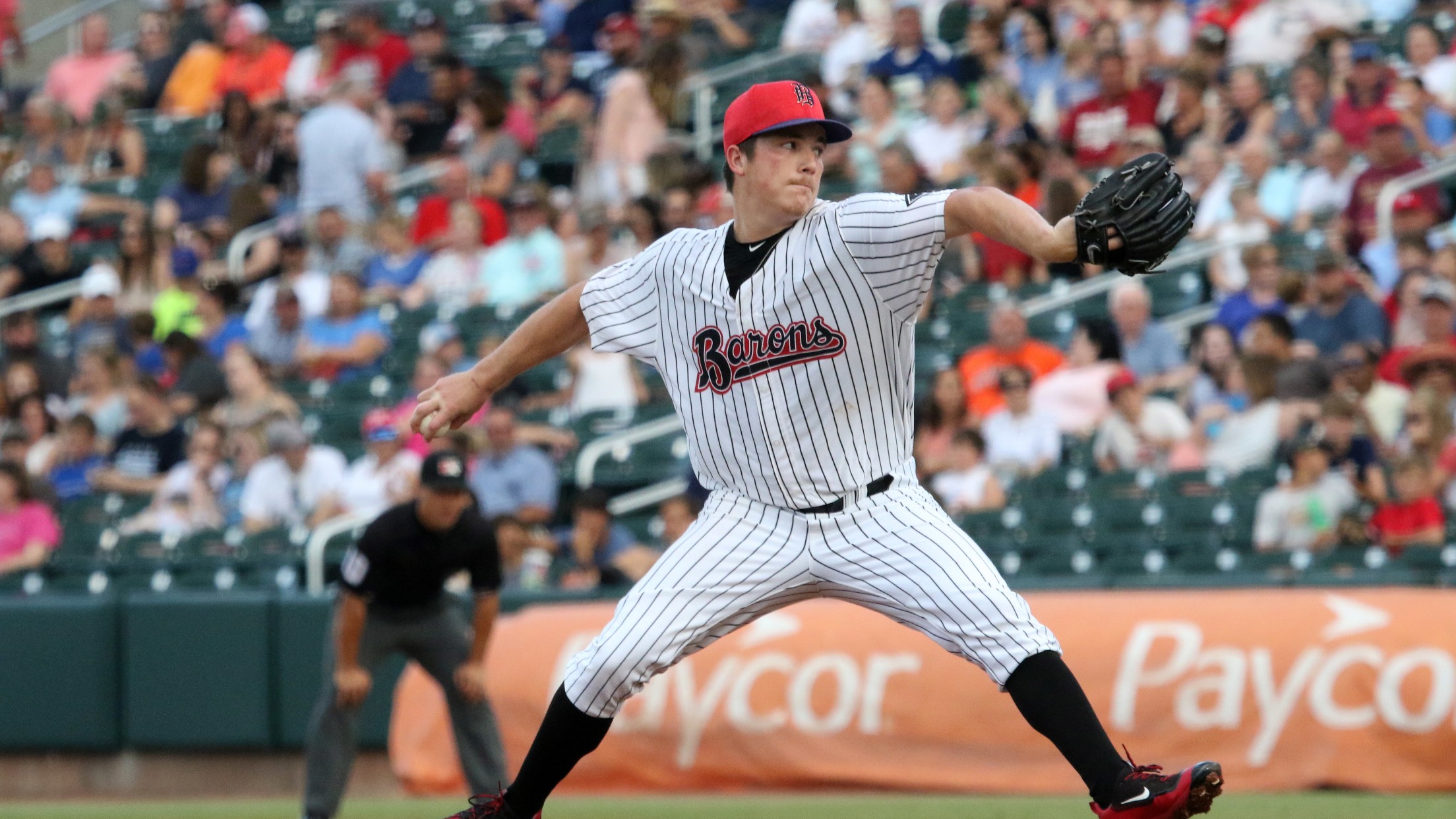 Jordan Stephens struck out a season-high eight batters through 6.2 innings of work on Friday night. (Michael Wade)
Hot bats and strong pitching helped the Birmingham Barons (14-14) to a 5-4 win over the Tennessee Smokies (13-14) Friday night at Smokies Stadium. Turning Points: Eloy Jiménez  gave the Magic City an early lead it would not relinquish with a two-run homer to right-center in the top of the
Hot bats and strong pitching helped the Birmingham Barons (14-14) to a 5-4 win over the Tennessee Smokies (13-14) Friday night at Smokies Stadium.

Turning Points: Eloy Jiménez

gave the Magic City an early lead it would not relinquish with a two-run homer to right-center in the top of the opening frame.

Moments That Mattered:

After Jordan Stephens (W, 3-3) kept Tennessee batters at bay through six and two-thirds innings, Brad Goldberg (H, 2) and Ian Hamilton (S, 5) closed the door on the Smokies.

By the Numbers:

Jimenez's fifth homer of the year marked the Barons' 25th in 13 games, giving Birmingham its Southern League-leading 31st home run on the year. For Zack Collins , the league leader in walks drew his 23rdand 24th free bases while nudging his hitting streak to 10 straight with a single in the sixth.

Facts and Figures:

Although Collins' 10-game hitting streak leads the Birmingham lineup, Jimenez and Danny Mendick also kept their bats hot on Friday night, each moving to eight consecutive games with a hit. Jameson Fisher bagged a pair of singles and a double to move to seventh straight. Stephens' eight strikeouts on the night is a season-high for the Barons' starter.

Up Next:

Birmingham will look to take their fifth series on the season in Game 4 at Tennessee on Saturday. Southpaw Jordan Guerrero (1-2, 7.08 ERA) will face off against right-hander Oscar De La Cruz (2-3, 7.48 ERA). First pitch is set for 6:00 p.m. Curt Bloom will have the call on 960 WERC News Radio and the iHeart Radio app.