Barons Power Past Pensacola
Barons come out hot to take game two of homestand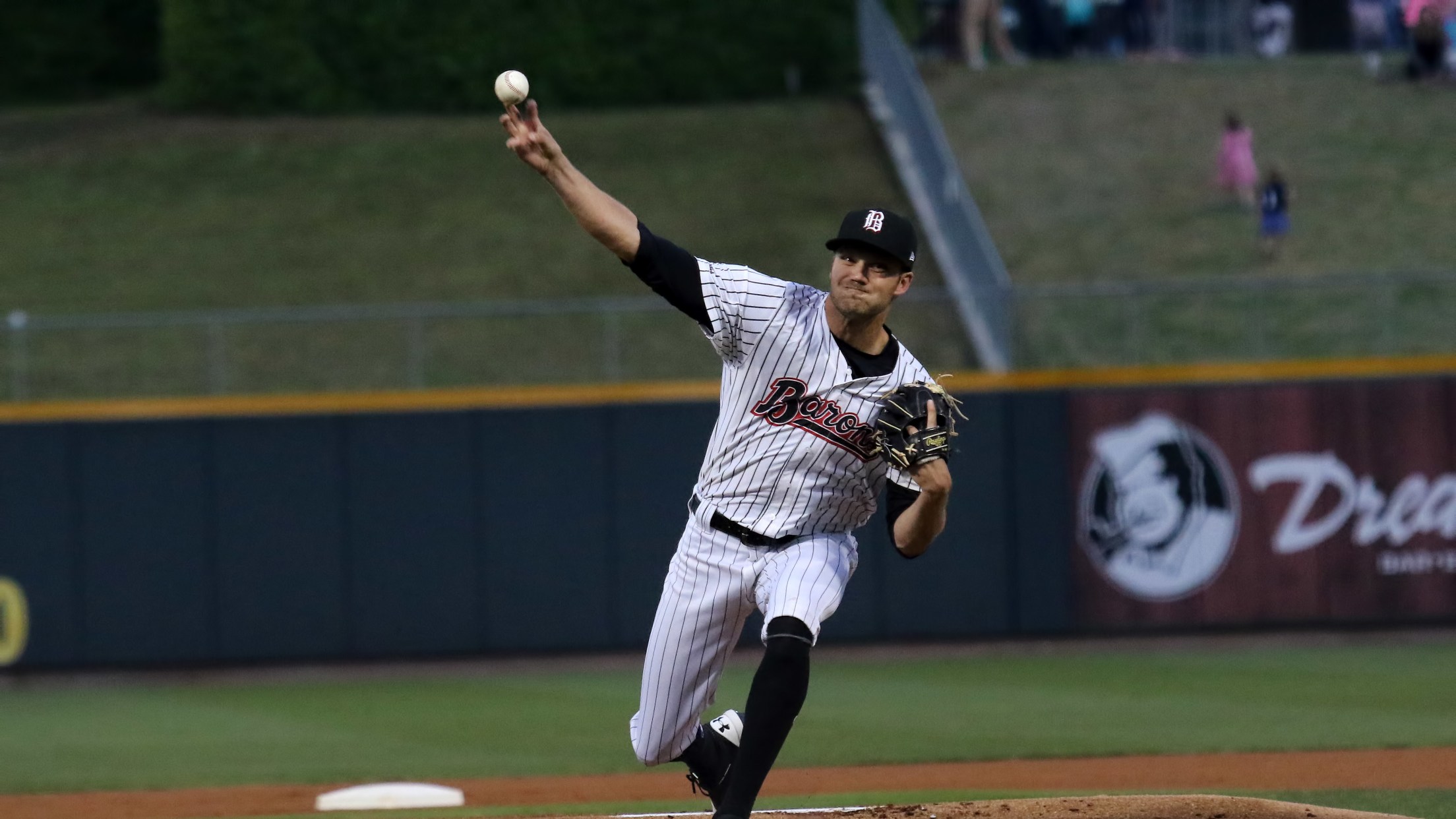 Spencer Adams allowed just two earned runs through six complete innings on the mound, helping the Barons to a 5-2 win over Pensacola Tuesday. (Michael Wade)
After jumping out to an early lead the Birmingham Barons (16-16) were able to persevere their lead, on the way to a 5-2 win over the Pensacola Blue Wahoos (13-19) Tuesday night at Regions Field. Moments That Mattered: Eloy Jimenez and Seby Zavala gave the Barons an early lead in the first inning, launching
After jumping out to an early lead the Birmingham Barons (16-16) were able to persevere their lead, on the way to a 5-2 win over the Pensacola Blue Wahoos (13-19) Tuesday night at Regions Field.

Moments That Mattered:

Eloy Jimenez

and Seby Zavala gave the Barons an early lead in the first inning, launching back-to-back home runs of over 400 feet each.

Turning Points:

Ryan Brett recorded an RBI extending the Barons lead when he knocked in Trey Michalczewski on a sacrifice fly in the fourth inning. In the bottom of the sixth inning Brett knocked in two more runs giving himself three RBIs on the night and extending the Barons lead to 5-2.

By the Numbers:

Southern League Player of the Week Eloy Jiménez made his presence felt again at the plate, recording his seventh home run of the year, extending his hitting streak to 12 games. In his second at bat he extended his streak of multiple hits in a game to eight games when he roped a single into center field. Designated hitter Seby Zavala also hit his team leading eighth home run, giving him not only the team lead in RBI's but making him the Southern League leader as well.

Quotable:

"That dude is unreal he is the best hitter I have ever seen, some of us are just wondering why he is not in the big leagues." Barons starting pitcher Spencer Adams said" when asked about teammate Eloy Jimenez.

Facts and Figures:

Barons starting pitcher Spencer Adams (W, 2-3) turned in his first quality start of the season recording three strikeouts, allowing only two earned runs, and surrendering just four hits over six innings pitched.

He Said It:

"I was just more relaxed tonight, I had a positive attitude and just went out there and did my thing," Barons starting pitcher Adams said. " I just went back to my old ways tonight and just went out there and played."

Up Next:

The Barons take on the Blue Wahoos in the third game of the home series Wednesday at Regions Field with first pitch set for 11:30 a.m. Right-hander Jordan Stephens (3-3, 3.48 ERA) will get the nod against righty Jesús Reyes (0-5, 4.78 ERA). Curt Bloom will have the call on 960 WERC News Radio and the iHeart Radio app.