Barons Split Doubleheader with Biscuits
Birmingham wins second consecutive series to open 2018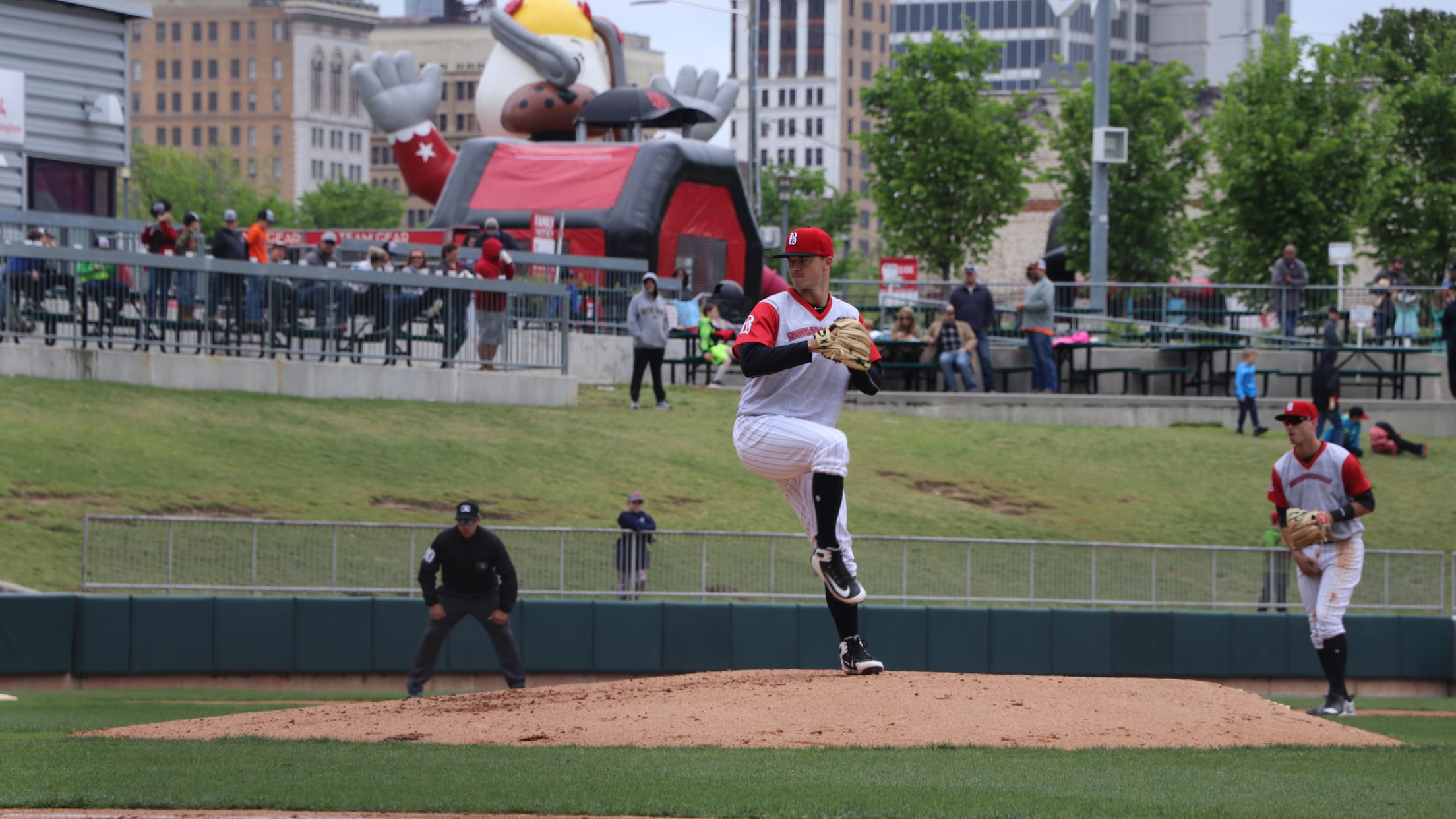 Ian Clarkin fans six in complete game win (Aaron Cheris)
The Birmingham Barons (6-4) split Sunday's doubleheader with the Montgomery Biscuits (3-7)   with a 2-1 walk-off win in the opener before falling 9-2 in Game 2 at Regions Field. "It was definitely a battle today," Birmingham starter Ian Clarkin said of the Game 1 win. "I didn't get ahead as many
The Birmingham Barons (6-4) split Sunday's doubleheader with the Montgomery Biscuits (3-7) with a 2-1 walk-off win in the opener before falling 9-2 in Game 2 at Regions Field.
"It was definitely a battle today," Birmingham starter Ian Clarkin said of the Game 1 win. "I didn't get ahead as many times as I wanted to, but when I did I was able to put them away. My defense played great behind me. It was honestly just a good team win."

Moments That Mattered:

After Montgomery's Nick Solak belted a one-out triple off the right-center field wall, Ian Clarkin (W, 2-0) forced infield pop-ups on his first pitch to the next two batters, ending the Biscuits go-ahead threat in the sixth inning of Game 1.

Quotable:

"When I was younger, I would have gotten frustrated about having just given up a triple," Clarkin said. "Now, having played the game a little more, I realize it's just something that happens. I've shifted my thinking to focus on what I need now to fix this situation. Fortunately, I got the next guy on the first pitch and the same with the next guy. I wanted to do my best to keep the team in the game and not give it up."

Turning Points:

In the bottom of the seventh, Courtney Hawkins launched a deep fly to left-center with one away, allowing Ryan Brett to cross the plate in walk-off fashion to give Birmingham the series win in the opener.

Clarkin on Hawkins' Walk-Off:

"Beautiful - That's why it's a team sport, and that's why I love the game of baseball. We have a really good team here, and when everyone is pulling together like that, it's going to be hard to beat us."

By the Numbers:

Two - Clarkin moves to 2-0 at the Double-A level after tossing 7.0 innings for his third career complete game, allowing just one earned run on five hits while fanning six and walking none. Trey Michalczewski picked up his first two RBIs on a pair of singles in the series finale, scoring Nick Basto in the second and Jameson Fisher in the fourth.

He said it:

"I try to throw as many strikes as possible and not walk anybody.

I don't want anyone to get a free base; I want to make them earn it."

Facts and Figures:

Top White Sox prospect Zack Collins (No. 9) picked up his first homer of 2018 in the opener, knocking his second hit of the season over the center field fence with a 408-foot game-tying shot. Montgomery racked up 14 hits in the Game 2 win

Up Next:

The Barons travel to Jackson before heading south to Pensacola as part of a 10-game road swing. Lefty Matt Tomshaw (0-1, 8.10 ERA) will get the Monday start for the Barons. First pitch is slated for 6:05 p.m. Curt Bloom will have the call on 960 WERC News Radio and the iHeart Radio app.