Barons Topped By Jumbo Shrimp 3-1
Booker drives in lone run in loss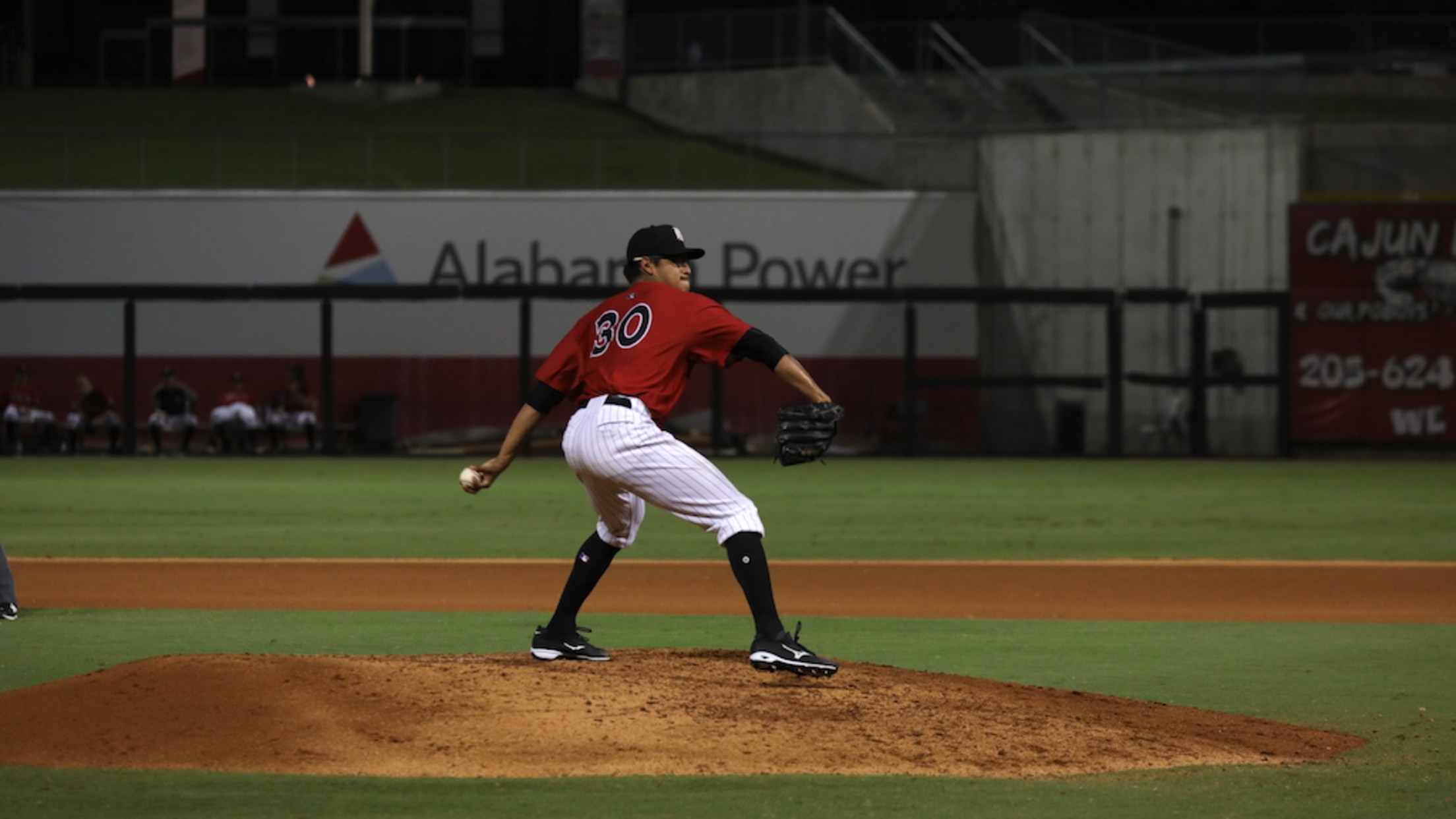 Bernardo Flores struck out five in Tuesday's loss. (Jon Cheris)
The Birmingham Barons (60-66) offense struggled on Tuesday night as they only recorded five hits in a 3-1 loss to the Jacksonville Jumbo Shrimp (51-73). Despite the loss, the Barons still lead the series two games to one. Facts And Figures: Jumbo Shrimp starter Robert Dugger (W, 6-5) pitched one of
The Birmingham Barons (60-66) offense struggled on Tuesday night as they only recorded five hits in a 3-1 loss to the Jacksonville Jumbo Shrimp (51-73). Despite the loss, the Barons still lead the series two games to one.

Facts And Figures: Jumbo Shrimp starter Robert Dugger (W, 6-5) pitched one of the best games of his minor league career. Between the second and fourth innings he struck out seven consecutive Barons, in route to a career-high 10 strikeouts over 7.0 scoreless innings to keep Birmingham off the board.
Turning Point: The Jumbo Shrimp wasted no time getting on the board. In the bottom of the first inning Joe Dunand hit a two-run double to left, breaking the early scoreless tie with what proved to be the game-winning hit. The two runs proved to be more than enough support for Dugger and two relievers.
Moments That Mattered: In the top of the fifth inning Trey Michalczewski led off with a double, the second hit for the Barons on the night. Shortly after, Michalczewski was picked off at third base, ending any threat for the Barons in the inning. The Barons scored their lone run in the top of the eighth off the strength of a Joel Booker RBI single, making the score 3-1.
By The Numbers: Bernardo Flores (L, 2-5) had a shaky outing from the start. He pitched 5.0 innings, allowing three runs, two earned, on six hits with five strikeouts and two walks. Ian Clarkin came in in relief and pitched 2.0 clean innings with one strikeout and two hits. Blake Brennan also pitched in relief, throwing a scoreless bottom of the eighth with two strikeouts.
Up Next: The Barons and the Jumbo Shrimp will play game four of the series on Wednesday with first pitch scheduled for 6:05 p.m. Dylan Cease (3-0, 1.90) will get the start for the Barons, while Dustin Beggs (1-0, 0.00) will get the nod for the Jumbo Shrimp. Curt Bloom will have the call on 960 WERC News Radio and the iHeart Radio app.