Baysox Host Heroes Day Sunday, July 25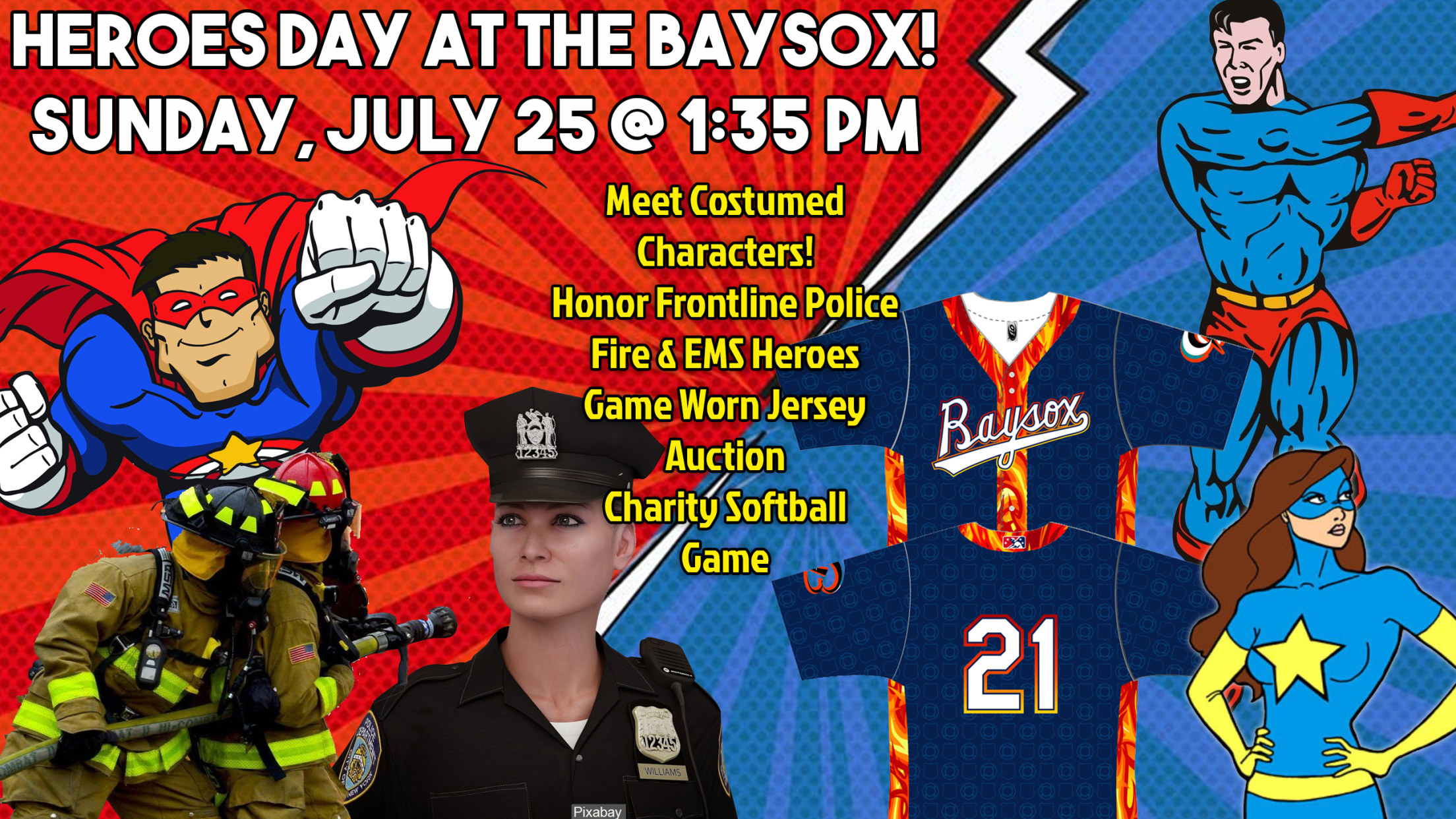 Bowie Baysox To Host Heroes Day To Celebrate First Responders Law Enforcement, Firefighters and EMS Personnel Can Get Free Tickets To The Baysox Game Sunday, July 25 Bowie, Md: The Bowie Baysox, Double-A Affiliate of the Baltimore Orioles announce today that the team will host Heroes Day on Sunday, July
Bowie Baysox To Host Heroes Day To Celebrate First Responders
Law Enforcement, Firefighters and EMS Personnel Can Get Free Tickets
To The Baysox Game Sunday, July 25
Bowie, Md: The Bowie Baysox, Double-A Affiliate of the Baltimore Orioles announce today that the team will host Heroes Day on Sunday, July 25 at Prince George's Stadium in Bowie, MD when they take on the Hartford Yard Goats, Double-A Affiliate of the Colorado Rockies. The game on Sunday, July 25 will take place at 1:35 pm and a portion of the ticket sales from the game will benefit the Children's Cancer Foundation in Columbia, MD. (https://childrenscancerfoundation.org/)
All Law Enforcement, Firefighters and EMS personnel are invited to attend this Sunday's game for FREE! To obtain the free tickets, Law Enforcement, Fire or EMS personnel will need to present their valid, active-duty badge or identification badge at the Bowie Baysox Ticket Office on Sunday, July 25. Two free tickets to Sunday's game will be issued to that first responder to come in and enjoy the game.
Heroes Day at the Baysox will feature a day of giving back as the team has partnered with the Anne Arundel County Fire Department to feature a charity softball game following the Baysox game against Hartford. The softball game will pit the Anne Arundel County Fire Department against the Mid-Atlantic Fire Department in a competitive on-field battle for softball supremacy. This is the second year that this event has taken place following a Baysox game, the first time was in 2019. All fans attending the Baysox game on Sunday, July 25 are invited to stay and enjoy the softball game.
All fans are also encouraged to come dressed in their favorite hero costume or animated hero character apparel. There will also be some great costumed characters in attendance for fans to meet and take photos with including a Panther and American Captain.
Baysox players and team members will also be wearing specially designed jerseys for this game that will be auctioned with a portion of the proceeds benefiting the Children's Cancer Foundation of Columbia.
Fans wishing to purchase tickets to this event and to have part of their ticket price donated to the Children's Cancer Foundation can CLICK HERE and use the special code HEROES (all caps) when purchasing tickets for the July 25 game. Five dollars for each ticket purchased with the code HEROES will be donated to CCF through tickets purchased by 11:59 pm Friday, July 23.
The 2021 Baysox season is presented by Money One Federal Credit Union. For a complete Baysox 2021 schedule and list of promotional events, CLICK HERE.