Beamon unbeatable for Stockton in 1955
Righty only Cal League pitcher with 15 decisions and no losses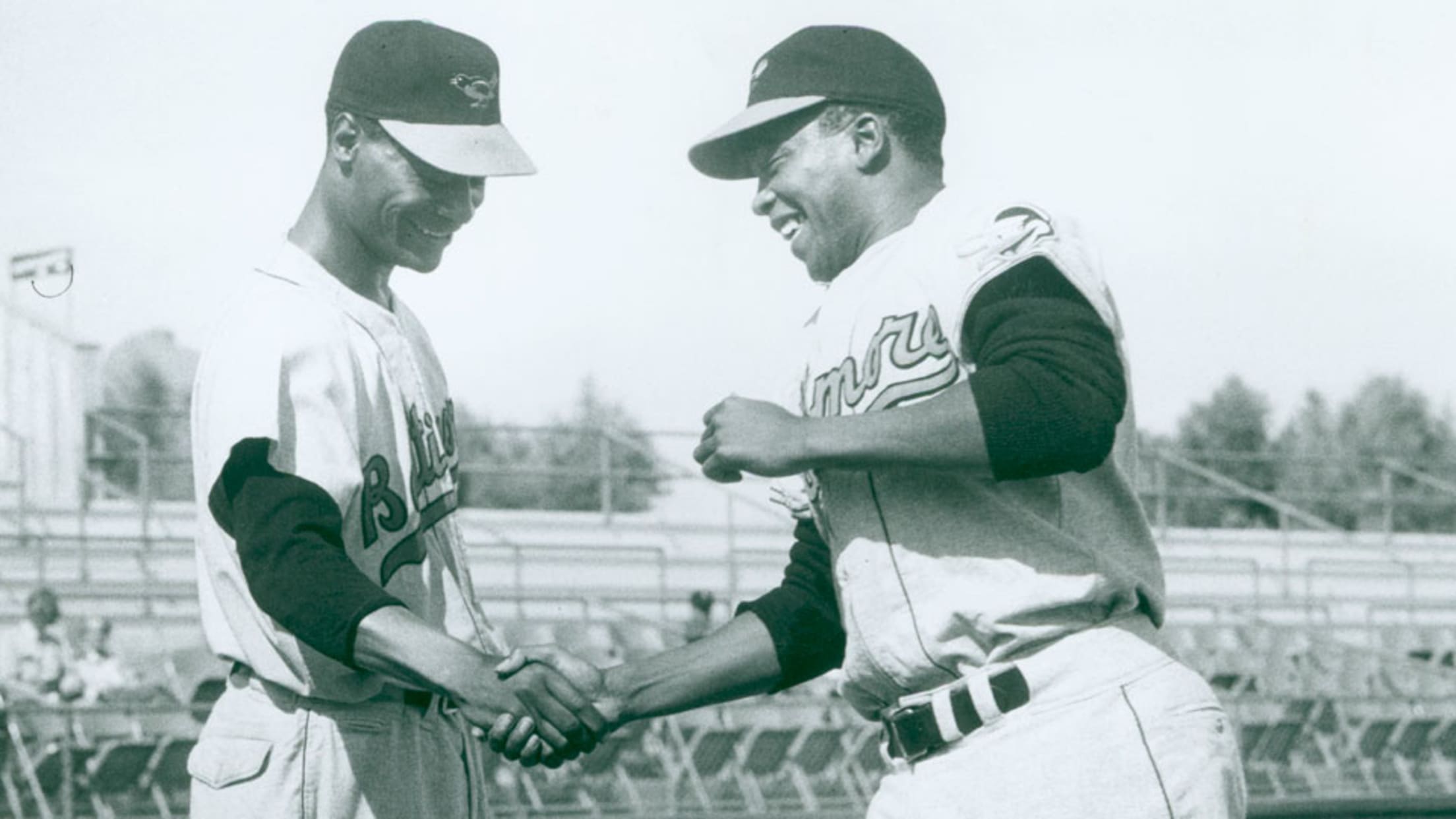 During a friendly game with fellow pitchers, Charlie Beamon also showed off his bat with a home run. (Baltimore Orioles)
Minor League Baseball is known for its rich history, dating back more than 100 years. While much has been written about the best teams and top players who have graced the Minors, there remain many stories either untold or largely forgotten. Each week, MiLB.com will attempt to fill that gap
Minor League Baseball is known for its rich history, dating back more than 100 years. While much has been written about the best teams and top players who have graced the Minors, there remain many stories either untold or largely forgotten. Each week, MiLB.com will attempt to fill that gap and explore these historical oddities in our "Cracked Bats" feature.
Stockton was a hotbed for some fabulous pitching in the mid-1950s, and no one embodied the era better than Charlie Beamon. The right-hander put together one of the most spectacular seasons in California League history in 1955, setting a record that likely will never be broken.
Beamon dominated the then-Class C circuit by going 16-0 in 16 appearances, 15 of which were starts. He was optioned from Oakland of the Pacific Coast League on May 5 and recalled on July 7, spending only 63 days with Stockton. Yet what he did during those nine weeks with the Ports was more than enough to carve his name into the Cal League record book.
Beamon shares the league record with Al Spearman, who won 16 consecutive decisions for the Ports from April 30-July 15 in 1956. But he remains the only pitcher in the Cal League to post a 1.000 winning percentage with at least 15 decisions. In fact, his record-setting run with Stockton was just part of a 19-game winning streak. Beamon had won his final two decisions in 1954 with Wenatchee of the Western International League and his first start with Oakland before Seattle put an end to his streak on July 17.
"It was nice, but the main thing was that we had a real nice team behind me," Beamon said of his time in Stockton. "I had a tremendous sinker, but we had a great infield behind me. Pumpsie Green was the shortstop. We had a great second baseman [Johnny Candinha] and a great center fielder [Don Moitoza] too, so we were strong up the middle. And anything hit on the ground was usually an out. I had good stuff, but we had a good defensive team.
"I started the season in the Pacific Coast League and was in the Western International League, which was a tremendous A league, for two years. So going to the Cal League was like a good horse dropping down in class. It wasn't quite as strong as the leagues I had been in, but I learned how to use my sinker there and get the experience."
Beamon topped the circuit with a 1.36 ERA and few doubted he would have led the league in victories had he stayed in Stockton. Fresno's Glen Stablefield finished with 24 victories, but most observers believed that had Beamon remained with the Ports, he would have challenged the still-standing league mark of 28 victories shared by a trio of pitchers.
Not that all of Beamon's victories came with the greatest of ease. He picked up a win against the Channel City Oilers -- they moved to Reno midseason -- on May 10 despite giving up seven runs. He had a shutout going until the seventh, when he surrendered six runs. Still, manager Roy Partee -- a former catcher with the Red Sox -- allowed him to go the distance to earn the victory in 11 innings.
"I don't know how to explain it," said Stockton teammate Ernie Broglio, a pitcher who went 20-10 and led the league with 25 complete games. "He just believed in himself and took care of business. And he was dominating. He broke more bats than they had wood to make. He had a nasty sinker and a good hard slider.
"The strike zone was a lot wider and the parks were a lot bigger than they are now. But Charlie with all those ground balls and broken bats -- he used to break at least two bats a game. It was just a heck of a year."
Broglio helped make it "a heck of a year" for Beamon too. He was a bit of a hitter and used to pinch-hit late in games. He won a few for Beamon with some clutch batting, including a game against Fresno, the team that ultimately won the league championship.
Beamon gives a great deal of credit to Partee as well. The former big leaguer was the Ports' catcher, in addition to being the manager, and he spent a considerable amount of time working with the 20-year-old Beamon. The two shared long discussions in the dugout and on bus rides up and down the California countryside.
While Beamon played for some more well-known managers in his career, including Charlie Dressen, he says none of them impacted him the way Partee did. The veteran guided him and cajoled him through each outing, helping him hone the sinker that proved to be nearly unhittable to the youngsters on the circuit.
"I was there for the whole 16 wins and he was so automatic," said Ports' first baseman Tommy Munoz. "He had a helluva sinker and was just as cool as can be. You were very relaxed playing behind him because you knew he threw strikes. There wasn't anything we could do wrong.
"We had a good infield, but you're only as good as the pitcher you have on the mound. If you go 3-1 on every hitter, that makes it difficult. But he didn't do that and we had a good infield. It was very nice to play behind him."
Yet Beamon never fulfilled the great promise he showed in 1955. He did make his Major League debut the following September for Baltimore, tossing a four-hit shutout against Whitey Ford and the Yankees. But he appeared in only 27 games over three Major League seasons, posting a 3-3 record. Shoulder troubles and the untimely death of his mother contributed to his exit from baseball by 1962.
His son, Charlie Beamon Jr., also reached the Major Leagues, seeing action with the Mariners and Blue Jays in the late '70s and early '80s. But it was his spectacular '55 season that stands out as the pinnacle of his career.
"One thing I wish I could have done was stay down there all year and see how many straight I could have won," Beamon said. "I didn't see anyone beating me anytime soon in that league. In my mind, I think I could have won between 25 and 30 games."
Kevin Czerwinski is a reporter for MiLB.com.