Bees Earn Series Opening Win Over Cougars
Zac Ryan throws four shutout in first pro start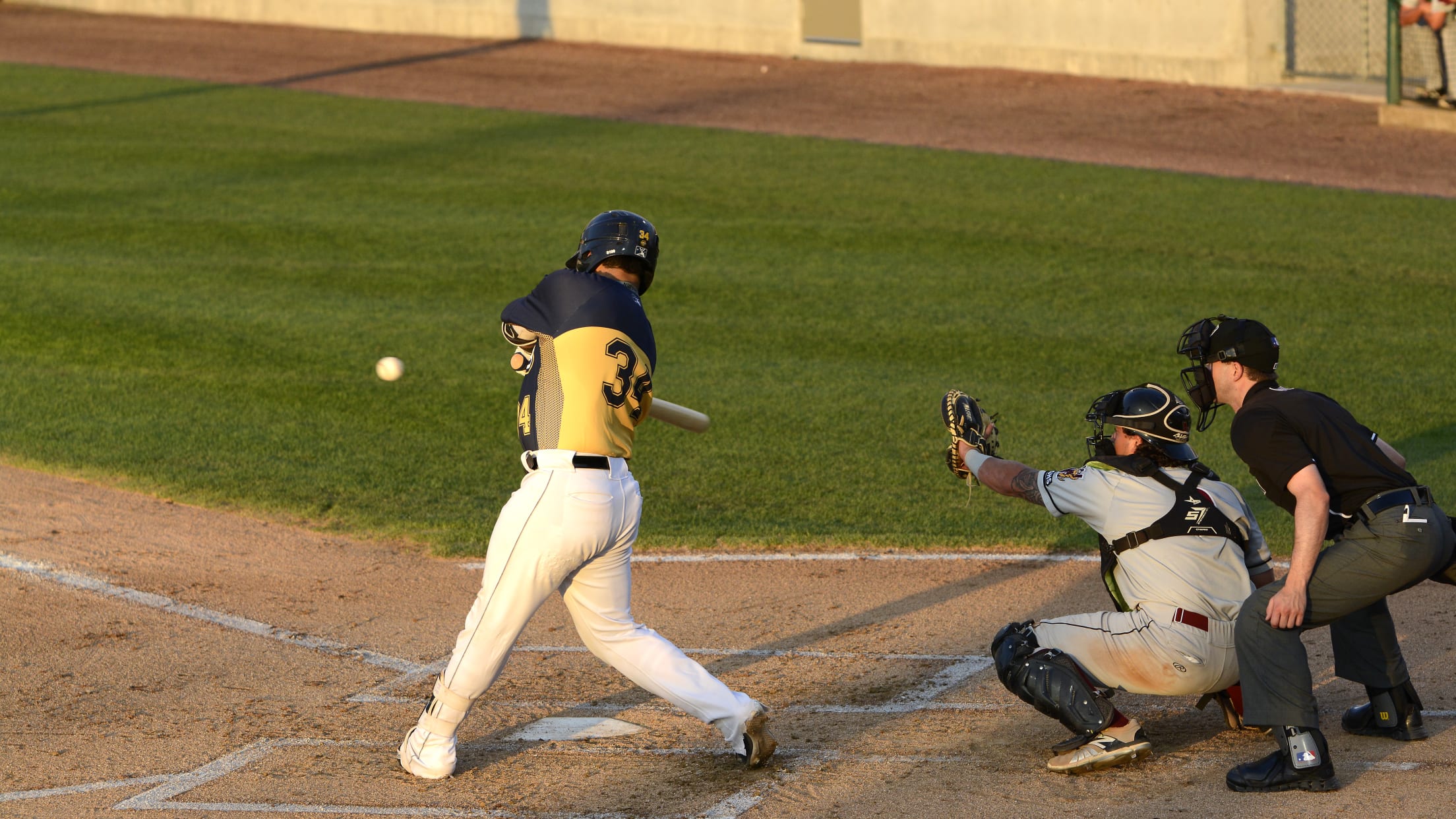 (Stephen A. Cirinna)
(Geneva, IL) - The Burlington Bees (53-70) cruised to an 8-4 series opening win over the Kane County Cougars (67-54) on Friday night at Northwestern Medicine Field. 
(Geneva, IL) - The Burlington Bees (53-70) cruised to an 8-4 series opening win over the Kane County Cougars (67-54) on Friday night at Northwestern Medicine Field.
After getting shutout the night prior, the Bees opened the scoring on Friday in the first inning. With two outs, Julian Leon worked a walk and then came home to score when Richie Fecteau knocked a double to right, driving in his 19th run in the last 17 games, giving the Bees a 1-0 lead. Brennan Morgan added to the lead with a single to right, scoring Fecteau, extending the lead to 2-0.
The Bees opened the fifth inning with three straight hits. Jonah Todd started the inning with a single to left and then moved to third on a Brandon Sandoval double. Julian Leon punched a single to right, scoring Todd, pushing the Bees' lead to 3-0. The Bees picked up their fourth run of the game when Richie Fecteau grounded into a double play, scoring Sandoval.
Kane County got on the board in the fifth inning. With one out, Luis Silverio singled to center and then came home to score when Manny Jefferson launched a double off the wall in left, cutting the Bees' lead to 4-1.
The Bees got that run back in the seventh inning. Jonah Todd worked a leadoff walk and then moved to second on a Brandon Sandoval sacrifice bunt. After a Julian Leon single put runners on the corners, Richie Fecteau hit a sacrifice fly to center, scoring Todd, pushing the Bees' lead to 5-1.
After Kane County scored a run in the bottom of the eighth inning, the Bees opened the game up in the ninth. With one out, Brandon Sandoval singled and then moved to second on a Julian Leon single. After Richie Fecteau was hit by a pitch to load the bases, Brennan Morgan worked a bases loaded walk, scoring Sandoval. McDonnell then did the same, scoring Leon, upping the lead to 7-2. The Bees added one more on an Artemis Kadkhodaian groundout as the Bees took an 8-2 lead into the ninth.
Kane County would score two runs in the ninth but Justin Kelly (1) would finish the game off, earning his first save of the season. Zac Ryan made a spot start for the Bees and threw four shutout innings in a no-decision. Adrian Almeida (1-3) earned the win while Sam McWilliams (11-6) was charged with the loss.
The Bees and the Cougars will continue the series on Saturday at 6:30 p.m. at Northwestern Medicine Field in Geneva. Andrew Vinson makes the start for the Bees against Mack Lemieux for the Cougars. Listen to the Bees with the voice of the Burlington Bees, Michael Broskowski on Fox Sports 104.5 and 1360 and online at gobees.com and foxsportsiowa.com as well as on the MiLB First Pitch app.