Bees Take Opener from Bandits, 4-3
McDonnell homers and drives in three in win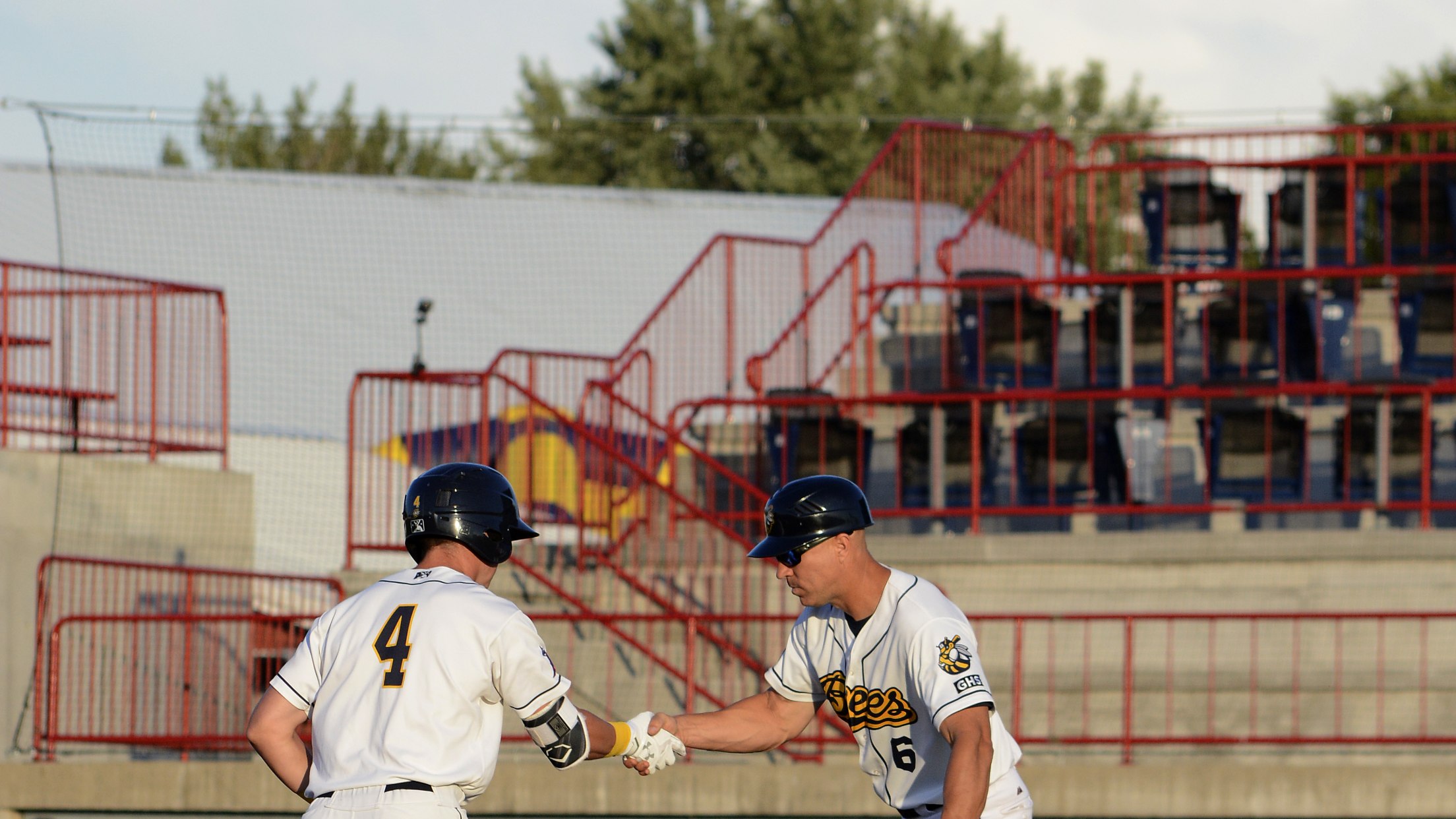 (Stephen A. Cirinna)
(Burlington, IA) - The Burlington Bees (35-43) scored four runs in the fourth inning and held on for a 4-3 win over the Quad Cities River Bandits (42-35) on Friday night at Community Field. 
(Burlington, IA) - The Burlington Bees (35-43) scored four runs in the fourth inning and held on for a 4-3 win over the Quad Cities River Bandits (42-35) on Friday night at Community Field.
After a scoreless three innings, the Bees jumped out in front in the bottom of the fourth inning. Jahmai Jones started the inning by drawing a walk and moved to second on a Keith Grieshaber bunt single. After a flyout to left, Jordan Zimmerman reached on a fielder's choice, loading the bases. Julian Leon gave the Bees a lead with a fielder's choice, scoring Jones. The next batter, Sam McDonnell, launched a three-run homer to right field, extending the Bees' lead to 4-0.
Josh Rojas put the River Bandits on the board with a solo homer in the fifth inning. Quad Cities then made it a one-run game thanks to another solo home run, this time from Ronnie Dawson in the fifth inning.
Quad Cities started the top of the ninth with a Dawson double. Daz Cameron then lined a single into the left, scoring Dawson. Cameron was thrown out by Sam McDonnell at second base, trying to make it a double. Blake Smith (6) then retired the next two batters, securing the Bees' 4-3 win. Bees' starter Erik Manoah Jr. (3-5) earned the win while Carson LaRue (8-3) was charged with the loss.
The Bees and River Bandits will continue the series on Saturday at 6:30 p.m. Andrew Vinson will make the start for the Bees against Cionel Pérez for the River Bandits. Stick around after the game for a fireworks show. For tickets, visit gobees.com or stop by the Bees office. For more information, call the Bees at (319)-754-5705.
NOTES: Manoah struck out a season-high six batters. The Bees snapped a six-game losing streak against Quad Cities with the win. Burlington has now won four of their last five games. Jordan Zimmerman singled in the second inning, extending his hitting streak to seven games.