Before 10,109, Dragons defeat Nuts in wild 10 innings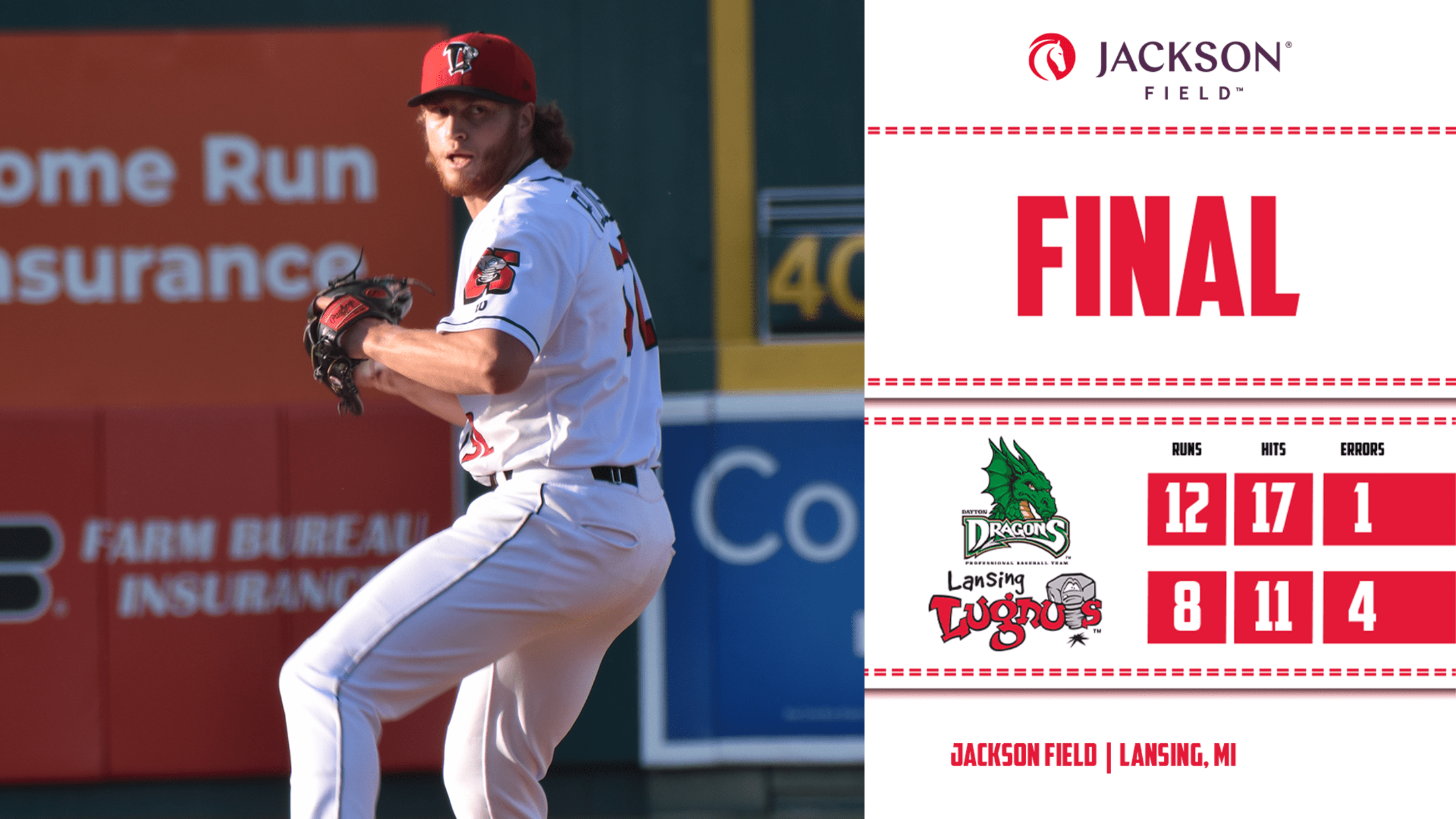 LANSING, MI – With 10,109 in attendance on Independence Day, the Lansing Lugnuts (25-29) and Dayton Dragons (29-24) played six normal innings and four increasingly surreal innings, ending in a 12-8 Dragons tenth-inning victory on Sunday evening at Jackson® Field™. The game featured 371 total pitches from 12 pitchers, 20
LANSING, MI – With 10,109 in attendance on Independence Day, the Lansing Lugnuts (25-29) and Dayton Dragons (29-24) played six normal innings and four increasingly surreal innings, ending in a 12-8 Dragons tenth-inning victory on Sunday evening at Jackson® Field™.
The game featured 371 total pitches from 12 pitchers, 20 runs, 28 hits, 11 walks, five errors and four blown saves, taking four hours and 31 minutes to complete, as the City of Lansing's Independence Day fireworks exploded above the field.
Held to one run through the first six innings by Colin Peluse and trailing 2-1 entering the late innings, the Dragons erupted for two runs in the seventh, two more in the eighth and three in the ninth, erasing a 7-5 deficit and bringing an 8-7 lead to the bottom of the ninth inning.
The Lugnuts countered with a game-tying Jared McDonald home run in the bottom of the seventh and four runs in the eighth, including a go-ahead two-run double from Lester Madden, Jr., before forcing extra innings with the game's strangest play.
With two outs, Madden, Jr., at the plate and the bases loaded, Dayton pitcher Pedro García bounced a pitch away from catcher Eric Yang. Michael Guldberg, the runner at third, took several steps toward the plate before changing his mind and hurrying back toward third. Yang attempted to pick him off, but the throw went awry, escaping third baseman Victor Ruiz. Guldberg turned around and scored to tie the game at 8-8, but pinch-runner Lazaro Armenteros, attempting to follow Guldberg's lead and score the winning run, was thrown out at the plate.
Dayton then plated four game-clinching runs in the tenth on a bases-loaded walk issued by Dalton Sawyer, an RBI single from Francisco Urbaez, and a two-run missed-catch error on Lansing catcher McDonald.
The loss obscured another gem from Lansing right-hander Peluse, who struck out six while allowing only five hits, one walk and a second-inning run in his six innings.
Guldberg, McDonald and Madden, Jr., each notched two hits for the Lugnuts in the loss, with Guldberg adding two walks and three runs scored.
After a day off on Monday, the Lugnuts open a six-game series Tuesday at the Great Lakes Loons. The next Lugnuts home game will be on Tuesday, July 13, vs. the Lake County Captains, opening a six-game homestand. To purchase tickets, visit lansinglugnuts.com or call (517) 485-4500.
# # #