Snappers' Sawyer thrives in newest adventure
A's farmhand sails through five perfect innings in first MiLB start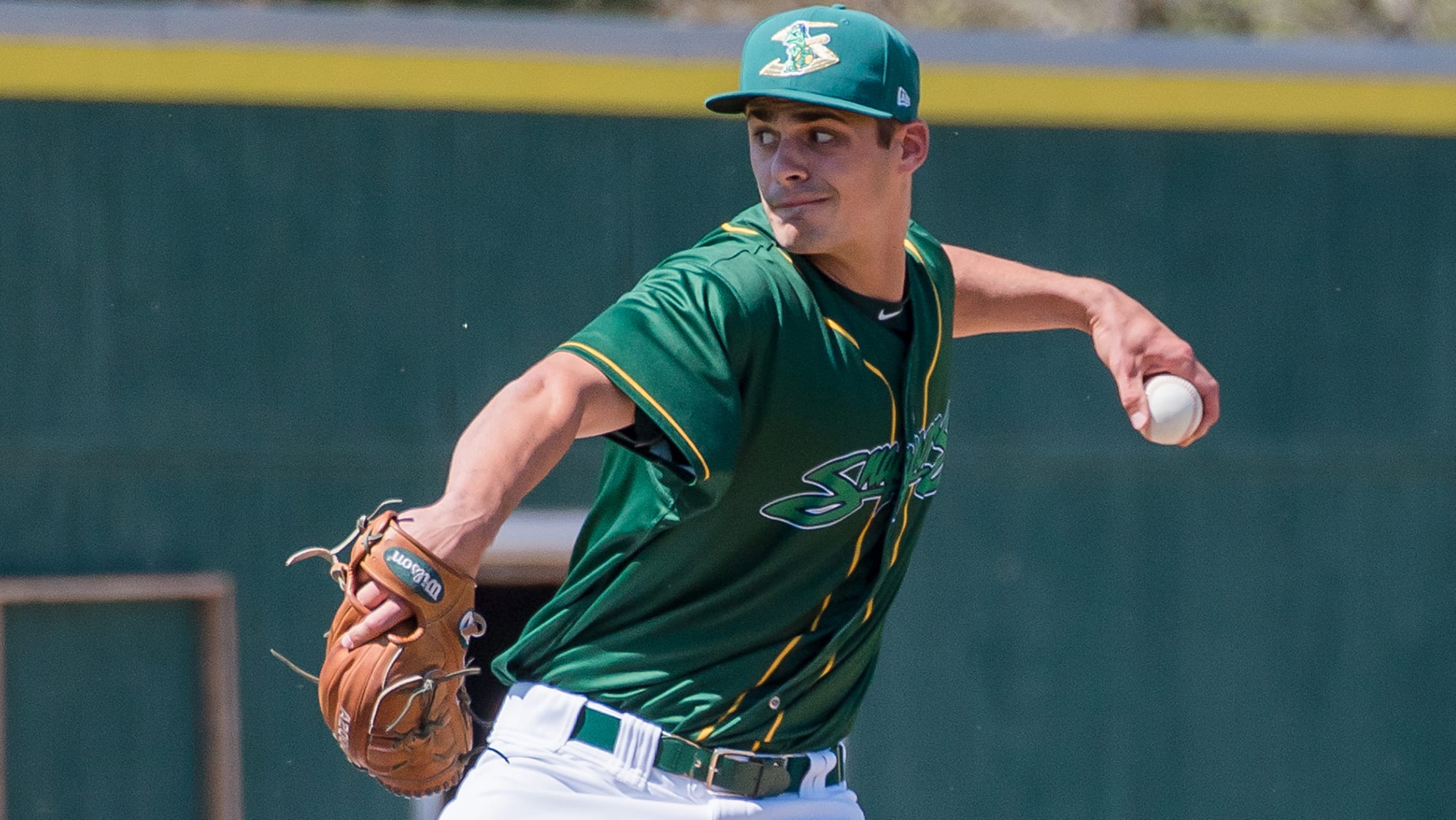 Dalton Sawyer ranks among the Midwest League leaders in ERA, WHIP and opponents' batting average. (Beloit Snappers)
In an age in which pitchers face the threat of Tommy John surgery, a piggyback system -- one that deviates from a traditional rotation to limit pitch counts and wear and tear on young arms -- has its benefits.Class A Beloit pitching coach Carlos Chavez witnessed one of the drawbacks
In an age in which pitchers face the threat of Tommy John surgery, a piggyback system -- one that deviates from a traditional rotation to limit pitch counts and wear and tear on young arms -- has its benefits.
Class A Beloit pitching coach Carlos Chavez witnessed one of the drawbacks in the system on Sunday afternoon when Snappers starter Dalton Sawyer was lifted five innings into a perfect game.
Box score
"We're going piggyback and they're throwing every fourth day, so we're really, really limited with pitch counts," Chavez said. "They know what their role is this year with the piggyback and stuff, but it always [stinks] when you're throwing a no-no or a perfect game and you have to come out of the game."
In his first professional start, the A's prospect retired all 15 batters he faced, fanning eight, as the Snappers cruised to an 8-0 victory over Burlington at Pohlman Field. The left-hander lowered his ERA to 1.08 and has 20 strikeouts over 16 2/3 innings.
"He was excellent all five innings, it really was five perfect innings he threw. He pounded the zone with all of his pitches. He mixed his pitches well, his changeup, his slider," Chavez said. "His fastball he used effectively to both sides of the plate. Overall, it was an excellent, excellent outing. This is the second season I've had him and this is by far the best outing I've ever seen him throw."
Sawyer (2-1) made it through the outing on 57 pitches, which hovers right around his normal limit. Following a nine-pitch fourth inning, Chavez groaned as he recalled making a push to bring the Minnesota native out for the fifth and the longest outing of his brief career.
Sawyer struck out Brennon Lund on three pitches to open the frame, fell behind, 3-1, on Brennan Morgan before getting him to ground out and making Mario Sanjur his eighth strikeout victim.
"Basically, his fastball command was really, really good, so that helped out a lot and his changeup was really good at breaking up the timing on their hitters," Chavez said. "He used that fastball-changeup combo really, really good. He was using both his slider and his changeup once he got ahead in the count, he used them both and they were really, really effective today."
Chavez said that Sawyer handled his departure with maturity, knowing his role in the piggyback system. The Snappers turned to right-hander Mitchell Jordan and Chavez was sure his reliever was aware of the situation he inherited, although the 44-year-old coach wasn't going point out the obvious.
"Being in baseball for kind of my whole life, you kind of don't mention those things when they're going on. You kind of wait until it's over to say something," Chavez said. "They're paying attention during the game so they know the situation they're coming into and we usually have the scout meeting before the game and we kind of know how we're going to attack their hitters."
Roberto Baldoquin broke up the perfect game with a double on the second pitch in the top of the sixth. Jordan worked around it by striking out Josh Merrigan and retiring Jordan Serena and Angels top prospectJahmai Jones on fly balls. He pitched the final four frames, yielding three hits and fanning two.
Beloit scored all eight of its runs by way of the long ball, getting homers from Luke Persico, Edwin Diaz, Eric Mariñez and JaVon Shelby.
Gerard Gilberto is a contributor to MiLB.com. Follow and interact with him on Twitter, @GerardGilberto4.