Big Innings Lead to Suns Victory
Marinconz's Three-Run Homer, Three Double Sixth Push Suns in Front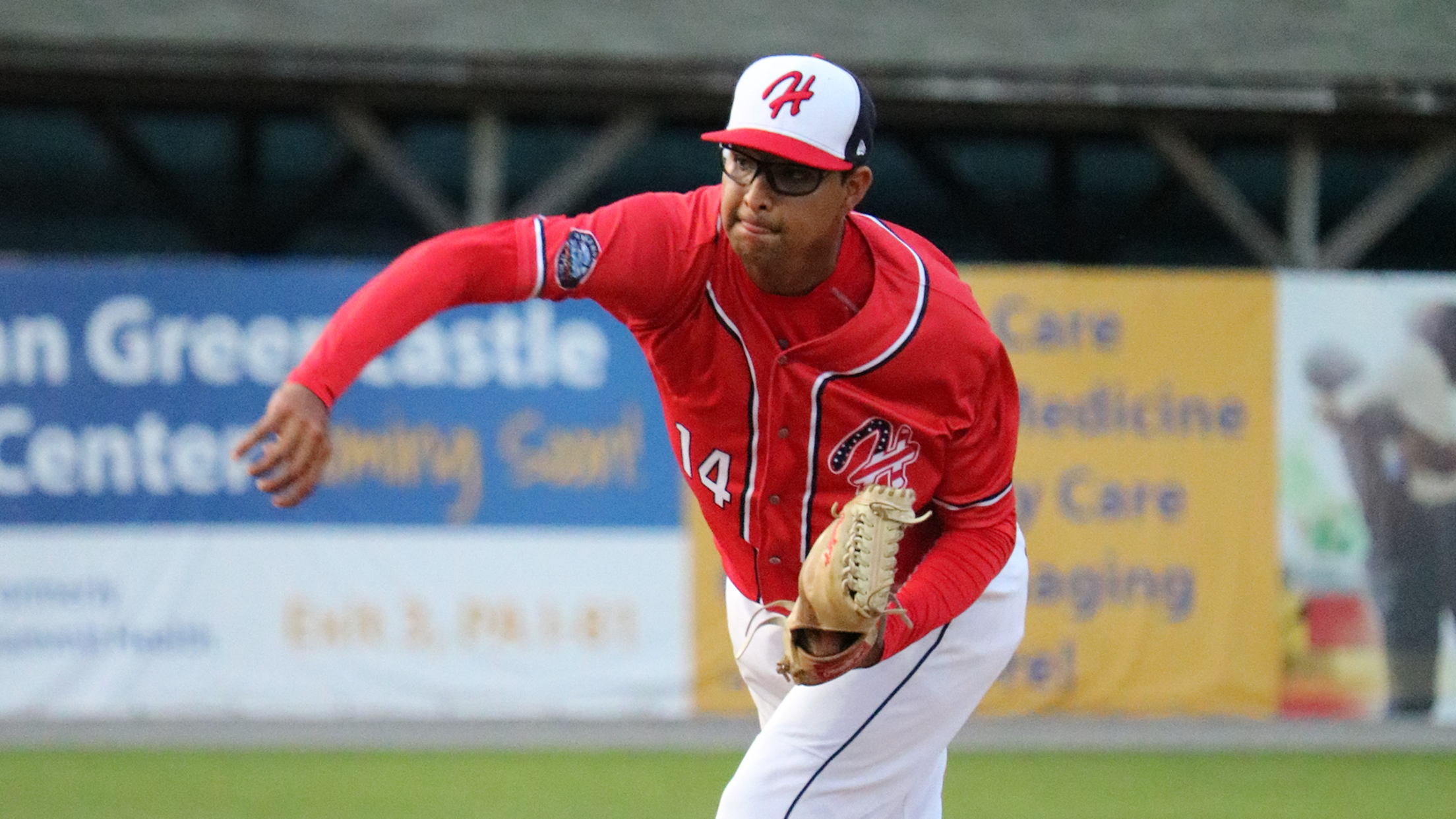 Angel Guillen got the win and tossed 5.2 scoreless innings against the Grasshoppers Tuesday. (Abby Choi/Hagerstown Suns)
HAGERSTOWN, MD (July 2, 2019) - The Suns used a four-run rally in the sixth to defeat the Greensboro Grasshoppers 7-5 at Municipal Stadium Tuesday. The Suns (34-49, 4-9) scored four runs while trailing 5-3 in the sixth. Three of them came against Greensboro (51-31, 7-6) starter Osvaldo Bido (L, 10-5), to
HAGERSTOWN, MD (July 2, 2019) - The Suns used a four-run rally in the sixth to defeat the Greensboro Grasshoppers 7-5 at Municipal Stadium Tuesday.
The Suns (34-49, 4-9) scored four runs while trailing 5-3 in the sixth. Three of them came against Greensboro (51-31, 7-6) starter Osvaldo Bido (L, 10-5), to take the lead for good. After Drew Mendoza started the inning with a single, Gilbert Lara and Jacob Rhinesmith delivered back-to-back RBI doubles to tie the game.
Then, after the Grasshoppers went to the bullpen, Justin Connell gave Hagerstown the lead with an RBI single, and Cole Daily added to it with an RBI sacrifice bunt.
Once the Suns took the lead, it was up to the bullpen to hold down the fort, and it did just that. Angel Guillen (W, 1-3), who entered in the third and got Hagerstown out of a bases-loaded jam, rolled through the Greensboro order. Guillen tossed 5.2 scorless innings while allowing just one hit. The righty struck out seven and did not issue a walk.
Jared Brasher (S, 1) entered in the ninth and was almost as dominant. The righty allowed only a two-out walk and struck out the side in the scoreless frame to close out the victory.
Just like they did Monday, the Suns jumped out to an early lead in this one. Kyle Marinconz blasted his fifth home run of the season to right field to give Hagerstown a 3-0 lead, but the Suns bats would slow down a bit after that, and Bido tossed three consectuive scoreless frames from the third through the fifth.
Bido was holding the lead through those innings because the Grasshoppers answered with five runs in the top of the third against Suns starter Jackson Stoeckinger. The lefty was good through the first two innings, but then things unraveled in the third.
An RBI triple from Jonah Davis , two-run home run from Jack Herman and RBI double off the bat of Grant Koch put Greensboro up 5-3. Stoeckinger was pulled in the inning and was only able to record seven outs in his first start of the season.
Hagerstown concludes its series against the Greensboro Grasshoppers tomorrow at 7:05 p.m. RHP Tomas Alastre (3-8, 6.11 ERA) will get the ball for the Suns while RHP Colin Selby (3-2, 3.42 ERA) toes the rubber for the Grasshoppers.
The Suns conclude their seven-game homestand tomorrow with a Salute to America. Come to Municipal Stadium for patriotic celebrations, fireworks and of course, some Suns baseball. For tickets or more information visit hagerstownsuns.com or call 301-791-6266.