Big Second Innings Propels Travs to Shutout Win
Anthony Misiewicz gets the win as the Travs avoid the shutout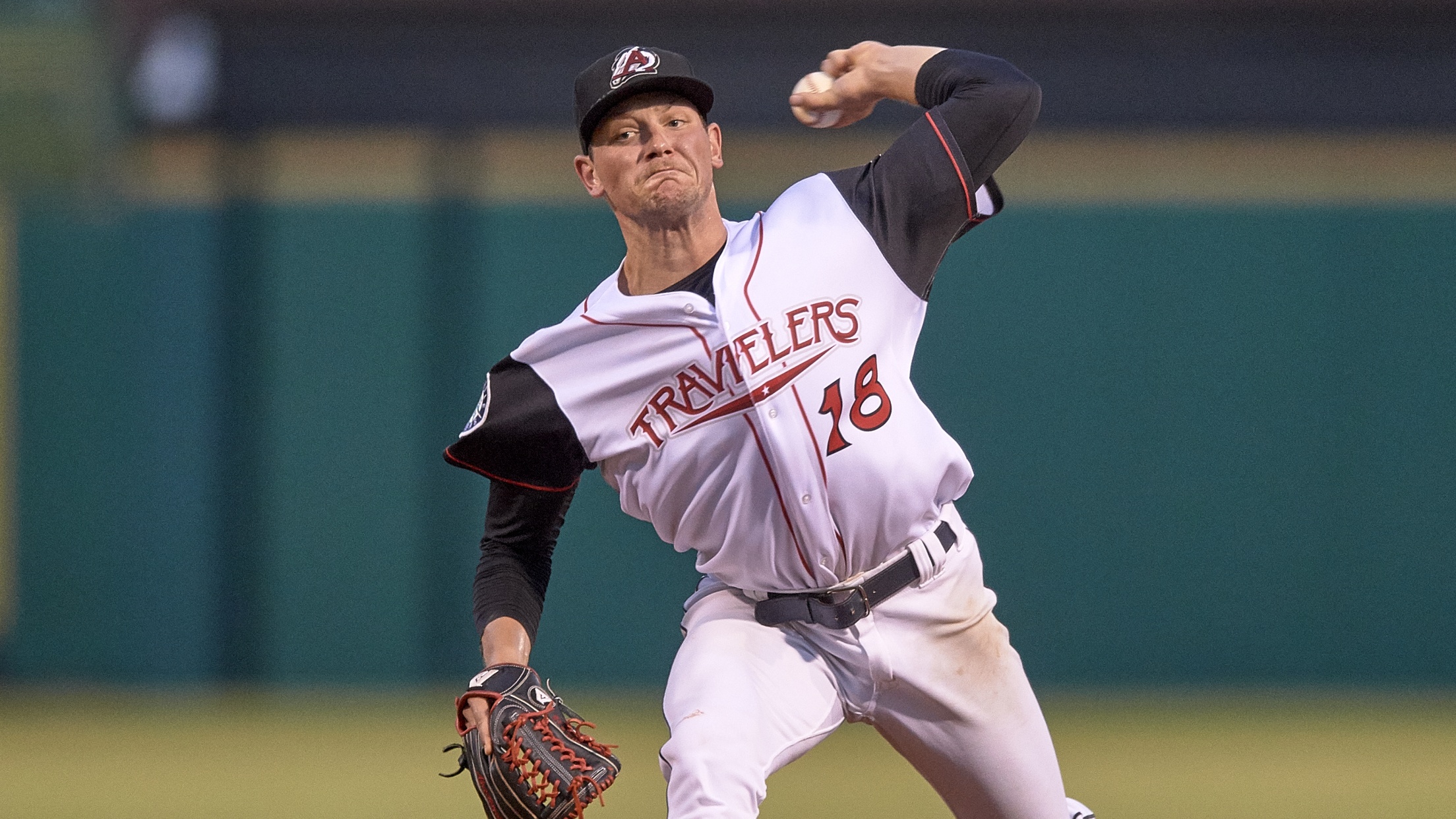 Anthony Misiewicz pitched six scoreless innings with seven strikeouts. (Mark Wagner)
North Little Rock, AR-Six runs in the second inning helped the Arkansas Travelers stave off a sweep in a 7-0 win over the NW Arkansas Naturals on Monday night at Dickey-Stephens Park. It was the fifth shutout of the season for the Travs pitching staff. Starter Anthony Misiewicz set the
North Little Rock, AR-Six runs in the second inning helped the Arkansas Travelers stave off a sweep in a 7-0 win over the NW Arkansas Naturals on Monday night at Dickey-Stephens Park. It was the fifth shutout of the season for the Travs pitching staff. Starter Anthony Misiewicz set the tone on the hill with six scoreless innings and seven strikeouts for his first win in seven starts since July 20. It was his third consecutive quality start. Bryan Bonnell, Darin Gillies and Matt Festa each worked an inning to finish it off. The big offensive frame came early as six runs scored with two out in the second inning. The rally consisted of just three hits but there were five walks and an error. The contest brought a close to the regular season home schedule for the Travs as they finished the 2018 season with a 41-29 record at Dickey-Stephens Park heading into the Texas League Playoff which begin on Wednesday September 5.
Moments That Mattered
* Joseph Odom opened the scoring with an RBI single to right field.
* The big blow in the second inning came after the Naturals made a pitching change and a throwing error allowed two runs to score.
* Kyle Lewis blasted his third homer as a Travs leading off the fifth inning as part of a big overall night at the plate.
Notable Travs Performances
* CF Kyle Lewis: 3-4, 2 runs, HR, RBI
* C Joseph Odom: 2-4, run, 2B, RBI
* SS Yonathan Mendoza: 2-2, run, 2 BB
* Anthony Misiewicz: Win, 6 IP, 4 H, 7 K
Up Next
The Travs hit the road for a seven game trip beginning with a four game series in Springfield. First pitch Tuesday night is set for 6:30 with right-hander Chris Mazza (0-0, 1.38) getting the start against righty Michael Wacha who will make a Major League Rehab start for the Cardinals. The game will be broadcast on the Sports Animal 920, the First Pitch App, TuneIn radio and milb.tv.