BASEBALL IS A FAMILY AFFAIR FOR THE TRACYS: WooSox Manager Chad Tracy Hopes to Follow in the Footsteps of his Dad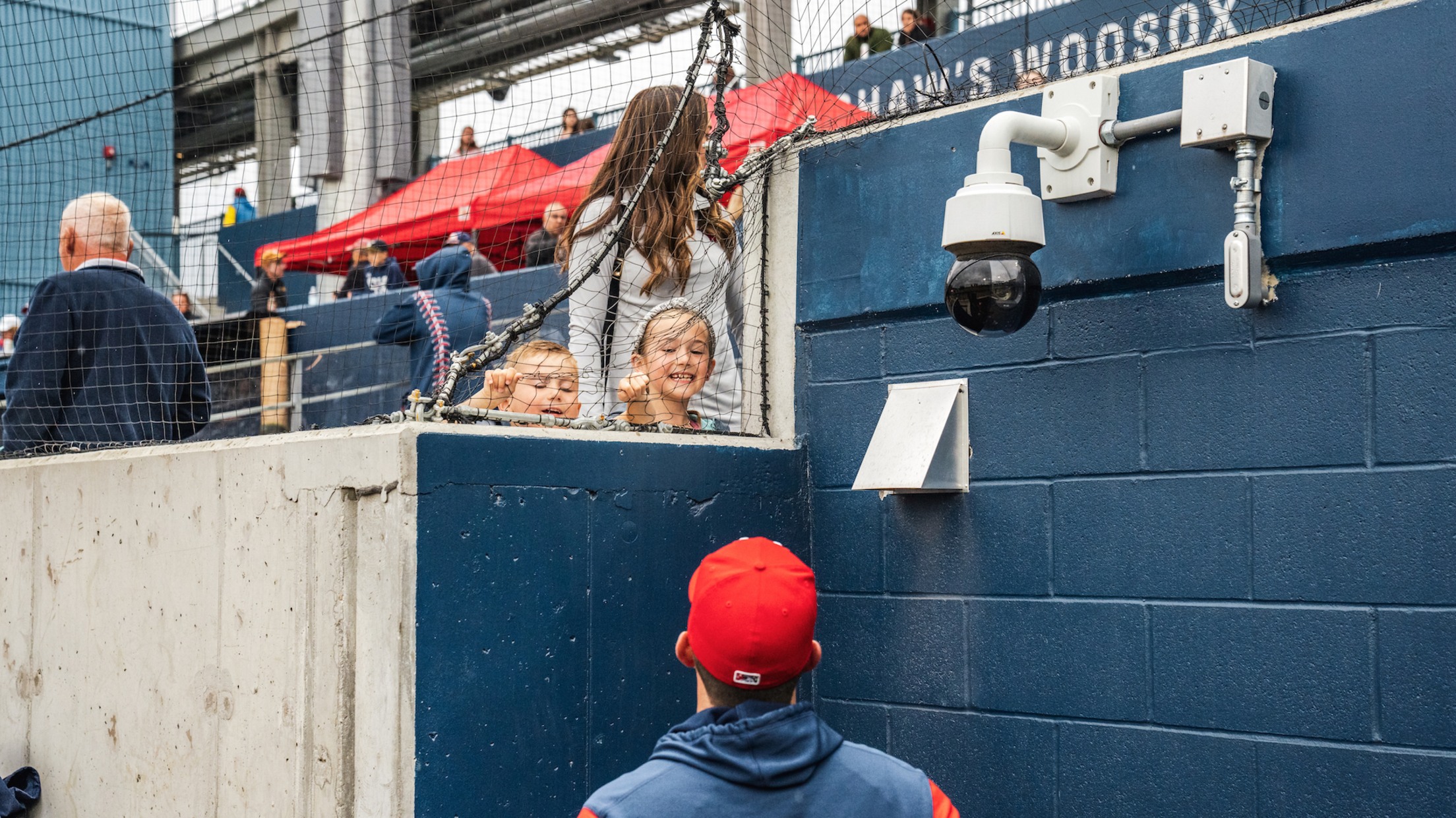 (Ashley Green)
Read veteran baseball writer Bill Ballou exclusively at WooSox.com. By Bill Ballou WORCESTER-As the generations come and go, baseball is increasingly a family affair. Take the Blue Jays, for instance. Three-quarters of their infield consists of players whose dads were major leaguers — Bo Bichette, Cavan Biggio, and Vlad Guerrero
Read veteran baseball writer Bill Ballou exclusively at WooSox.com.
By Bill Ballou
WORCESTER-As the generations come and go, baseball is increasingly a family affair.
Take the Blue Jays, for instance. Three-quarters of their infield consists of players whose dads were major leaguers — Bo Bichette, Cavan Biggio, and Vlad Guerrero Jr. Outfielder Lourdes Gurriel Jr. has a big league brother in Yuli of the Astros.
On the field is where the family affair stops, though. While there are three father-son combinations in the Toronto infield alone, there have been only five father-son major league manager duos in the history of the game.
There may be a sixth in the pipeline here at Polar Park, however.
WooSox manager Chad Tracy is the son of former big league skipper Jim Tracy. Chad Tracy, who turns 37 on Independence Day, has a lot of time left to get to where his dad did. Jim Tracy got his first major league managerial job when he was 45 in 2001, taking over the helm of the Dodgers.
Not everybody wants to be a major league manager. It pays good money, but the job description is often "fall guy." Chad Tracy understands the boundaries.
"Someday, yes," he said, "knowing that it's far off my radar right now, but yes, it's something I would like to do."
If that happens the Tracys would join Buddy and David Bell, Bob and Aaron Boone, Bob and Joel Skinner, Felipe Alou and Luis Rojas, and George and Dick Sisler in an exclusive father-son club.
"It's the family business, I guess," Chad Tracy said of his career choice. "My earliest memories are of me at, maybe age 3, dragging bats around minor league ballparks like Chattanooga. I became obsessed with baseball."
Jim Tracy spent 18 seasons as a manager, 11 of them in the big leagues with the Dodgers, Pirates and Rockies. He was the National League Manager of the Year in 2009 with Colorado, taking over for Clint Hurdle when the team was 18-28. The Rockies were 74-42 under Tracy and finished second in the NL West.
Chad Tracy turned into an excellent player, a catcher who was drafted by the Rangers in the third round in 2006. His career was derailed by a rotator cuff injury, though, and Tracy got as high as Triple A but never made the majors. About to turn 30, his wife pregnant, both his shoulder and bank account aching, Tracy decided to switch gears and get on the managerial track.
"I had opportunities from the Angels about coaching, or managing in particular, and I figured — that could be a career. It's something I always wanted to do. So I talked to my dad about it, and he's always been very realistic about things, he's never minced words or sugar-coated things, and he told me what to expect and what I had to do."
Jim Tracy remembers the conversations.
"Yes, I did talk to him about it," he said in a phone call from his home in Ohio. "I know he had an incredible desire to play in the big leagues and unfortunately that didn't happen and that's nobody's fault. He was on the cusp of being a big leaguer; there's no doubt about that.
"So when talked about him maybe being a big league manager, the one major piece of advice I gave him was — don't be in a hurry to try to get there. There is knowledge to be gained on every rung of the ladder. It's very important that before you take on an animal like any major league position is, you need to gain a lot of information before you get there and get as much as you can."
Chad Tracy managed Class A ball for the Angels for three seasons then served as their minor league field coordinator for four more. He enjoyed being a field coordinator and said there are many complementary aspects to the jobs.
However, it got to a point where he missed the dugout and when Boston needed a Triple A manager, he applied for the position and got it, which Jim Tracy thought was a great career move.
"To my son's credit," Jim Tracy said, "he went back and got on the very first rung of the ladder, then became a field coordinator before he even entertained the thought of managing at an upper level, and I told him that, if your interest is to manage in the big leagues and at the higher levels, at some point you're going to have to get back and starting doing it again.
"You need to be involved in the grind of the day-to-day decision making because you're sleeping way too good right now. You've got to be sitting in the dugout. What you've been doing is looking at the reports and you see a team that blew a lead in the ninth or something, but you're not wearing that game like the manager is."
Jim Tracy follows the WooSox closely.
"Between the cell phone and the computer, I'd say I keep track on a daily basis," he said.
Father and son are in frequent touch.
"I wouldn't say it's every day," Chad said, "but it's all the time, especially when I started out. I'd call him and say, 'Hey, this was the situation. Here's what happened and what I was thinking. And he might say —great job — or maybe he'd say — remember to think about X,Y and Z as well. We talk like that all the time."
The Tracys live in Ohio, so Jim and his wife, Debra, saw the WooSox play in Toledo earlier this season. They had planned to visit Worcester next month but Debra Tracy needs back surgery so that trip has been postponed to next season.
When he was a teenager, Chad Tracy would get to talk with his dad about that night's game, what had happened and why it happened, which was some invaluable early tutoring. And Jim Tracy wasn't always good at letting it go.
"He 100 percent took the game home, probably more than he should have," Chad said. "Ask my mom about that some time."
Between active rosters and injured lists, there are about 900 players in the major leagues at any one time during a season. There are only 30 managers, so to be one of them, you have to beat the odds. Chad Tracy's background may give him a head start on some of the other candidates.
"I don't want to brag," Jim Tracy said, doing it anyway with fatherly pride, "but I think he's a special kid, and not a kid anymore, a grown man. What I see is a guy who understands a lot of things we talked about over the years, while I was doing it.
"I think he has a very good chance of managing in the major leagues. He has a tremendous demeanor, he's very even-keeled, he's intelligent, he's very humble and his attention to detail is off the charts. He's all about the group. He's not about himself."
The last Red Sox Triple A manager to move up to the majors was Torey Lovullo, who managed Pawtucket in 2010. He later became a Boston bench coach before filling in for John Farrell when he underwent cancer treatment in 2015. Lovullo has managed the Diamondbacks since 2017.
Chad Tracy would like to be the next one, and add a little to the baseball history books along the way.