Biloxi Bangs Out 15 Hits To Down M-Braves 9-2
Otero Allows Just One Run In Five Frames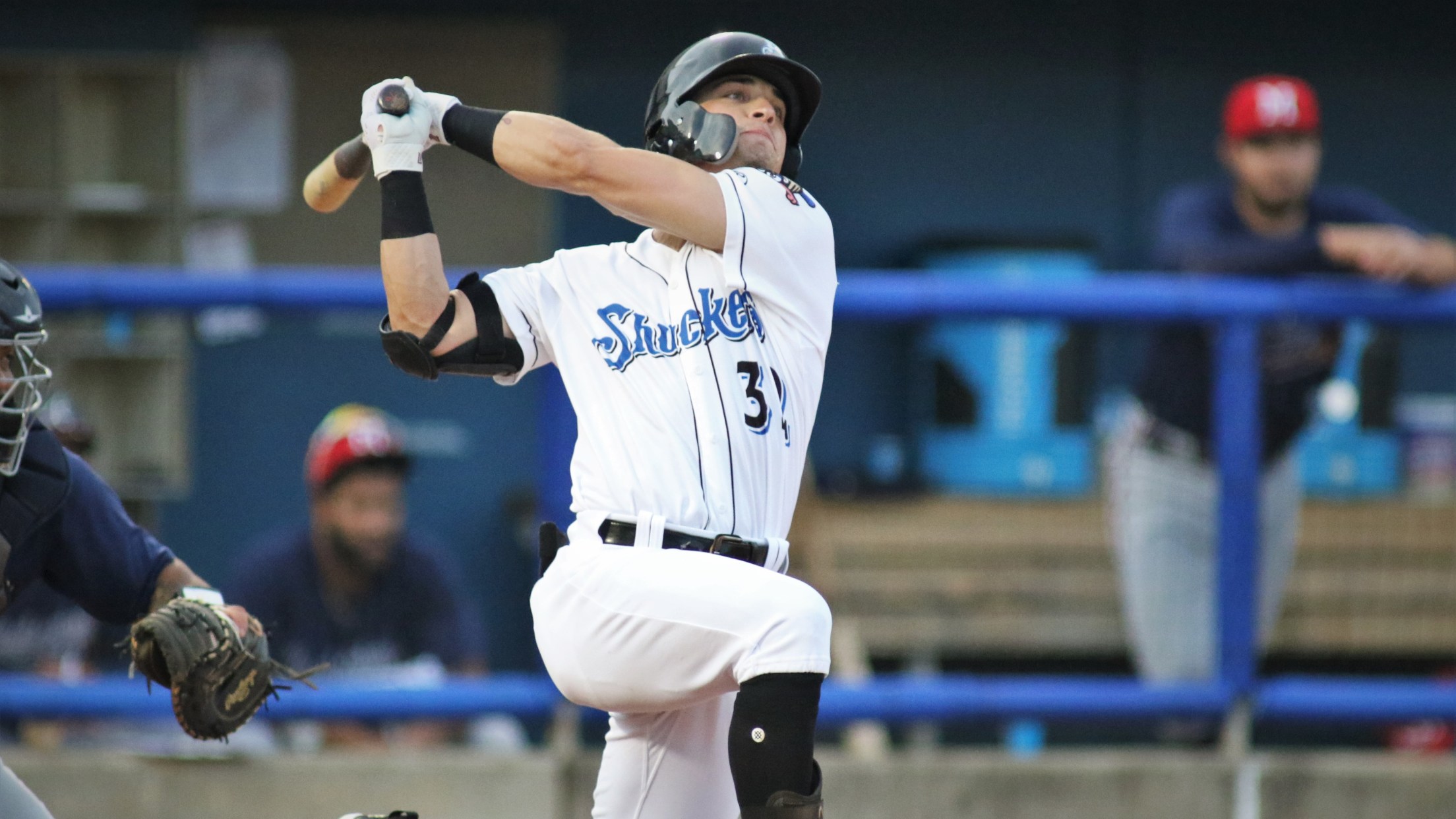 (Photo - Mike Krebs)
The Biloxi Shuckers (38-64) rattled off 15 hits in a 9-2 trouncing of the Mississippi Braves (59-40) on Friday night at MGM Park. As they did on Thursday night, the Shuckers struck for a pair in the bottom of the first inning. Korry Howell doubled to left field with one
The Biloxi Shuckers (38-64) rattled off 15 hits in a 9-2 trouncing of the Mississippi Braves (59-40) on Friday night at MGM Park.
As they did on Thursday night, the Shuckers struck for a pair in the bottom of the first inning. Korry Howell doubled to left field with one out, extending his hitting streak to six games, and Thomas Dillard worked a two-out walk to put a pair of runners on base. With Chad Spanberger hitting, the Shuckers executed a double steal and Howell raced in to score on a throwing error by catcher Hendrik Clementina. Spanberger then singled to right off RHP Alan Rangel (L, 2-2), driving in Dillard to put the Shuckers up 2-0.
Howell would double for a second time with one out in the bottom of the third inning and Mitch Longo followed with a two-run blast to right, his eighth of the year, doubling the Shuckers' advantage to 4-0.
LHP Andy Otero (W, 4-0) allowed his only run of the night on a solo home run by Drew Lugbauer in the top of the fifth inning. Over five frames, Otero surrendered just two hits and faced one over the minimum, not walking a batter and striking out six.
Biloxi put up another crooked number in the home half of the fifth. Longo led off the inning with a single and stole second before scoring on an RBI single from Dillard. After a fielder's choice by Spanberger, the first baseman swiped second and scored on a double by Gabe Holt, pushing the Shuckers in front 6-1.
In the bottom of the seventh inning, Dillard led off with a single and Spanberger reached on a fielding error by Jalen Miller. An infield single by Holt loaded up the bases and Cam Devanney drove in two more with a single to right, putting Biloxi up 8-1. After the M-Braves scored a run in the top of the eighth, Longo doubled with one out and came around to score on a pair of wild pitches, giving the Shuckers their 9-2 lead. It was the second consecutive three-hit night for Longo.
With the series tied at a game apiece, the Shuckers continue their matchup with the M-Braves on Saturday night. RHP Noah Zavolas (4-7, 4.74) is set to start for Biloxi against M-Braves' RHP Freddy Tarnock (2-2, 2.64) for a 6:35 pm first pitch. The game can be heard locally on Cruisin' WGCM AM 1240/FM 100.9 and can be seen on MiLB.TV.
Individual tickets are on sale for all 2021 Shuckers home games and promotions for September can be found here. Full Shuck Nation Memberships and Half Shell Shuck Nation Memberships, flex plans and group outings are available by calling 228-233-3465 and selecting Option 3.
ABOUT THE BILOXI SHUCKERS:
The Biloxi Shuckers are the Double-A Affiliate of the Milwaukee Brewers. The Shuckers play at MGM Park in Biloxi, Mississippi and are members of the Double-A South. For more information, please visit biloxishuckers.comand follow us on Twitter @biloxishuckers and at facebook.com/biloxishuckers.