Shuckers clinch behind near-perfect Brown
Brewers No. 23 prospect loses bid in eighth, gives up one hit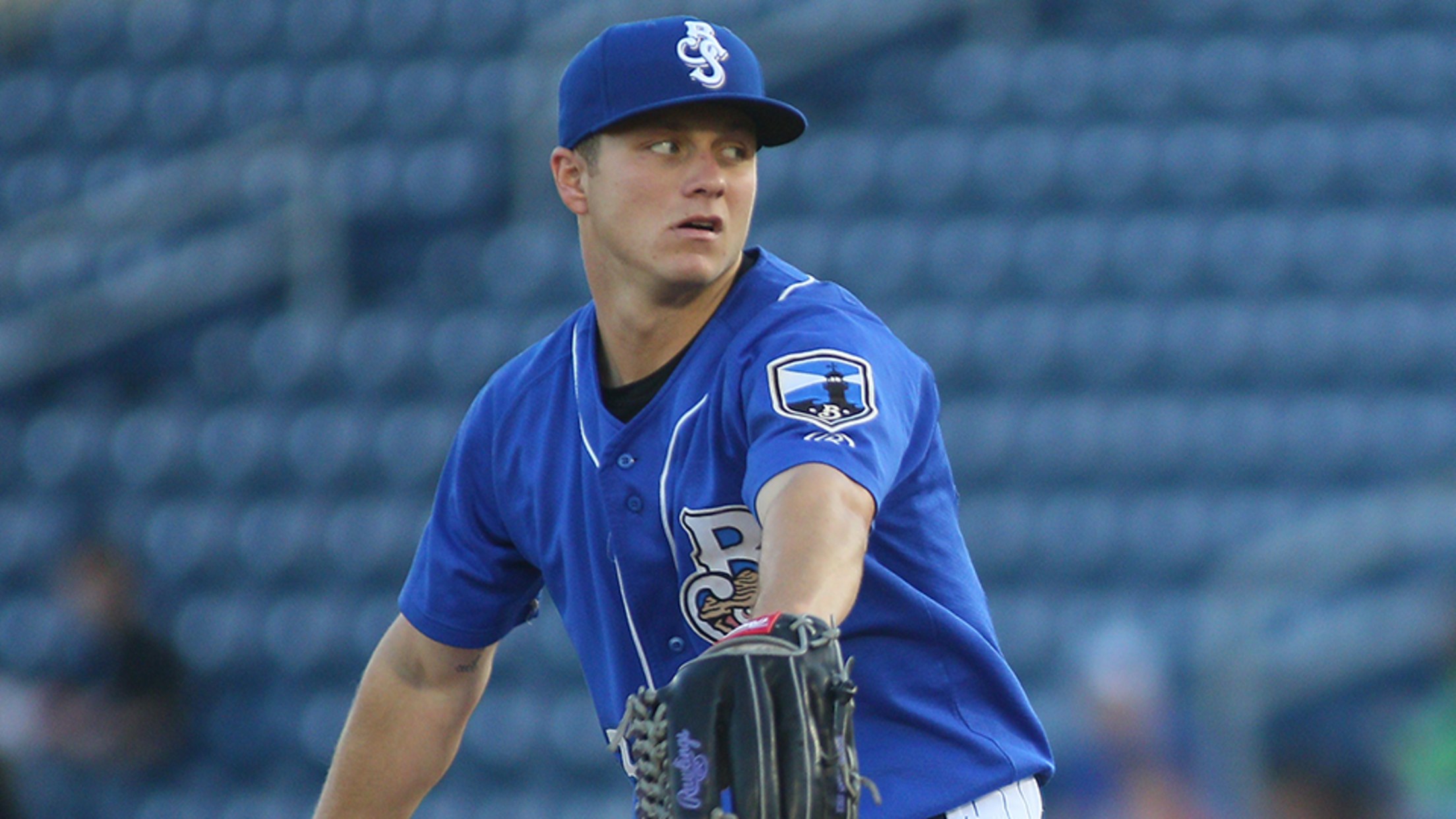 Zack Brown is tied for third in the Southern League with a 2.53 ERA in 14 starts. (Michael Krebs/Biloxi Shuckers)
Zack Brown turned in the best outing of his pro career on Friday and it assured his team a spot in the postseason.But when it was over, the 23-year-old wanted to make one thing clear: the special night was not the result of an individual performance.The Brewers' No. 23 prospect was
Zack Brown turned in the best outing of his pro career on Friday and it assured his team a spot in the postseason.
But when it was over, the 23-year-old wanted to make one thing clear: the special night was not the result of an individual performance.
The Brewers' No. 23 prospect was perfect through seven and took a no-hitter into the ninth inning, settling for a one-hit shutout as Double-A Biloxi clinched the Southern League South Division first-half title with a 5-0 victory over Mississippi at MGM Park. He struck out eight and did not walk a batter in the longest outing of his Minor League career.
Gameday box score
"It was obviously a great night and the numbers show that," he said. "But what the numbers don't show is the plays that the defense made for me. I made a couple of mistakes tonight and they were hit hard, but the defense was there for me just about every time. There's no way I'm perfect that long or keep the no-hitter going that far without them. It was an all-around great game for everyone."
Brown (6-0) had never gone more than seven innings or given up fewer than two hits before Friday. But he retired the first 21 Braves and got help from Brewers No. 6 prospect Corey Ray, who made a spectacular leaping catch at the wall to rob Connor Lien of a home run in the fourth.
"It was in the fifth that I realized I was perfect," Brown said. "I looked at the hitters I had coming up in the next inning and it was their 7-8-9 guys and I was shocked that it was still only their second time around the order. But it was still a 2-0 game at that point, so I knew I had to just keep going out there and attack and do my job."
Brown lost his bid for a perfect game when Tyler Marlette reached on an error by Ray leading off the eighth.
"I was trying to elevate a fastball there and I left it over the middle and off the bat I actually thought it was a home run," Brown said. "It was hit to right-center and Ray and [right fielder] Trent Grisham both went after it, but there was some miscommunication and they bumped into each other and the ball popped out of Trent's glove. But the defense had made so many plays for me at that point that you can't really be upset about it. It happens. I just knew I had to go attack the next hitter."
The right-hander was one out away from the second no-hitter in team history when Daniel Lockhart singled off the glove of a diving Ray. He retired Lien on a grounder to shortstop, setting off a celebration for Biloxi.
"I actually jammed the guy there with a fastball in, but he fought it off and got it into center," Brown said. "Ray was incredible just to even make it close and he went full-extension and dove, but it just found a hole.
"After that, I just crouched down, recollected my thoughts, realized the situation and went back into attack mode. And I'm glad we pulled out the shutout."
Selected in the fifth round of the 2016 Draft, Brown leads the league with 85 1/3 innings pitched and ranks third with 84 punchouts. His 109 pitches on Friday were the most he's thrown as a pro. His longest inning was the ninth, when he threw 16 pitches, and his shortest came when he escaped the sixth on eight pitches. He needed 52 pitches to get from the third through the seventh.
"I had no idea I had thrown that many pitches. I felt like I was getting in and out on the mound quickly every inning," he said. "My pace was really good and that's something I've been trying to increase each time out this season. But the offense really helped me out, too, with those early runs. It allowed me to just go at hitters and work ahead and that was huge.
"I was locked in all night long."
After the Shuckers pushed a pair of runs across in the opening frame, Nick Ramirez -- who came off the bench in the second -- hit a three-run dinger in the seventh to cap the scoring.
Rob Terranova is a contributor to MiLB.com. Follow him on Twitter @RobTnova24.