Ponies' Flexen carries no-hit bid into eighth
Mets No. 22 prospect allows just a homer in longest '17 outing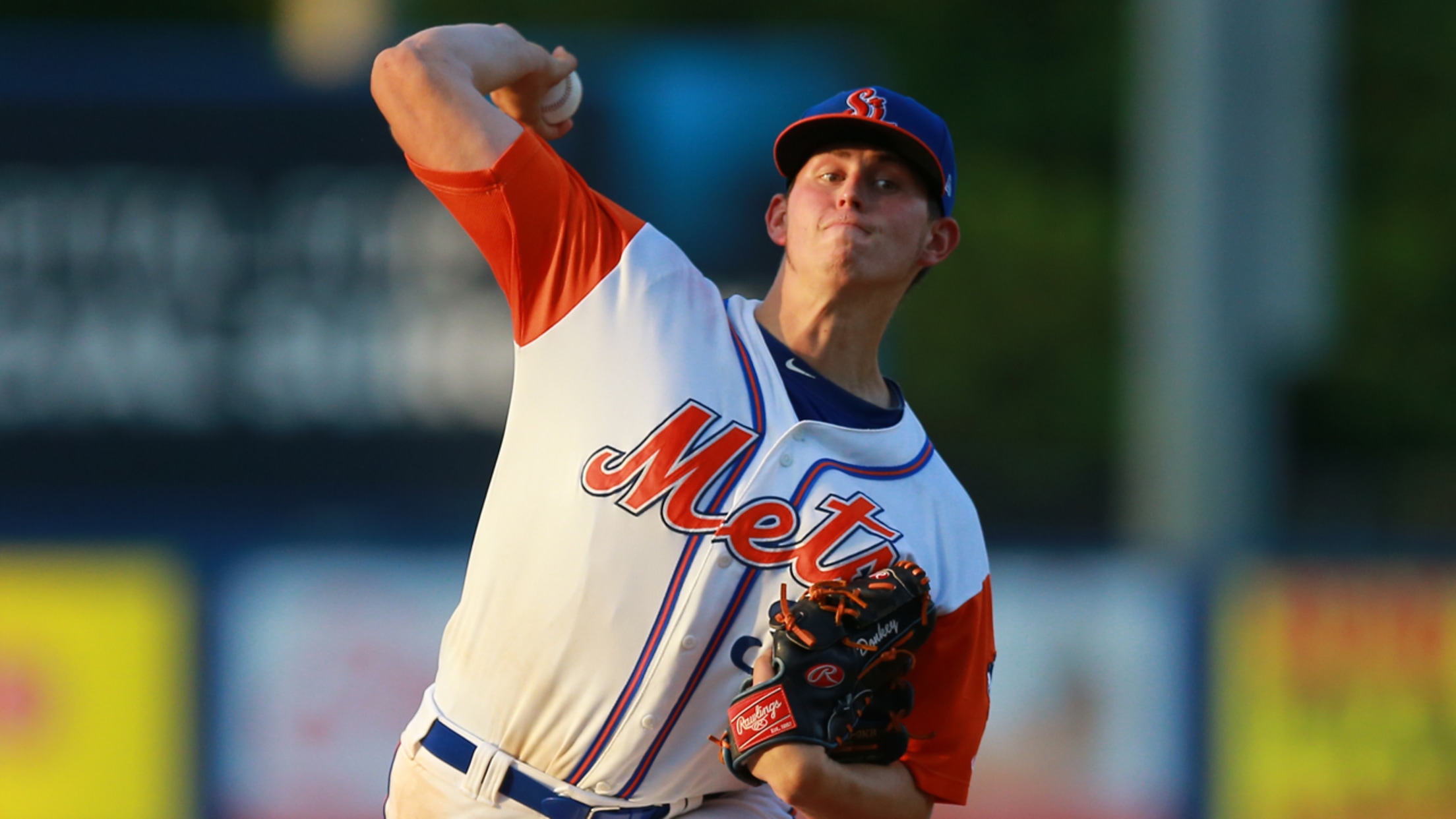 Chris Flexen made three starts for St. Lucie before being promoted to Binghamton. (Gordon Donovan/MiLB.com)
In the eighth inning Thursday night, Chris Flexen was aware he missed out on history, but the ultimate goal was unchanged.The Mets No. 22 prospect carried a no-hit bid through 7 1/3 innings before allowing a solo homer over eight frames as Double-A Binghamton downed Reading, 6-1. He struck out
In the eighth inning Thursday night, Chris Flexen was aware he missed out on history, but the ultimate goal was unchanged.
The Mets No. 22 prospect carried a no-hit bid through 7 1/3 innings before allowing a solo homer over eight frames as Double-A Binghamton downed Reading, 6-1. He struck out nine and walked one.
"I think overall, I just felt really confident trying to attack guys," said Flexen, who won his fourth consecutive start. "I think the difference tonight was my stuff was on. I was able to command everything for strikes. My defense made all the plays behind my back and the offense put up an early lead.
"It's a lot better pitching with a lead when you're trying to win a ballgame. Overall, I think everyone's feeding off each other."
Flexen had to deal with only two baserunners. Chace Numata walked to lead off the third inning. Mixing his pitches effectively after the free pass, Flexen retired 11 in a row before Zachary Coppola reached on a two-out fielding error by third baseman David Thompson, the Mets No. 21 prospect, in the sixth.
"I knew in the fifth, obviously, what I had going on," Flexen said. "I wasn't trying to change anything. I was trying to stick with the same gameplan that I've been doing all year, just attacking guys and not being afraid to make mistakes, letting that defense work behind me. But it never really got to me or felt like pressure. It's just another game.
"The overall goal was just like every other outing, just trying to go out there and give this team the best chance to win a ballgame. That's what we did."
Gameday box score
Flexen struck out Mitch Walding to begin the eighth, bringing Numata to the plate. Reading's catcher ended the California native's no-hit bidby launching a 2-1 pitch over the right-field wall for his fourth homer.
"[Binghamton catcher Tomás Nido] did one heck of a job tonight calling a great game," Flexen said. "That inning, the home run, I just left a mistake. We tried to go in, just left it over the middle. That doesn't take away from trying to win a ballgame, so I just tried to keep doing what I was doing after that. I knew I was pretty close on pitch count, and I wanted to get through that eighth inning, so I just tried to stay within myself and continue to battle and dig out of that inning."
Flexen rebounded by striking out Malquin Canelo and inducing a groundout to short by pinch hitter Drew Stankiewicz to end the eighth on his 108th pitch. Flexen's nine strikeouts were one shy of the season high he set June 29 at Hartford.
New York's 2012 14th-round pick is enjoying a breakout season. After undergoing surgery to remove a bone chip in his right knee, Flexen has gone 5-1 with a 1.82 ERA in nine starts between Class A Advanced St. Lucie and Double-A.
"This is a pretty solid little run that I've got going on right now," the 23-year-old said. "Every day I just try to do something to get better and be consistent. I think that's something that I struggled with last year and to be able to have this consistency and really help my team win ballgames, that's the biggest thing. I think in the overall evaluation, I'm confident and just trying to keep it rolling, trying to take it one day at a time."
Kevin Kaczmarski had three hits, including a double, and plated three runs, while Thompson added a solo shot for Binghamton.
Tyler Maun is a contributor to MiLB.com. Follow him on Twitter @TylerMaun.