Birds of the Ballpark: Killdeer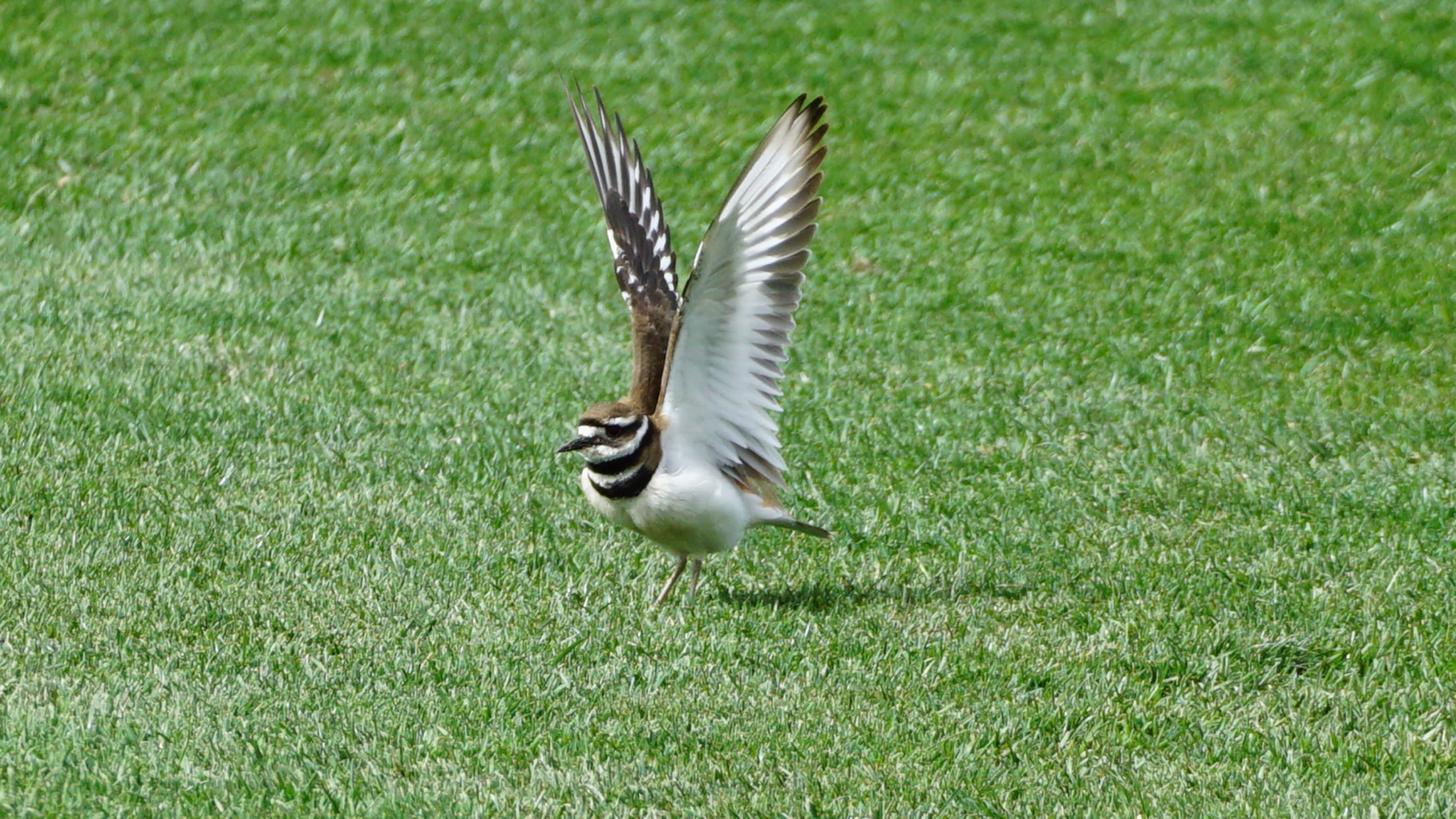 Common Name: Killdeer Scientific Name: Charadrius vociferus Habitat: Fields, airports, lawns, river banks, mudflats, shores. Often found on open ground, such as pastures, plowed fields, large lawns, even at a great distance from water. Lifespan: 3-5 years Length: 8-11 inches (Similar in size to American Robin, but with longer legs
Common Name: Killdeer
Scientific Name: Charadrius vociferus
Habitat: Fields, airports, lawns, river banks, mudflats, shores. Often found on open ground, such as pastures, plowed fields, large lawns, even at a great distance from water.
Lifespan: 3-5 years
Length: 8-11 inches (Similar in size to American Robin, but with longer legs and wings)
Wingspan: 23-25 inches
Diet: Mostly insects. Feeds on a wide variety including beetles, caterpillars, grasshoppers, fly larvae, many others; also eats spiders, earthworms, centipedes, crayfish, snails.
Though technically a shorebird, killdeer can be found anywhere there is prevalent low vegetation including Avista Stadium. Killdeer are often seen running and stopping on the ground at the ballpark in search of food, and when disturbed take flight and circle overhead, calling repeatedly, 'Killdeer! Killdeer! Killdeer!' Killdeer nests are shallow scrapes in soil or gravel (including gravel rooftops) where the female will typically lay four eggs, with two broods more common in warmer climates. If it feels the nest is threatened, the killdeer will perform a "broken wing" display to lead predators away.
ABOUT THE SPOKANE INDIANS
The Spokane Indians are the High-A affiliate of the Colorado Rockies located in Spokane, Washington, and were named 2021 MiLB Organization of the Year. Avista Stadium is home to the MultiCare Kids Bench Seat. Parking at all Spokane Indians games is FREE. The Spokane Indians office and team store hours are 10:00 AM - 4:00 PM on Monday through Thursday and 10:00 AM - 12:00 PM on Fridays.