Barons' Adams rules for eight innings
White Sox No. 14 prospect allows two hits in his best start of year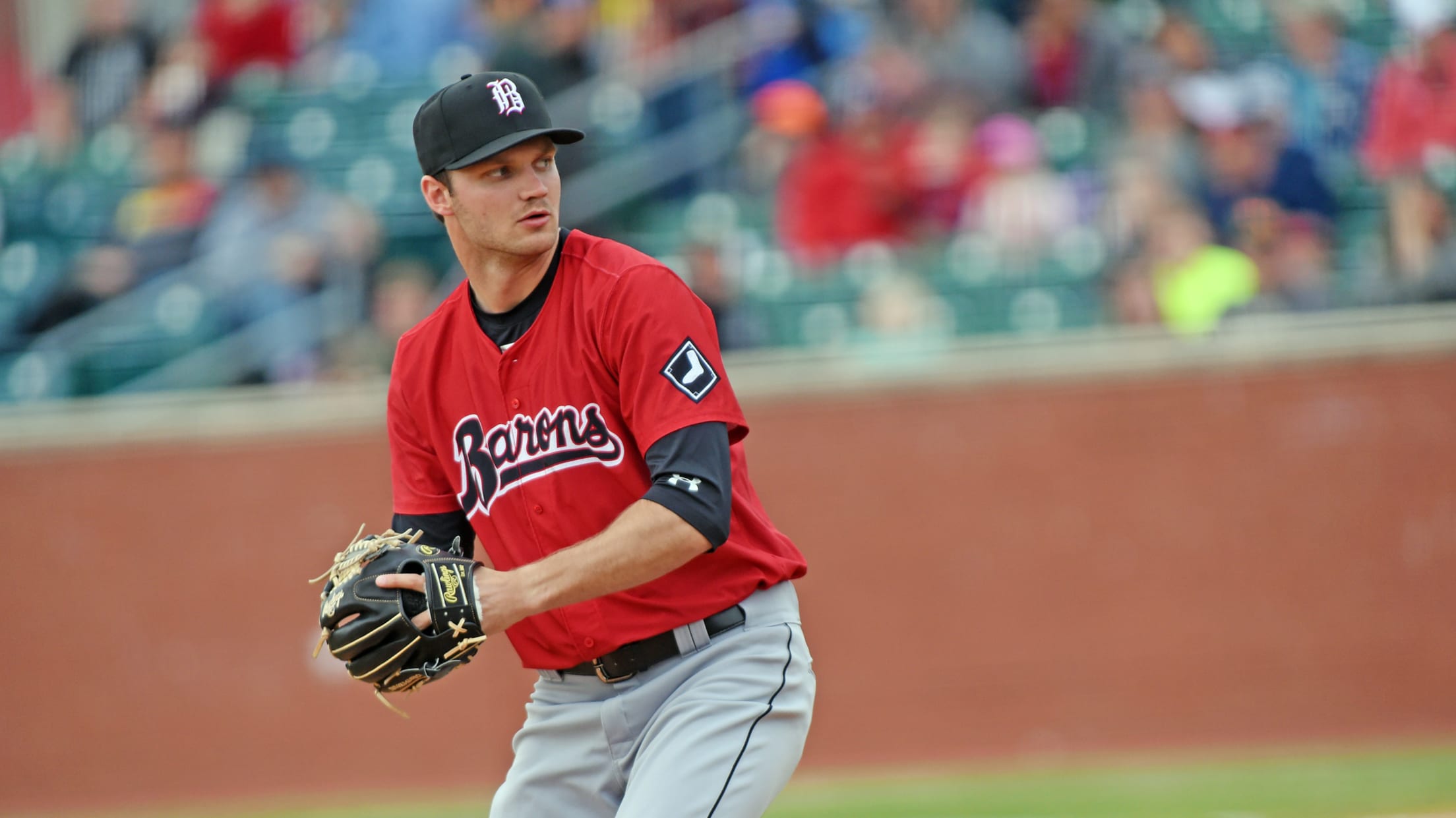 Spencer Adams has walked just 17 batters in 55 2/3 innings this season. (Brian McLeod/MiLB.com)
As the saying goes, you're only as good as your last start. Spencer Adams hopes that rings true.The No. 14 White Sox prospect allowed just two hits and didn't walk a batter over eight innings in Double-A Birmingham's 3-0 win over Chattanooga at Regions Field on Thursday. 
As the saying goes, you're only as good as your last start. Spencer Adams hopes that rings true.
The No. 14 White Sox prospect allowed just two hits and didn't walk a batter over eight innings in Double-A Birmingham's 3-0 win over Chattanooga at Regions Field on Thursday.
"Pretty much everything was working," said Adams. "I had the curveball really working tonight and had a few of them do good. That was something that kept the hitters off balance. It's not a big pitch for me, but it's also important. It's kind of like a show-me pitch to keep them off balanced. I was just getting ahead of the count with the fastball by driving that down the middle. I thought we all did a really good job tonight and came out with a win."
Adams retired the first seven batters he faced before Brian Navarreto and Sean Miller singled back-to-back in the third inning. After Tanner English got aboard on a fielder's choice and stole second base, the 22-year-old sat down the next 16 hitters while posting zeros on the board for eight innings for the first time in his career. Adams struck out five, upping his season total to 44 in 55 2/3 frames.
Gameday box score
"I feel like I have more feel for my slider now, it's kind of come back to me," he said. "That's better than it was in the past. I haven't changed anything with it, I just feel more comfortable throwing with it now. That's a big thing, and just keeping them off balanced with it and getting ahead of the count, I feel more in control of the at-bats."
The Georgia native hadn't allowed fewer than two runs over at least five innings since his second start of the season on April 11 against Montgomery. Two starts ago, he appeared to turn a corner with a nine-strikeout performance vs. the Biscuits. Thursday marked the first outing without allowing a walk since his first appearance of the year, and that was his biggest takeaway from the game.
"One of my biggest things is having command on my pitches for strikes," said Adams. "A game with no walks, that makes me very happy. That's the stat I look for at the end of a game, how many walks I had. Having none today was great."
Adams posted a 7-15 record with a 4.42 ERA in 152 2/3 frames last season in Birmingham. He made his Southern League debut at the end of 2016, going 2-5 with a 3.90 ERA in 55 1/3 innings.
"I was up here in 2016, and last year when I was here, I was already comfortable," he said. "I wasn't wondering what was going to be new about Double-A or anything. I feel very comfortable here, I just have to prove myself a little bit more, and hopefully this is the start of something good."
The Barons' offense came on a three-run blast to left field in the first inning by top White Sox prospect Eloy Jimenez, his 10th of the season.
"It's huge to go out there and before you really step on the field you have three runs and you're winning," said Adams. "The next big thing is going out there and throwing up the zeros. But Eloy has been great, tonight and the last three games, we've all been doing really well."
Marisa Ingemi is a contributor to MiLB.com. Follow her on Twitter @Marisa_Ingemi.