Biscuits Battle Rain, Club Smokies, 13-1
Shenton connects for his first Biscuit home run -- a grand slam -- in seventh
MONTGOMERY, Ala. – In what was supposed to be game one of a doubleheader, the Biscuits (44-34) fell behind early, but scored 13 unanswered runs in a 13-1 win in seven innings over the Tennessee Smokies (33-42) on Wednesday night at Riverwalk Stadium. Game one of the original doubleheader got
MONTGOMERY, Ala. – In what was supposed to be game one of a doubleheader, the Biscuits (44-34) fell behind early, but scored 13 unanswered runs in a 13-1 win in seven innings over the Tennessee Smokies (33-42) on Wednesday night at Riverwalk Stadium.
Game one of the original doubleheader got underway at 4:35 PM CT, but with two outs in the top of the first, with the Biscuits playing as the away team, the game was delayed for three hours and 20 minutes due to torrential rain. When the game resumed, Brandon Hughes struck out Jim Haley with the bases loaded to end the top of the first, after the Biscuits got a couple runners on before the rain came pouring down.
Reliever Mikey York started on the other side for the Biscuits and worked a one-two-three bottom of the first. The Biscuits got two more on in the top of the second, but could not cash in against Hughes. Nelson Velasquez slashed an RBI-single in his first Double-A at-bat in the bottom of the second to put the Smokies ahead early, 1-0.
The lead wouldn't last long, however, as Seaver Whalen and Jonathan Aranda both homered to left field to make it 4-1 Biscuits in the fourth. An inning later, Whalen was at it again with a two-run double off the top of the ribbon board, and a two-run double by Niko Hulsizer made it 8-1 Biscuits. Adrian De Horta (1-1) impressed in relief for the Biscuits, striking out four over two perfect innings.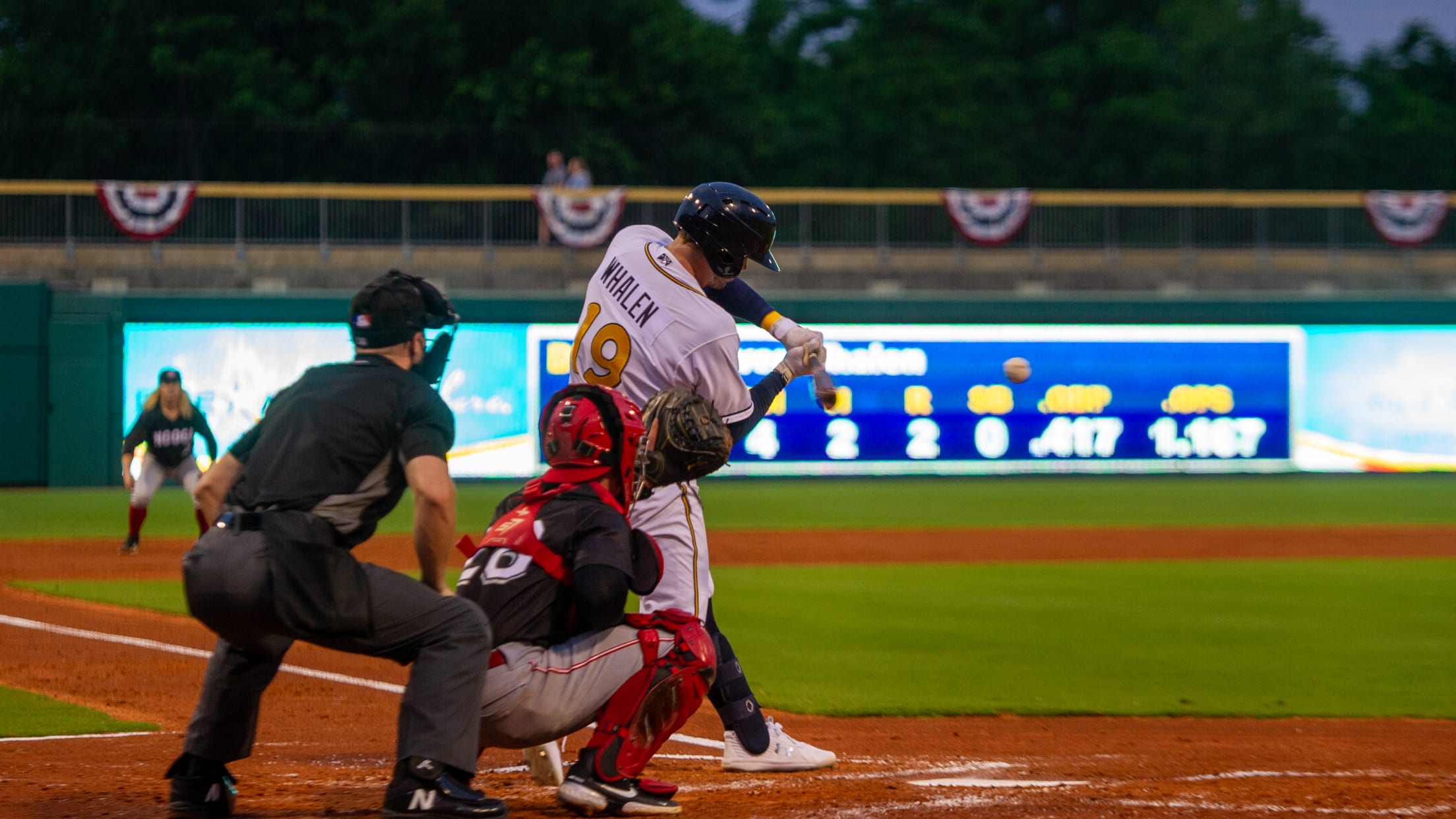 The Biscuits scored their ninth run on a Ford Proctor RBI-triple in the sixth, and then Austin Shenton connected for his first Biscuit home run—a grand slam (the Biscuits' sixth of the year)—in the seventh. Faustino Carrera worked two scoreless innings to wrap it up.
With Mississippi's loss to Birmingham, the Biscuits are now tied with the M-Braves atop the Double-A South standings. The new doubleheader will take place on Friday at 4:30 PM CT.
The Biscuits will now play a nine-inning game against the Smokies on Thursday when it will be National IPA Day with a T-Shirt Giveaway at 6:35 PM CT.
The rest of the first series will include the 15th Anniversary of Talladega Nights featuring a NASCAR Hat Giveaway presented by U.S. Air Force on Friday, August 6; Tide & Tiger Night presented by I-92 WLWI & 95.1 The Fox with MAX Fireworks on Saturday, August 7; and Lil' Crumbs Kids Club presented by Go Fish Alabama & Bark in the Park on Sunday, August 8.