Biscuits Spoil Lange's Debut In 5-2 Debut
Lange Tosses Six Innings and Five Strikeouts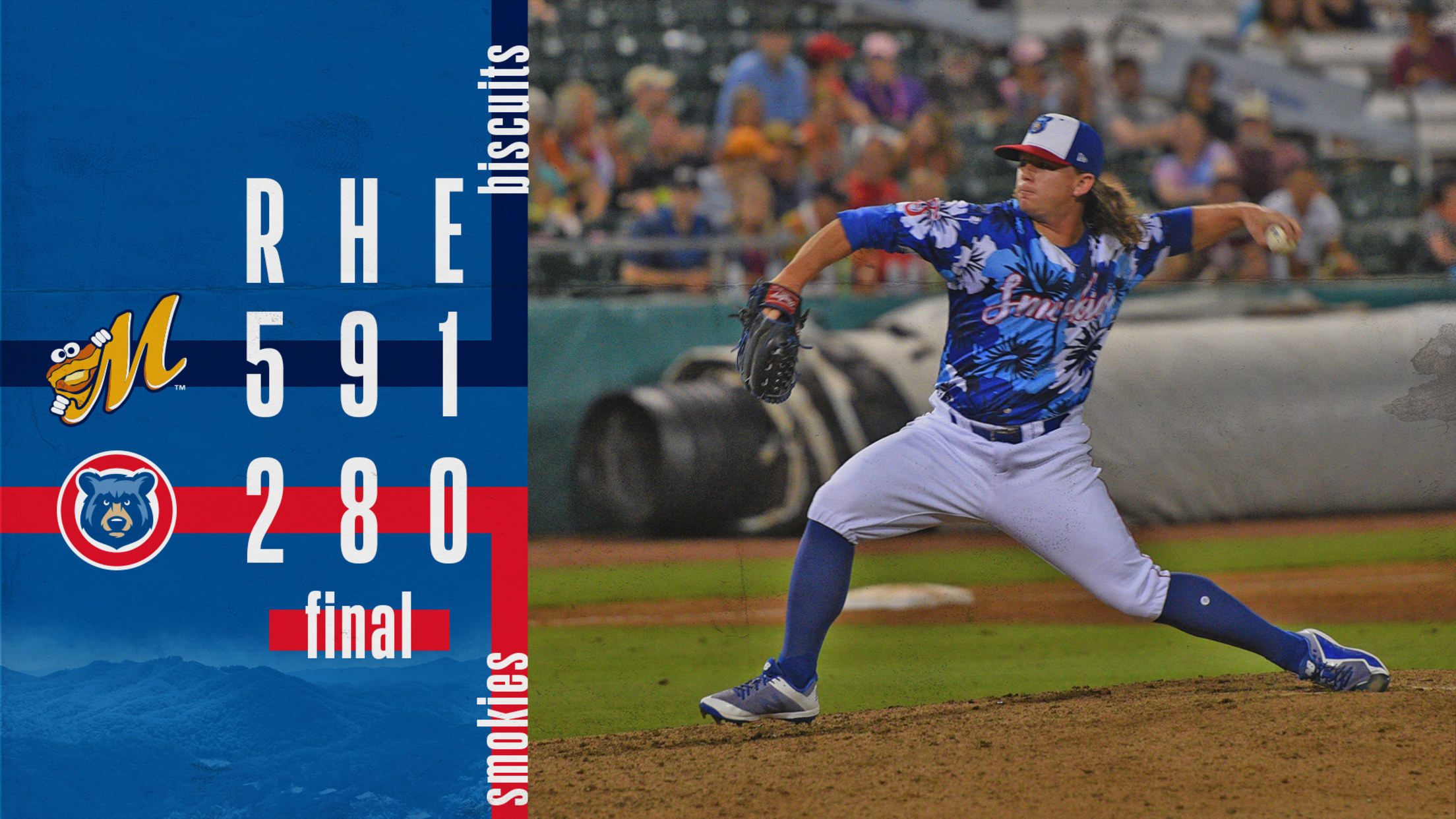 KODAK - The Tennessee Smokies (34-38, 1-2) fell victim to a late rally by the Montgomery Biscuits (46-27, 2-1) in a 5-2 defeat at Smokies Stadium on Saturday night.For the first time this series, The Smokies got on the scoreboard first. In the third, Charcer Burks jump-started the inning with
KODAK - The Tennessee Smokies (34-38, 1-2) fell victim to a late rally by the Montgomery Biscuits (46-27, 2-1) in a 5-2 defeat at Smokies Stadium on Saturday night.
For the first time this series, The Smokies got on the scoreboard first. In the third, Charcer Burks jump-started the inning with a leadoff double. He was moved over to third thanks to a sacrifice bunt by Christian Donahue. The next batter, Connor Myers, put the Smokies in the run column with a double into left-center.
The Biscuits answered back in the fifth. With Brett Sullivan aboard from a leadoff walk, Robbie Tenerowicz blasted his third home run of the season to give Montgomery their first lead of the night.
RHP Alex Lange was solid in his Smokies debut. The 2017 first round pick (30th overall) by the Chicago Cubs was called up from Myrtle Beach on Friday. He gave up just two runs in six innings of work with five strikeouts in a no-decision.
Tennessee evened things up in the sixth off Biscuits starter RHP Paul Campbell (W, 2-0). Jhonny Pereda knocked an RBI-single to score PJ Higgins to run the score to 2-2. Pereda recorded his tenth multi-hit game of the season and extended his on-base streak to a team leading seven games.
Campbell was able to lock up his second win of the season thanks to another Biscuits response in the seventh. Rene Pinto gave Montgomery the lead with an RBI-single into right field off relief pitcher RHP Tommy Nance (L, 2-2). Nance gave up just one run in two innings in the losing effort.
Pinto struck again to give the Biscuits their insurance in the ninth. He blasted his third hit of the night deep over the left field wall to plate two runs and push the score 5-2. RHP Phoenix Sanders (S, 8) kept the Smokies bats quiet for the final four outs to record his eighth save of the season and clinch a victory for Montgomery in game three.
Game four will be Sunday evening with a scheduled 5:30 EDT first pitch. RHP Thomas Hatch (4-6, 4.65) will make his 15th start of the season. Montgomery will counter with LHP Kenny Rosenberg (6-1, 2.39). Fans can receive four tickets, four meal vouchers, and two kids zone wristbands for just $52 presented by U.S Cellular.