Butler plays all nine positions for Tortugas
Cincinnati's versatile 15th-rounder records save to complete feat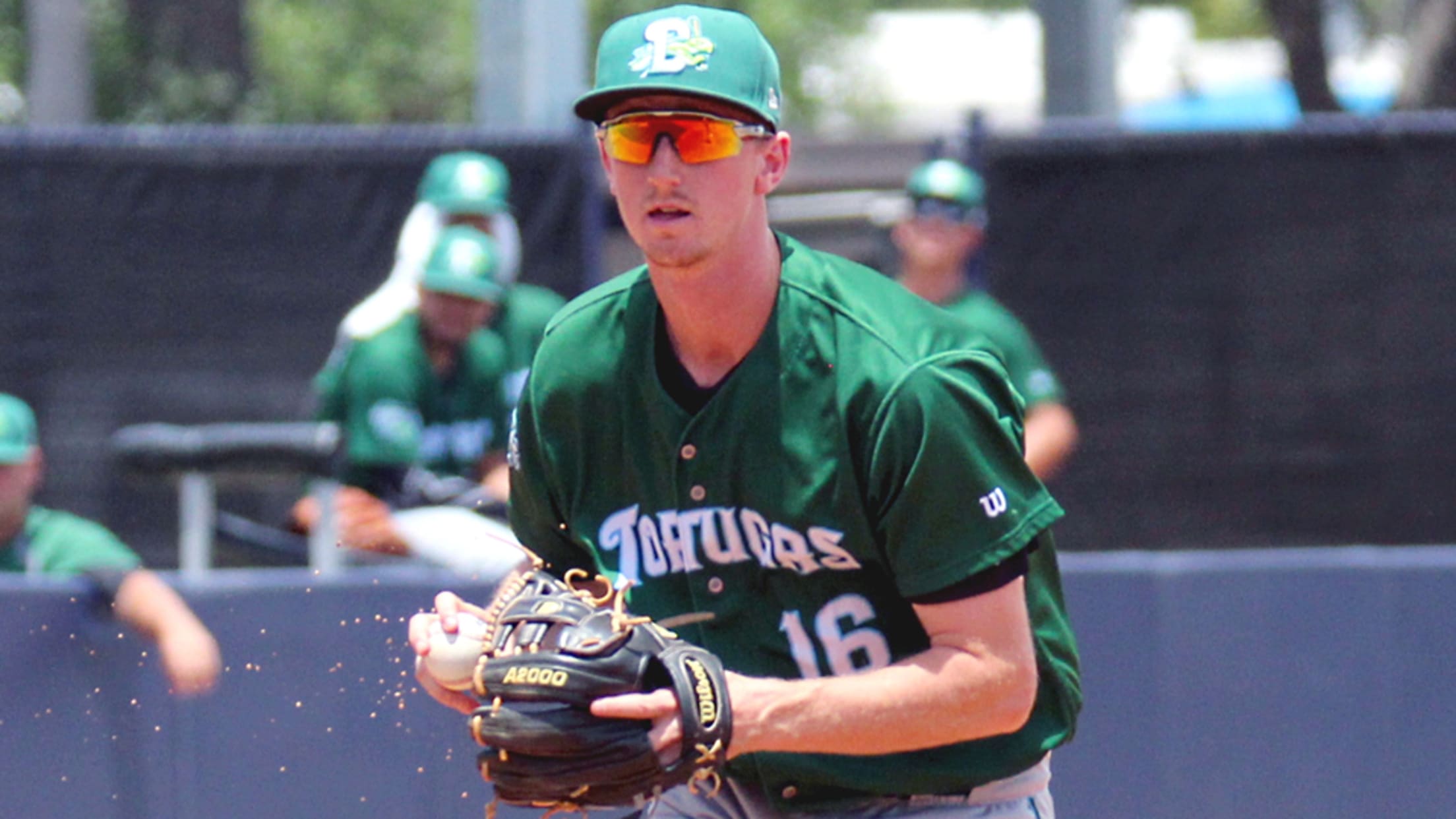 Entering Sunday's action, Blake Butler had played every position as a pro except for catcher and center field. (Joshua Tjiong/MiLB.com)
Blake Butler disrupted his parents' Labor Day weekend travel plans, but he made it worth their while with a little Florida State League history. His father, Chris, was scheduled to fly back to North Carolina at 3 p.m. Sunday, but that changed when he heard his son would play all
Blake Butler disrupted his parents' Labor Day weekend travel plans, but he made it worth their while with a little Florida State League history. His father, Chris, was scheduled to fly back to North Carolina at 3 p.m. Sunday, but that changed when he heard his son would play all nine innings in a single game.
"He was supposed to work tomorrow, but he's calling in sick," Butler said. "My mom [Karen] was planning on driving back with me, but Dad was supposed to fly out, and now we're all driving back together."
Butler, who went 0-for-3 with a walk and a run scored, completed his trip around the diamond by working around two hits in a scoreless ninth inning to pick up the save in Class A Advanced Daytona's 3-0 win over Florida in the season finale at Jackie Robinson Ballpark.
Gameday box score
"It was definitely one of most fun games I've played," the Reds prospect said. "I do pride myself on my versatility, and hopefully that's going to be something that takes me to the next level, and the level after that, and hopefully the big leagues."
Listed as an outfielder this season, the 23-year-old 2015 15th-rounder was a middle infielder at the College of Charleston and through his first two pro campaigns. Over the first 93 games of 2017, Butler saw action at seven positions. He batted .212/.278/.281, but his summer ended on a positive note when interim Tortugas manager Ricky Gutierrez told him after Saturday's rainout about the plan to play Butler at all nine spots in the final game -- something pitching coach Tom Brown had lobbied for.
"This was a tough year for me, numbers-wise. It wasn't what I wanted to do. In baseball, there are so many challenges, so many lows, that it makes the highs that much sweeter," Butler said. "To have that bad of a season, but the coach still has enough trust in you and your teammates are willing to let you do that, and no one gets upset that they're asked to move around -- that's an honor to me, that they all respect me enough to do that."
While Sunday marked his first save, it put his ERA at 1.35 over seven relief appearances on the year. He surrendered one run on seven hits and two walks while punching out three over 6 2/3 frames.
"The first time I did it this year, I didn't want to. There's that feeling that you're expendable when you're the guy who's pitching when you're winning by 15 runs," Butler said. "But after I did it once or twice, it was a little bit different. A lot of the bullpen guys start joking around because you have a lower ERA than they do."
Opening the game at first base, he moved one spot to his right over each of the subsequent three innings, then played left in the fifth, center in the sixth and right in the seventh. He'd never previously played center field as a professional. When he recorded the first out of the sixth by catching a fly off the bat of Ray-Patrick Didder, it marked the fifth time in six frames that he tallied a putout. He noticed the ball was following him around the field.
"I was kind of hoping it would. My goal was secretly to touch the ball everywhere," the Greensboro, North Carolina native said. "If you play all nine, you might as well make a play at all nine."
When he got into a squat in the eighth, it was the first time he'd donned the tools of ignorance in a game in quite some time.
"One hundred percent. I'm not shy about [admitting] that I was nervous to catch," he said. "The last time I caught, [No. 28 Red Sox prospect] Josh Tobias [was pitching] in eighth grade. He was throwing harder than everybody back then. He broke my thumb with a fastball, and that's why I stopped catching.
"I've caught some 'pens this year, trying to be versatile. But it wasn't like catching 'pens. [Aaron Quillen] did a great job, but I didn't do great blocking his sinker. I told him, 'Don't go easy just because it's me back there,' and luckily we got three up, three down."
On the hill in the ninth, Butler allowed back-to-back one-out singles to No. 27 Atlanta prospectBrett Cumberland and Justin Ellison, but the threat ended when Alejandro Salazar bounced into a double play.
"That was the best moment of the game," he said. "You live with these guys. You're around these guys for [six months]. It's not like we won the World Series, but everybody comes to the mound, and you're not going to see these guys for a few months. That was definitely the coolest."
Butler is the first FSL player to see action at all nine positions during a single game since Milwaukee's Nate Orfpulled off the stunt for the Brevard County Manatees on Aug. 31, 2014.
Wyatt Strahan (2-6) earned the win, scattering four hits and a walk while punching out four over six innings. The 24-year-old right-hander finished with a 3.84 ERA.
Josh Jackson is a contributor to MiLB.com. Follow and interact with him on Twitter, @JoshJacksonMiLB.