Gailen delivers career night in Drillers' romp
Dodgers prospect belts two homers and collects six RBIs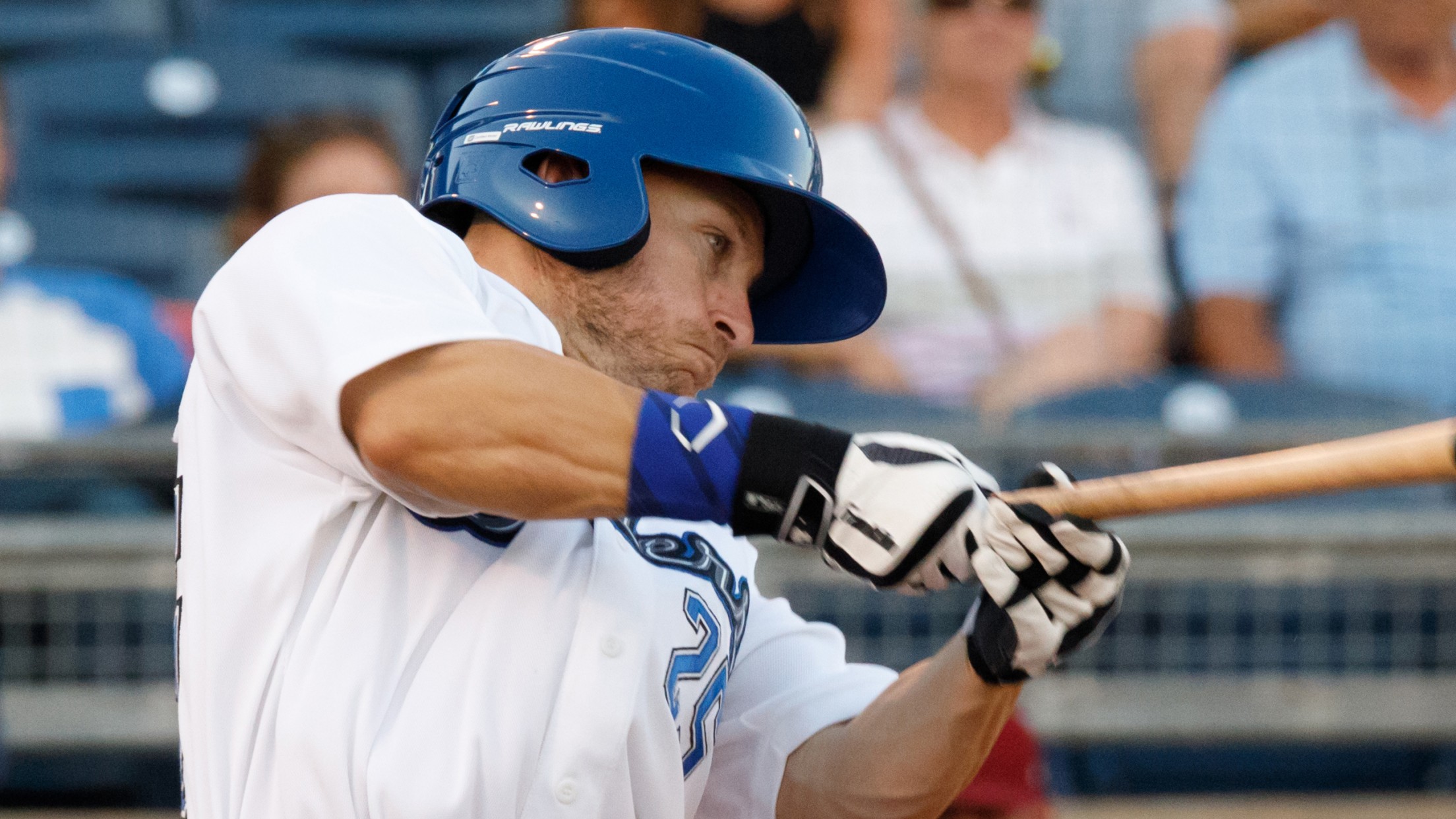 Blake Gailen is hitting .298 with a .896 OPS since joining the Drillers on June 29. (Rich Crimi/Tulsa Drillers)
Baseball is a fickle sport with many peaks and valleys, so Blake Gailen is not taking the success he's enjoyed over the last few days for granted. After being part of a group that clubbed back-to-back-to-back homers , the Dodgers outfield prospect slugged two long balls and collected a career-best six
Baseball is a fickle sport with many peaks and valleys, so Blake Gailen is not taking the success he's enjoyed over the last few days for granted.
After being part of a group that clubbed back-to-back-to-back homers , the Dodgers outfield prospect slugged two long balls and collected a career-best six RBIs to power Double-A Tulsa to a 13-1 win over Arkansas on Saturday at Dickey-Stephens Park.
"I feel great," the 32-year-old said. "It's definitely one of those days that's going to give me a little confidence going into tomorrow. You know how it is, you can be 0-for-4 and then have a day like today. Definitely feels great to put something like today together and hopefully I can carry it into the next couple of games and for the rest of the season."
Gailen understands the unpredictability of the game in part because of the journey he's taken the last few years. After spending 76 games with the Travelers in 2015, Gailen headed back to the independent Atlantic League's Lancaster Barnstormers, a team he played with each season starting in 2012. He signed a Minor League contract with the Dodgers on June 29 and was assigned to the Drillers.
"The reason you go to the Atlantic League is to get the opportunity to go play for an organization," said Gailen, who's hitting .298 with six homers and 23 RBIs in 27 games in the Texas League. "I've been blessed over the last six years or so that I've been signed to some teams. Realistically, you're just trying to make that time count. You never know who is watching, even if it's not with the team you're with, you never know who is watching you play.
"Obviously, the goal is to get to the big leagues and each time you get signed it's a huge opportunity to show what you can. That's what I'm trying to do. I'm a little older on this team, actually probably the oldest guy, so I kind think of myself as a coach on the field because of the amount of years I've played. Not necessarily the levels, because I've been to Triple-A for like three weeks, but it's not about that -- it's about the experience of the games played."
Gameday box score
After he flied out in the second and fourth innings, the UNLV product smacked a two-run homer down the right-field line in the sixth. As Tulsa continued to pile up runs, Gailen batted for the second time in the frame and stroked an opposite-field single to left to plate Erick Mejia.
The Drillers scored eight runs in the inning, marking the second time over the last month they've accomplished the feat against Arkansas.
"Honestly, I came back to the dugout and the inning took forever," the 5-foot-9, 180-pounder said. "Someone said, 'Did you get two hits in that inning?' I looked up at the scoreboard and thought, 'I guess I did.' It wasn't one of those innings where it was hit, hit, hit -- it took a while, like 45 minutes. That it was the same inning kind of left my mind, to be honest."
After 18th-ranked Dodgers prospect Drew Jackson was hit by a pitch and Matt Beaty singled in the eighth, the Verdugo Hills, California, native fell behind, 1-2, to Collin Kober before sending an inside pitch deep over the right-field wall for his second roundtripper.
Familiar with how the ballpark plays to hitters, the lefty-swinging Gailen knew which parts of the field were more conducive to power production.
"The irony is this field is notorious for the ball not flying anywhere," he said. "I hit a couple of balls early in the game pretty well that didn't go anywhere. I knew this before, but the ball carries a little bit better down the foul lines, and that's where I ended up hitting the two homers. It's not like I was trying to do it, necessarily, but I ended up getting two pitches that were inside. It helps me get those balls out, to be honest. This field is so hard to hit at, so I'll take what I can get today, especially in Little Rock."
Gailen hopes to continue this success, but he also doesn't mind being a mentor to some of the younger players on the team.
• Get tickets to a Drillers game »
"I let them come to me, I don't want to come to them without them asking for advice or anything like that," he said. "People are going to listen more if they want to know or have a question, rather than you just telling them something that they may or may not be receptive to. The game will tell you when you're doing something right or wrong and you learn a lot through experience alone.
"I'm here obviously for myself but I'm more of the guy you can ask questions to, but I'm not going to pull guys aside and say, 'Hey, you should do this or that,' just because I don't think that's the best way all the time."
Jacob Scavuzzo collected four hits, including his fifth homer in five games, while Beaty had two hits and drove in three runs for Tulsa.
Andrew Battifarano is a contributor to MiLB.com. Follow him on Twitter, @AndrewAtBatt.